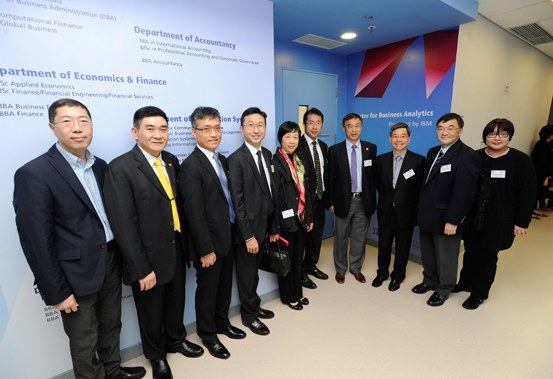 Big data underpins virtually all professional activity these days. And the College has been given a big boost to its analytical capacity with the establishment of a new computer laboratory facility powered by IBM software. The signing ceremony for the Centre for Business Analytics between CityU and IBM took place in December 2015. Featuring IBM's advanced big data and analytics software, the centre enhances CityU's R&D capabilities, supports the University's curriculum and talent development, and builds a healthy eco-system between the University and industry in big data and analytics.
"Data, converged with emerging technologies such as mobile, social, Internet of Things, advanced analytics and cognitive computing, is transforming life, industries and professions. As part of IBM's commitment to helping Hong Kong embrace big data analytics to innovate and transform, we are delighted to partner with CityU to nurture a new generation of datasavvy business professionals who will contribute to Hong Kong's growth and development," said Mr Tony Tai, General Manager, IBM China/Hong Kong Limited at the signing ceremony.
"The Centre for Business Analytics – powered by IBM, is a testament to CityU's vision combining complemented strengths to meet the needs for big data and analytics in Hong Kong," said Professor Way Kuo, President and University Distinguished Professor at CityU.
"It supports our strategic direction in the development of big data analytics and serves as a joint platform for education and Research & Development in this arena. It also serves as a bridge for collaboration with industry."