Professor Wenyu Dou, Department of Marketing, and Ms Ting-ting Du, College of Business, City University of Hong Kong, look at how Internet+ is creating a tidal wave of online marketing opportunities.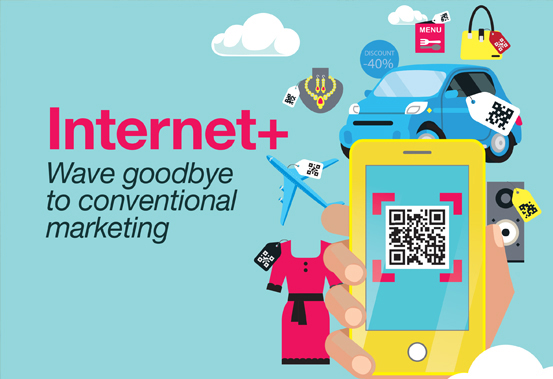 In the pre-internet era the relationship between businesses and consumers was focused mainly on transaction. Without aftersale maintenance and service, consumers would eventually drift off, becoming passers-by, and gone for good if there were better products or lower prices elsewhere.
Internet+ has presented the opportunity for businesses to turn these passers-by into fans by enhancing their attachment – actively and emotionally, and their loyalty. The sense of brand community may even be so strong that there is tolerance towards occasional flaws in products and services. Focusing on fans means reconstructing and upgrading the business operation mode. It is no less than a revolution for many businesses, implying thoroughgoing changes in mindset, mode, path and method. The name of the game is multidimensional service. Customer relationships are built by valuing user participation and experience. In the process loyalty to the brand is enhanced.
But how to build this new operation mode in the Internet+ era? Let's take a closer look at the new model Fan Economy.
Fan Economy
The Fan Economy takes its name from the model of income-generation based on the relationship between fans and those that they follow – traditionally stars, idols, or industry celebrities. Value is added to the traditional consumption model in these ways:
Long-term relationship marketing replaces transaction marketing. Fans take part in brand promotion – and along the way provide powerful endorsement for "their" company.
Customers' needs shape a multi-faceted relationship between products and services. This implies more attention to relationship and experience management – creating customer value that is inimitable along with experience that is unforgettable, thereby obtaining value recognition from customers.
A sense of participation makes customers feel they are an indispensable part of the business, thus promoting a sense of approval, achievement, belonging – and even faith in the brand.
Whole channel marketing: Fan identity, recognition, approval and interaction are prized and incentivised, seamlessly online and offline.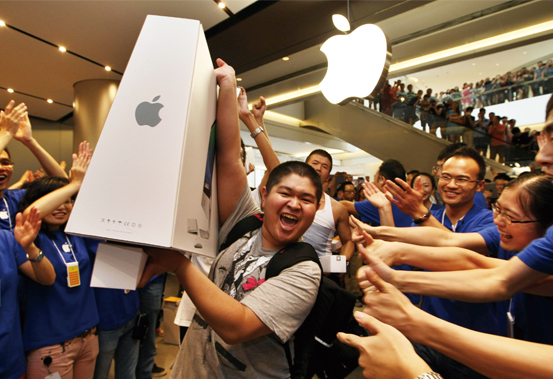 Boisterous celebrations mark the opening of the Apple Store in Wuxi, August 2014. Apple is a pioneer of the Fan Economy and people-driven product design
© ChinaFotoPress/Visual China Group/Getty Images
Seamless product + service
In the Internet+ era the conventional focus on "finished product" is outdated. Businesses need to give up the idea of a one-dimensional product and turn to comprehensive solutions, provide more options and, along the way, more convenient service to users. Pre-internet era marketing perceived service as a subset of product; a cost rather than a profit center. The new productisation means that businesses need to organise their services and build them into product with the same status as tangible goods. Customers can easily assess and buy these services. Let's take a look at some pioneering examples.
LegalZoom
The US listed company LegalZoom has been providing legal clerical services to SMEs based on the idea of productisation since 1999. Early on they emphasised trademark applications, establishing companies, wills and lease contract drafting. These services did not involve litigation and were relatively easy to deliver. The information needed from users was turned into specific questions and was presented on the company website in the form of a questionnaire. Guided by these questions, users could fully describe their needs and acquire the legal document they need – sometimes in a matter of minutes. More recently, LegalZoom has integrated traditional legal services and developed their business into the field of litigation. The key to LegalZoom's success is that it established and constantly optimised the standards and process of its service which improved the experience management for the company, and also enhanced client usability. As a result, it has been able to build client loyalty in terms of value, and build towards scalable development.
Platform strategy
Internet+ has enabled businesses to establish relationships with users through platform building, transforming the business model of many industries and revolutionising the competitive landscape. The mobile phone sector offers a startling example. The fall of pre-smartphone era market leader Nokia is basically due to the emergence of the Android and iOS operation systems. These systems heralded the beginning of a new era in which the mobile phone sector developed into a platform industry. Online advertisements and third party application developers actively embrace users, increasing the levels of choice and engagement. Users are no longer mere passers-by. They are potentially transformed into fans or brand loyalists.
A similar trend can be seen in the sports supply industry. The traditional brand-based approach started flagging a few years ago. The performance of major brands was in decline and shops were closing. To counter the downward trend, Nike put forward the Nike+ platform, offering digital innovation through a platform strategy. Nike provides seamless online and offline experience – for example night running, brand experience shops and marathons – as well as professional services for sports, improved sports experience and the opportunity to explore business opportunities. In this way, users experience exceptional brand engagement, and brand loyalty is enhanced. This is a result of more than research team activity. It is achieved by vigorous pursuit and actualisation of platform strategy.
Real-time bidding
The internet has also changed the thinking pattern of marketing people. They have started to ask: how much value can I bring to users? (not just what price can I sell at?) This has given rise to new pricing strategies.
Real-time bidding means that advertisers from both businesses and internet media have changed the linear docking process of online advertising and started to operate by making use of platforms, thereby strengthening bilateral connections. With third party technology, websites and mobile platforms, users' clicking behaviour can be assessed, monetising and selling every browsing page accordingly.
Take the China experience: At the end of 2011 Taobao Tanx ADX, an instant ads transaction service, was launched and has become the core of the real-time bidding industry chain. Other platforms such as DoubleClick (Google), SAX (Sina), Tencent AdExchange, and Baidu Instant Advertising Education Platform also provide instant advertising transaction services. For instance, if a user opens a sports website to check newsfeed for a basketball match – an ad column is displayed. Once the advertising provider knows that the page is opened, the page is put on sale on one or more instant advertising transaction platforms. The platform provider will inform the advertising agency that the user likes NBA newsfeeds, and the ad column is auctioned to the highest bidder.
This process is an interaction between user and platform in the form of an advertisement auction through the recognition of the user's online and offline identity by analysis. From the user perspective, customised experience is achieved by presenting a relevant ad. From the advertiser perspective, internet advertising becomes more intelligent, precise and timely.
The User Offer
But the user is no passive observer in this new era, witness developments in the US. A user-oriented pricing mode, Name Your Own Price, has been created by Priceline, the biggest online travel agency in the US. The system allows users to bid for certain kinds of standardised products or services. Priceline then checks its huge data base and vendor network, looking for vendors who are willing to trade at the bid price. In China the "Please Bid WeChat" service offers a similar service.
This service mode has overturned the conventional mode of e-business. In the past the bargaining power of users on internet platforms was not optimised as they had to compare prices among various e-businesses with low efficiency and poor outcome. The new user offer mode helps to raise their bargaining power on internet platforms with a return to a more user-oriented pricing mode.
Crowdfunding
A further refinement is provided by crowdfunding, where attaining optimal price is a core task of this self-pricing model. Here, after the minimum fund target has been reached, the price is adjusted according to the number of buyers. This is an efficient mechanism that affects the final price. The greater the number of buyers, the lower the average price; so consumers actively participate in achieving the end price.
Chinese video content provider Letv Super TV has adopted this sales model. In one stunning display of the model's power, it ended up selling 10,000 TVs in 49 minutes with a cash return of RMB75 million. Conventional TV manufacturers ignore this kind of performance at their peril.
Full Circle Experience
The Internet+ era also brings great challenges to traditional place management and operation. As customers' personal lives are interwoven with their consumption patterns, businesses integrate various kinds of online and offline places, seamlessly combining the advantages of both. Customers are approached from various perspectives and businesses focus on enhancing customer experience in an all-embracing way. Traditional and internet businesses are combined in this new era, providing full circle experience. This can feature showrooms along with unrivalled connectivity (note the expanding role of QR code) to provide a seamless service circle.
QR the world!
QR codes are good for more than adding contacts or acquiring product information for comparison purposes. These codes have also got tremendous potential for shopping. And the notion of "the shop" is about to go out the window. Woolworths, a long-established food and clothing retailer in Australia, has developed a mobile app and placed product posters with QR codes or bar codes in metro stations and business areas. Consumers can purchase and pay for their desired items by scanning the QR code with their smart phone – and items are delivered straight to their homes.
Compared to traditional supermarkets, this mode incurs lower construction costs, and is more convenient for customers. Retailers can promote goods while bringing an unprecedented shopping experience to customers by flexible and accurate input, targeting features of different places and situations. Integrated with elements like cross-field collaboration, the sky's the limit for QR shopping. Suppliers have virtually limitless opportunities for displaying product and channelling potential customers purchasing desires.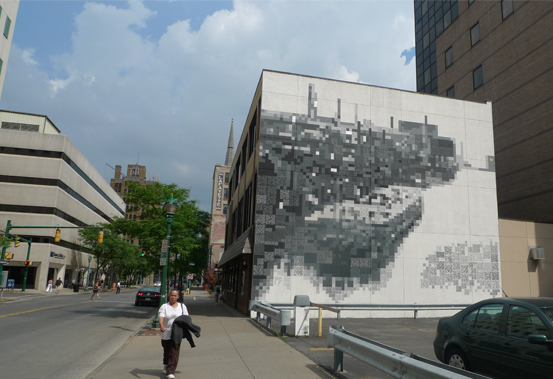 A mural in downtown Syracuse, New York State, celebrates both the city's industrial past and its current status as an artistic hub. At first glance, the image is historical, showing a barge moored on the industrial waterfront. On closer inspection, viewers realise the image is a mosaic composed of dozens of unique QR code tiles, each linking to a contemporary arts organisation in the greater Syracuse region
Photo courtesy of architects Cheng+Snyder.
The seamless service circle
The smart phone already satisfies multiple demands such as listening to music, taking pictures, shopping, socialising, communicating, etc. At the same time, access to platforms is getting simpler and platforms are unifying. So far we have seen only the tip of the iceberg.
Starwood Hotels, with subordinate brands like Le Méridien Grand Hotel, Four Points by Sheraton, Westin, Sheraton, etc., have jointly released their Starwood Preferred Guest app with Apple.
By combining soft and hardware, customers can use Apple Watch as their hotel room key or key card, conveniently unlocking rooms in more than 100 hotel chains around the world. It can also do things like checking-in, ordering, and paying the final bill. And if users want to comment on their hotel, they can take to Meipai or share on social media like Weibo, WeChat and others. In addition to increasing the efficiency of the hotel and decreasing labor costs, the use of Internet+ seamlessly blends online and offline customer experience into one. With the touch of the phone, a seamless hotel O2O service circle is formed.
The role of marketing
Social media is everywhere, promoting interactivity, diversity and allowing people to project their personality. The intense communication environment is transforming consumer lifestyle. So where does this leave the role of traditional marketing? Innovation is needed to better reach users, and the key is coming up with valuable content. The marketing team of the near future will treat content as core – and its promotion as ammunition to break into and build an active community with a high level of stickiness. This requires marketing people to think not just like an editor – with high standards for content – but also act like a publisher, with specific demand for quotas like page view, repost and comment volume, potential leads for sales, direct sale volume, and not to forget the roles of developing brand image and customer relationship.
Bikinis in winter
The retail industry is Characterised by fierce competition between brands and a high level of product homogeneity. Following trends is a viable approach for retail industry marketing, paying attention to things that acquire certain levels of popularity and attention within a specific period of time, and drawing connections between these hot issues. But counter-trends can also be created in unorthodox ways.
Sports Illustrated understands how front cover bikini-clad models sell magazines – especially in the middle of winter. On the front cover of their 2015 Swimsuit edition, model Hannah Davis appears in the traditional bikini. But the back cover offers a surprise: Teaming up with confectionary manufacturer Snickers®, Hannah reappears dressed as Medusa, a female Gorgon or monster in Greek mythology. Behind her Dracula-like visage, the magazine has recast itself as Super Irritated, though this legend is partially obscured. The lines are: HUNGER MADE ME an intolerant mythological monster, and NEEDSSSSSSS SNICKERS. This kind of unorthodox advertising strategy has drawn critical attention from readers – and industry commentators – around the world.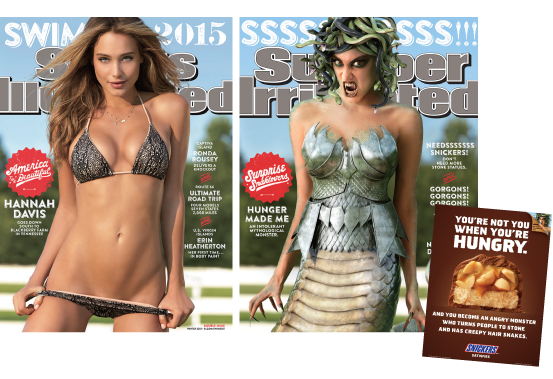 Unorthodox traditional advertising – A swimwear model appears in a traditional bikini on the front cover of Sports Illustrated 2015 Swimsuit Issue. But on the back cover she is recast as her hungry self, the female monster Medusa. And the magazine's masthead is remodelled as Super Irritated. The monster needs pacifying – and a SNICKERS® chocolate bar is the answer
Photo courtesy: Mars Chocolate North America / Creative Agency: BBDO New York / Photographer: Vincent Dixon / Retouching & CGI: Atomic 14 (Sports Illustrated and SI are registered trademarks of Times Inc. used with permission.)
B2B
So, what are the likely trends for the near future? B2B or businesses trying to build a professional image need to turn the complicated into the easy, the boring into the vivid and the abstract into the animated; content is more understandable and down-to-earth.
Fashion designer Karl Lagerfeld, Caesar of the fashion industry, is known for his cool – and his sharp Lager-style ponytail, turtleneck shirt and black sunglasses. However, when posing for the limited edition of the Karlywood posters, Lagerfeld dressed up as a series of animation characters and Hollywood movie heroes. Kill Bill becomes Karl Bill, and Gossip Girl turns into Gossip Karl. Fresh yet boisterous images such as these bring high fashion closer to people.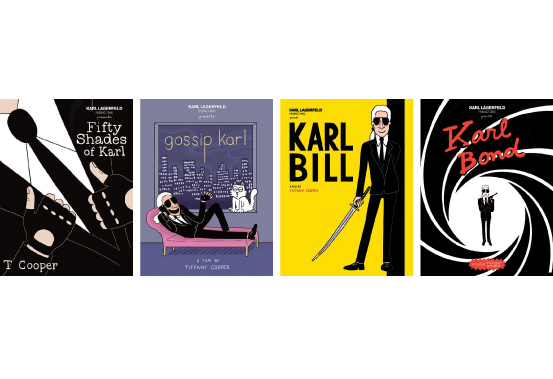 Fashion designer Karl Lagerfeld dresses up as a series of animation characters and Hollywood movie heroes. Kill Bill becomes Karl Bill, and Gossip Girl turns into Gossip Karl. Novel juxtapositions such as these bring high fashion closer to people
Photo Courtesy of Tiffany Cooper @ Karl Lagerfeld
Content provider role
What about content – where does that come from in this brave new world? Besides coming up with original stuff, content can also be derived from internal integration (transformation and utilisation), external integration (not including plagiarism), customer creation (voluntarily or for pay) and cooperation with professional companies. Businesses with relatively weak internal creation – or copywriters who are new to the business – can try low-threshold strategies, such as using interesting old pictures, writing backstories for products, narrating the emotional life of customers loyal to their products, and connecting brand concept with current events.