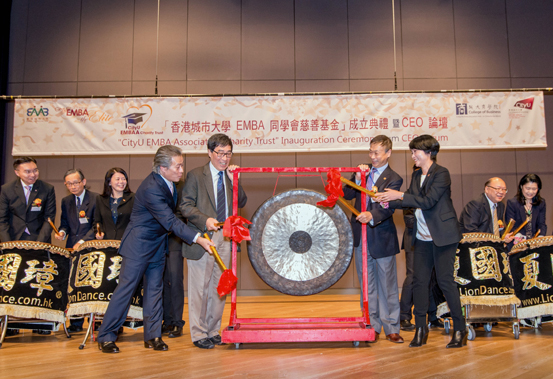 An inauguration ceremony for the "CityU EMBA Association Charity Trust" was held in December 2015, with the aim of strengthening the connectivity of CityU's EMBA Programme.
"The foundation of the trust can better promote development of the EMBA Programme," said Ms Alvine Suen, Chairlady of the EMBA Association.
"Funds will be set up for scholarships or assisting deserving members of the association and students. We will also make donations and provide financial support to educational establishments approved by the trustees."
Through the charity functions organised by the association, the trust targets to raise HK$1 million each year.
More than 400 guests, including management from CityU and the College of Business, key leaders from companies and associations in the business industry, current students and alumni from the MBA, EMBA and DBA programmes, and media attended the event. The ceremony was a resounding success providing networking opportunities and fostering discussions around issues in the business field.
After the ceremony Dr Haywood Cheung, Honorary Chairman of the Trust, gave a presentation on Free Trade Zone Opportunities – Foothold Qianhai, Exploit Worldwide in the CEO Forum.