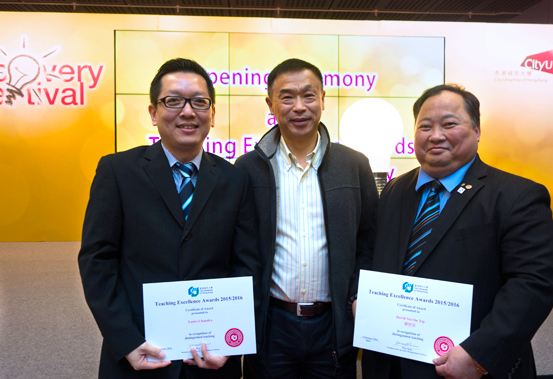 Dean Yan (centre) with 2016 Teaching Excellence Award winners Dr Yanto Chandra (left) and Mr David Yip
Dr Yanto Chandra, Assistant Professor of the Department of Management, and Mr David Yip, Senior Teaching Fellow of the Department of Accountancy, have received the prestigious 2016 CityU Teaching Excellence Awards as recognition of their innovative teaching practice.
The awards were presented at the opening ceremony of the Discovery Festival on 1st February 2016. Professor Way Kuo, President of CityU, congratulated the awardees for their outstanding teaching contribution to the university over the past year.
Nurturing Discovery-based Learning for Social Impact
Dr Chandra inspires students to build an understanding of social problems, and to discover their own paths towards social innovation and entrepreneurship.
"Students should be well equipped with new skills in this fast-changing global environment, particularly with the ability to innovate and discover new things," Dr Chandra said. Dr Chandra's students have developed a personal safety device for crime prevention which won an award at the 2016 CityU Discovery Festival.
"We talk about social problems all the time, but discussion is not enough. With inspiration, students can become change-makers," he said.
Excellent Competence in Accounting, Dedicated Contribution to Society
Mr Yip runs a mentorship programme and year-round seminars delivered by accountancy practitioners, an initiative that dates back to 1999.
"The mentors provide guidance on how to develop as a well-rounded person. This gives our students a better chance of meeting the prospective high demands of employers and successfully secure a good offer in the graduate recruitment process."
"Being brilliant or not is one thing. But having the right attitude is the start point," said Mr Yip, a point also echoed by employers.
Since pursuing master's studies at the London School of Economics, Mr Yip has kept in close contact with practitioners and professional bodies to keep abreast of contemporary development in the business context. He sees academic achievement in its wider context.
"I adopt a flexible teaching approach starting with students' individual learning needs, as well as paying attention to their all-round development, rather than just focusing on their academic performance."
Our heartiest congratulations to Dr Chandra and Mr Yip!