Hong Kong is pivotally placed to contribute to One Belt One Road. Dean Houmin Yan describes how the College of Business at CityU and Tsinghua University, Beijing will play a role in setting up an International PPP Specialist Centre of Excellence for Public Transport Logistics.
As a China development policy initiative One Belt One Road is achieving a high profile, and it is no surprise that throughout the region people are pitching to be part of it. The Hong Kong SAR is no exception and in a recent address, Chief Executive CY Leung identified a number of roles for the SAR1. Hong Kong, he said, is ideally positioned to be the "super-connector" between the Mainland and the rest of the world. As China's major international financial centre, and one of the world's financial capitals, Hong Kong has the experience, the expertise and the connections to play a role as a major fundraising hub.
Hong Kong is well equipped: The HKSAR is an offshore Renminbi hub, with the world's largest Renminbi liquidity pool, home to the world's busiest air cargo airport, and the world's fourth-busiest container port. Some 20% of the Mainland's international trade is already handled by the SAR. So, according to Leung, its role as a logistics hub will only be enhanced once the OBOR maritime road is in full flow.
Hong Kong is also a rich source of top professionals in a wide range of services, such as accounting, law, construction, engineering and business management. Major financial players such as the Asian Infrastructure Investment Bank, and the US$40 billion Silk Road Fund will be supported by Hong Kong's expertise in international financing and asset management. And the very scope of the OBOR initiative means that innovative financial vehicles will also play a significant role in realising the dream.
Tsing Ma Bridge, gateway to Hong Kong, and a vital link to the Hong Kong International Airport. Opened in 1997, this is the world's longest suspension bridge carrying both rail and road traffic
What are PPPs?
PPP is an umbrella term covering a range of different structures. It is closely associated with private sector projects delivering a public project or service. These kinds of concession-based transport and utilities projects are common in European Union countries, with the end-user providing the revenue. Auto toll projects to finance the building and operation of motorways, have been ubiquitous in France, Italy and Spain for many years. The model has also been used in Hong Kong for the various cross harbour tunnels. The concept of the PPP has now broadened in scope and can cover a range of scenarios. At one end of the spectrum, these may be relatively short term management contracts with little or no capital expenditure. The next step up are concession contracts. These typically involve the design and building of substantial infrastructure projects, the provision of a range of services and the financing of the entire construction and operation. At the most sophisticated end, there are joint ventures and partial privatisations where there is a sharing of ownership between the public and private sectors. The key to the PPP is that returns are linked to performance. The private sector service provider is responsible for asset delivery, management of the project as well as its implementation and operation for a defined period. After conclusion, the project may then revert to the public sector.
Public Private Partnerships
Why look to the private sector? Governments around the world have limited resources and capacity to achieve sustainable development goals on their own, especially with the recent slowdown in the global economy. The private sector has much of the needed resources and expertise.
So, how best to leverage this expertise? One solution is the Public Private Partnership (PPP), a vehicle that has been widely used for sustaining development in Europe, the United States and worldwide since the 1980s. PPPs are jointly funded and operated through a partnership of government and a private enterprise to provide government services such as infrastructure, including hospitals, railways, roads and bridges.
PPPs are often structured so that the public sector body seeking to make a capital investment does not incur any borrowing. This is the responsibility of the private sector vehicle implementing the project. The PPP is, from the public sector's perspective, an "off-balance sheet" method of financing the delivery of new or refurbished public sector assets when the cost of using the service is intended to be borne exclusively by the end user. It is therefore also a strategy for reducing the public debt.
PPPs were initially started in Europe, and there have been many successful cases, although some analysts see them as an expensive funding mechanism to build public infrastructure. The United Nations Economic Commission for Europe (UNECE) has been seeking ways to benchmark quality in the PPP field, and established the International PPP Centre of Excellence in 2012.2 In 2014 UNECE set up a PPP Business Advisory Board, consisting of an elite group of high-power business executives from around the world, which has been developing PPP standards and best practices. In order to strengthen regional cooperation on PPPs, UNECE has already set up regional centres in France, India, and Spain.
The PPP track record
It is worth noting that the effectiveness of PPPs is contested, and that there have been some spectacular failures. To take a look at the transportation sector in the United Kingdom: The infrastructure company Metronet was responsible for the maintenance, renewal, and upgrade of the infrastructure on nine London Underground lines from 2003 until its collapse in 2008. In June 2009 the UK National Audit Office estimated that the failure of the Metronet PPP contract had cost the taxpayer up to £410 million adding that "most of the blame for Metronet's collapse lay with the consortium itself, although other sources put the cost much higher at £2.5 billion or above."3
Nonetheless, PPPs continue to be deployed for a range of public sector infrastructure and service delivery. In the UK, there are more than 600 PPPs in the form of Private Finance Initiatives (PFIs) worth over £70 billion for hospitals, schools, prisons, bridges, roads and military equipment.4 More specifically there has been a sharp rise – again predominantly within Europe and the UK – in PPPs to deliver healthcare infrastructure including buildings, large technology systems, clinical services, and associated non-clinical maintenance and facility management services.5 And they have had a long and generally successful track record here in Hong Kong.
PPPs in Hong Kong
PPPs have historically played an important role in developing Hong Kong's infrastructure. Back in the 1970s, the Cross Harbour Tunnel was a pioneering example, although this has now been successfully transferred back into public ownership. Various strategic landfills and the Chemical Waste Treatment Centre are also run by private operators. The Tsing Ma control area which runs 16 km of private highway is another example. Many PPPs have successful track records and have been run to the advantage of all stakeholders. But the framework agreements are all important. Important lessons are being learned, for example, from the management of the Western Harbour Crossing, which contained an agreement that tolls may be raised if traffic volumes fall, in order to maintain revenue stream. This can lead to a negative spiral, with customers choosing to use alternative routes in order to avoid higher tolls, causing traffic congestion at cheaper tunnels.6
The PPP China Centre
Against this history of generally successful PPP management in Hong Kong, an International PPP Specialist Centre of Excellence for Public Transport Logistics (The PPP China Centre) has been set up to galvanise further PPP development in China. An initial MoU was signed between the United Nations Economic Commission for Europe (UNECE) and the National Development and Reform Commission of China (NDRC) in August 2015. The centre is a non-profit entity, jointly established by CityU and Tsinghua University in Beijing, and housed both in the College of Business of CityU and the School of Public Policy and Management of Tsinghua University.
The Chinese government is already well apprised of the value of PPPs. In 2014 the Ministry of Finance approved 30 pilot PPP projects, with a total investment of RMB80 billion. 2015 has seen a quantum leap, with the NDRC launching 1,043 PPPs, altogether a total investment of just on RMB2 trillion.7 In the face of the economic downturn and tightening of local fiscal conditions, many municipal governments have shown unprecedented enthusiasm for PPPs.
Transportation logistics
The College of Business at CityU is set to play a significant role. The PPP China Centre will focus on transportation logistics, leveraging China's significant achievement in infrastructure development capabilities such as roads, bridges and high-speed trains, Hong Kong's position as a major international transportation hub, its role as an international financial centre, and the generally successful history of PPP management locally.
The new centre will develop international policy briefs, PPP best practices and international PPP standards in public transport logistics. The MoU also covers the exchange of PPP best practices and standards developed by other international specialist centres affiliated to the UNECE International Centre of Excellence (ICoE). The scope includes smart and sustainable cities, with contributions from a number of cities in China, the establishment of a training centre in Shenzhen affiliated to the UNECE ICoE, and the joint organisation of an annual international event in Qingdao, the PPP Qingdao Forum, to disseminate policy briefs, best practices and standards.
The PPP China Centre is the only entity through which the UNECE will conduct its dealings with China on PPPs, and will be the main contact of PPPs for neighbouring countries and regions as well. Under the auspices of the UNECE, the PPP China Centre will actively participate in developing UNECE PPP Standards.
The Centre aims to organise regular symposiums on PPPs policies, laws and institutions, including at least one global event per year on PPPs in transportation logistics. It will also conduct regular training programmes on PPPs for government officials and private entrepreneurs, and showcase a major city within China each year on PPP in transportation logistics. The NDRC is in support for Shenzhen and Qingdao as model cities for achieving United Nations sustainable development goals through PPPs and for setting up a training centre in Shenzhen through the PPP China Centre.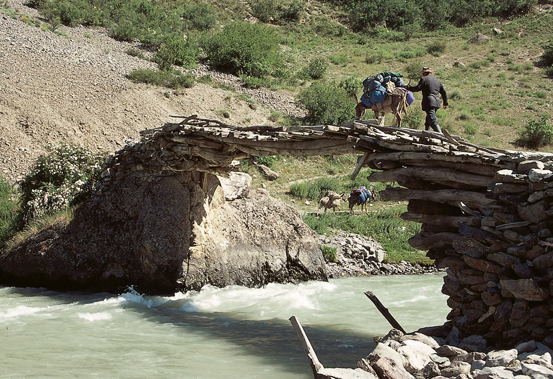 An ancient bridge building tradition in wood and stone, Yagnob Valley, Tajikistan. For centuries, small scale bridges helped pack animals such as donkeys and camels cross rivers on the historical Silk Road
© Markus Hauser, The Pamir Archive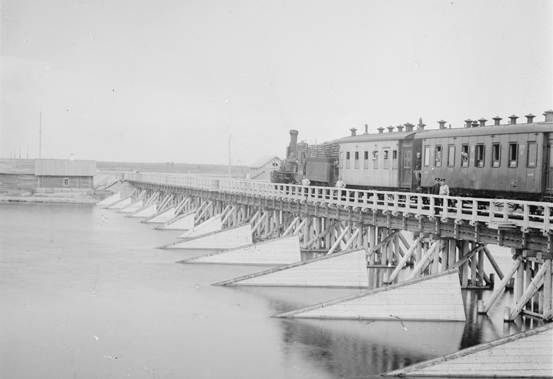 A train crosses one of countless bridges on the Trans-Siberian railway which stretches across the vast central Asian steppe. The railway was a major infrastructure development in the early 20th century connecting Moscow with the Russian far eastern seaboard at Vladivostok.
Photo courtesy of Library of Congress, Prints & Photographs Division, Prokudin-Gorskii Collection, LC-DIG-prok-00246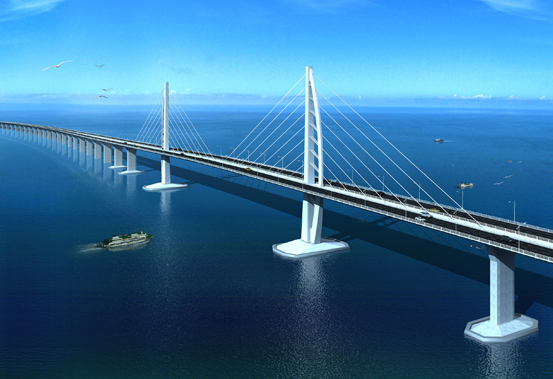 The Hong Kong–Zhuhai–Macao Bridge, currently under construction, will enhance connectivity across the Pearl River Delta. The crossing includes a 29.6 km dual 3-lane carriageway bridge, a 6.7 km tunnel, and two artificial islands for the tunnel landings at either end
© RM Imaginechina
The great logistical outbuild
The scope of projected Chinese infrastructure projects in the region is breathtaking. The China-Uzbekistan-Kyrgyzstan railway projected by the China Road and Bridge Corporation is a US$200 billion project. A Russia gas pipeline by the China National Petroleum Corporation is planned at US$55 billion. And closer to home OBOR is set to deliver the kind of regional connectivity that Europe already enjoys through her high speed trains: the China-Thailand Railway by the China Railway Construction Corporation is a US$23 billion project that will connect a string of major Southeast Asian countries through to Singapore.8 This is infrastructure that will open up alternatives to current maritime bottlenecks, and will play a key role in connecting the world of the mid-21st century. Hong Kong is also well placed to participate in the maritime road connecting the former colonial nations such as Myanmar and India, countries with a similar historical background and which can interface seamlessly. The PPP China Centre at City University of Hong Kong looks forward to making a key contribution to this great logistical outbuild, and to furthering international cooperation along the 21st century broadband Silk Road.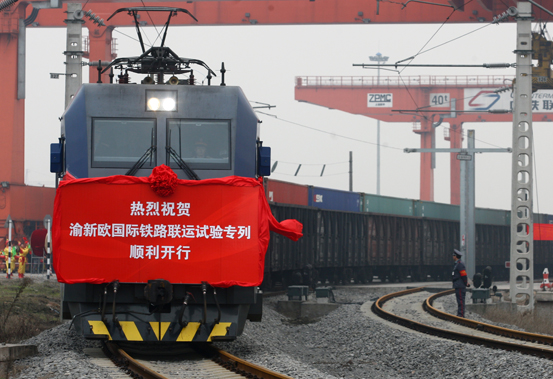 Test run for the Yuxinou Chongqing-Xinjiang-Europe international railway, the main Eurasian land bridge between western China and the European markets. Cheaper than air cargo and faster than sea freight, the 11,000 km journey takes just 13 days. Yuxinou is an acronym comprising Chinese characters Yu (which stands for Chongqing), Xin (Xinjiang) and Ou (Europe)
OBOR Projects
With CB's Research Centre on One-Belt-One-Road due to launch later this year, the College already has a nucleus of nine projects running in the area. Here we preview three of them. In the Department of Information Systems Professor Leon Zhao is looking into the development of government-incentivised crowdfunding platforms to fund multinational projects. He investigates how crowdfunding can be used to solicit and fund projects by means of PPPs.
Professor William Wan in the Department of Management aims to help Chinese firms establish organisational legitimacy in Russia, so that "Made in China" becomes a valuable brand. He outlines strategic theoretical foundations for establishing organisational legitimacy abroad, before analysing case studies of how Chinese companies have fared in Russia. In the context of the Russian political, legal, economic and social spheres, the study will then propose some guidelines for Chinese companies who are contemplating entering the Russian market, or for those looking to improve their current image.
Department of Economics and Finance Professor Jeff Hong is studying Shari'ah Compliant Bonds and Islamic Finance, a financial system commonly adopted in Muslim countries. He looks at pricing practice by examining existing Sukuk contracts against the related pricing literature. Risks attendant to the Sukuk system will be evaluated, in particular coupon payment risk, the variation of liquidity risk against the underlying asset, and Shari'ah compliancy risk. Possible ways to hedge and to manage these risks will also be analysed. The examination of Sukuk serves as a starting point for a wider investigation into Islamic financial systems, other types of financial products and the effect of Shari'ah law on them.