Geoffrey Hamilton, Officer in Charge at the Economic Cooperation and Trade Division of United Nations Economic Commission for Europe (UNECE) and Lu Xu, Consultant, Cooperation and Partnerships Section, Economic Cooperation and Trade Division, UNECE, discuss the role of the United Nations Sustainable Development Goals (SDGs), the track record of the Public – Private-Partnership (PPP) model, and their introduction into China.
UN SDGs and importance of partnerships
In 2015, the United Nations adopted a highly ambitious agenda for bringing prosperity and wellbeing to citizens, eradicating extreme poverty and saving the planet - leaving no one behind. All member states approved this ambitious agenda of People Planet and Prosperity. This is not some "woolly" Declaration. It took years to carefully elaborate. It includes 17 Sustainable Development Goals and targets. And all these targets have to be met by 2030 with continual checks to review progress in their achievement.
Moreover, it is critical for achieving the UN SDGs, especially in low and middle-income countries to mobilize new investments in high-quality infrastructure projects. Infrastructure investments overall are a key driver of development and social programmes creating jobs, higher productivity and boosting trade. The UN SDGs seek to eradicate poverty by achieving universal access in different infrastructure and social sectors such as health and education, renewable energy, and water and sanitation, etc. Universal access to essential services for life and human wellbeing is the leitmotif running through most of the SDGs.
Focus on Public-Private-Partnerships
A special role for implementing this agenda in SDG 17 on a new "Partnership for Sustainable Development" is given to "Partnerships". Within the different types of Partnerships mentioned, the one where most attention has been addressed are PublicPrivate-Partnerships. This is hardly surprising given the quantum of investment in infrastructure that will be needed to achieve the UN SDGs. While this task in the most ideal of worlds might be best undertaken by the public sector it is simply not feasible for governments alone to make up the shortfall in the huge financing required from, inter alia, increased taxation, higher productivity, official development assistance etc.
Yet it is rather surprising, given the huge emphasis on PPPs, that today there is no major mobilization of support amongst leading chief executive officers of companies, political leaders and leaders within civil society for PPPs for the UN SDGs. Progress for example, towards developing the indicators in measuring the accomplishments of PPPs in support of SDG 17 is rather slow. Why should this be so?
Part of the answer lies in the hesitancy to support the PPP model. Civil society organizations in particular are highly critical of PPPs and describe them as schemes which "privatize the rewards and socialize the costs".
Is the PPP model fit for purpose?
The question indeed has been raised as to whether the PPP model is "fit for purpose" to achieve the UN SDGs. Overall the evidence from experience is neither black nor white. But the following is certainly true:
Its objectives, where it has been used, have not been poverty eradication, inclusiveness or for addressing the effects of climate change; rather the focus is on efficiency and "value for money" - fair enough but not in the spirit of the SDGs.
It can lack transparency and accountability. Inclusiveness, transparency and accountability appear often in the UN SDGs and there is an implicit expectation that PPP can contribute almost automatically to these principles. However, in PPPs a central role is given to the contract and information tends not to be provided. The actions and performance can remain rather hidden from the public gaze. The private partner often wishes to keep the conditions secret so as not to give away any competitive advantages.
Its focus is not low-income countries. PPPs grew up in developed countries not in low-income and medium income developing countries. They tended, moreover, to be a product of their highly effective institutionalized environments existing in these countries. When attempts were made to transfer a PPP model to a low-income country, problems emerged owing precisely to the lack of similarly strong institutions existing in these countries.
Accordingly, on the capability of the PPP model to deliver on the ambitious agenda, there is no evidence from experience that the traditional model of PPPs is a guarantee for the successful achievement of the UN SDGs.
Evidence from some PPP case studies
Looking at the empirical evidence from some notable case studies, the picture tends to be something akin to the "good, the bad and the ugly".
PPP hospital Lesotho
Up until the building of the Queen Mamohato Memorial Hospital under a PPP, and its management by Netcare, a South African asset company, people needing urgent medical attention were often sent to South Africa. However following the building of this hospital under an 18-year PPP agreement with the government of Lesotho, services became much more modern and an upgraded Queen Mamohato Memorial Hospital was opened in October 2011 with the following benefits:
New health centres linked to the modern hospital provide care to more than 25% of Lesotho's population
Maternal and child health results dramatically improved through this PPP
Maternal deaths at the facilities fell by 10%
The health network is treating far more people than the previous facility; a 30% increase in the number of patients
A teaching component was added to train badly needed doctors
On the other side of the balance, however, the project has caused a large amount of debt for the government. Critics have alleged more than half (51%) of the country's entire health budget is being spent on payments to the private consortium that built and runs the hospital in the capital.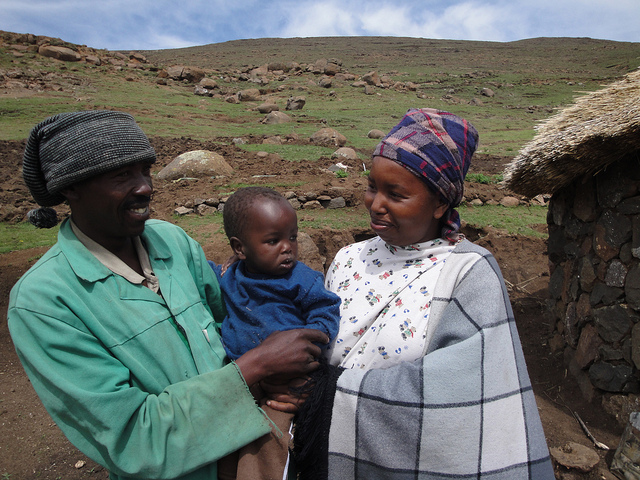 Families living in remote areas of Lesotho have improved access to healthcare
Photo courtesy of Reverie Zurba/ U.S. Agency for International Development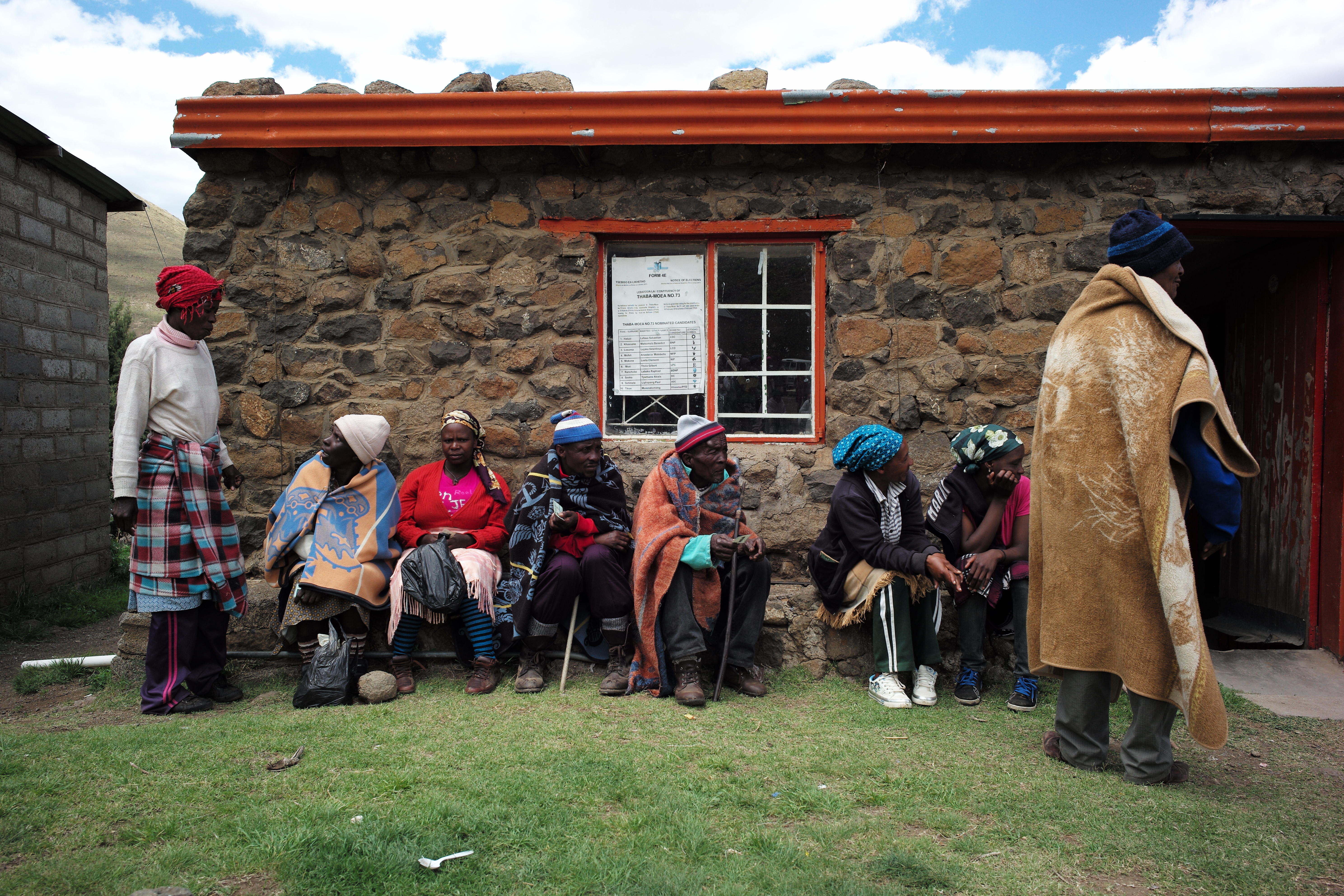 People waiting in line for medical treatment in front of a local village health centre in Lesotho. SolidarMed is especially working in HIV prevention and treatment in these regions, and teaching people to make self-testing
Photo courtesy of Nik Hartmann/SolidarMed
Water concession - East Zone of Manila
Water PPPs are one of the most controversial areas involving the private sector. Access to water has been since 2010 a human right. Critics say therefore that people should not have to pay for this service. There indeed have been many conflicts surrounding the asset moving into private hands and this has caused considerable resentment. In Detroit, for example, the failure to pay bills by the poor people - many of whom were African Americans - caused the service to be cut. Although this was not a PPP - the water authority was a public entity, it demonstrates the sensitivity.
However, a notable case that bucked the trend took place in Manila, the Philippines. Before it became operational, local people especially the poor, were fully consulted on the project. With good preparations and thanks to economies of scale, the Manila Water Project successfully improved the water supply coverage so that the whole city today has universal access to piped water; at the same time, the cost of water is considerably lower than previously charged by water vendors.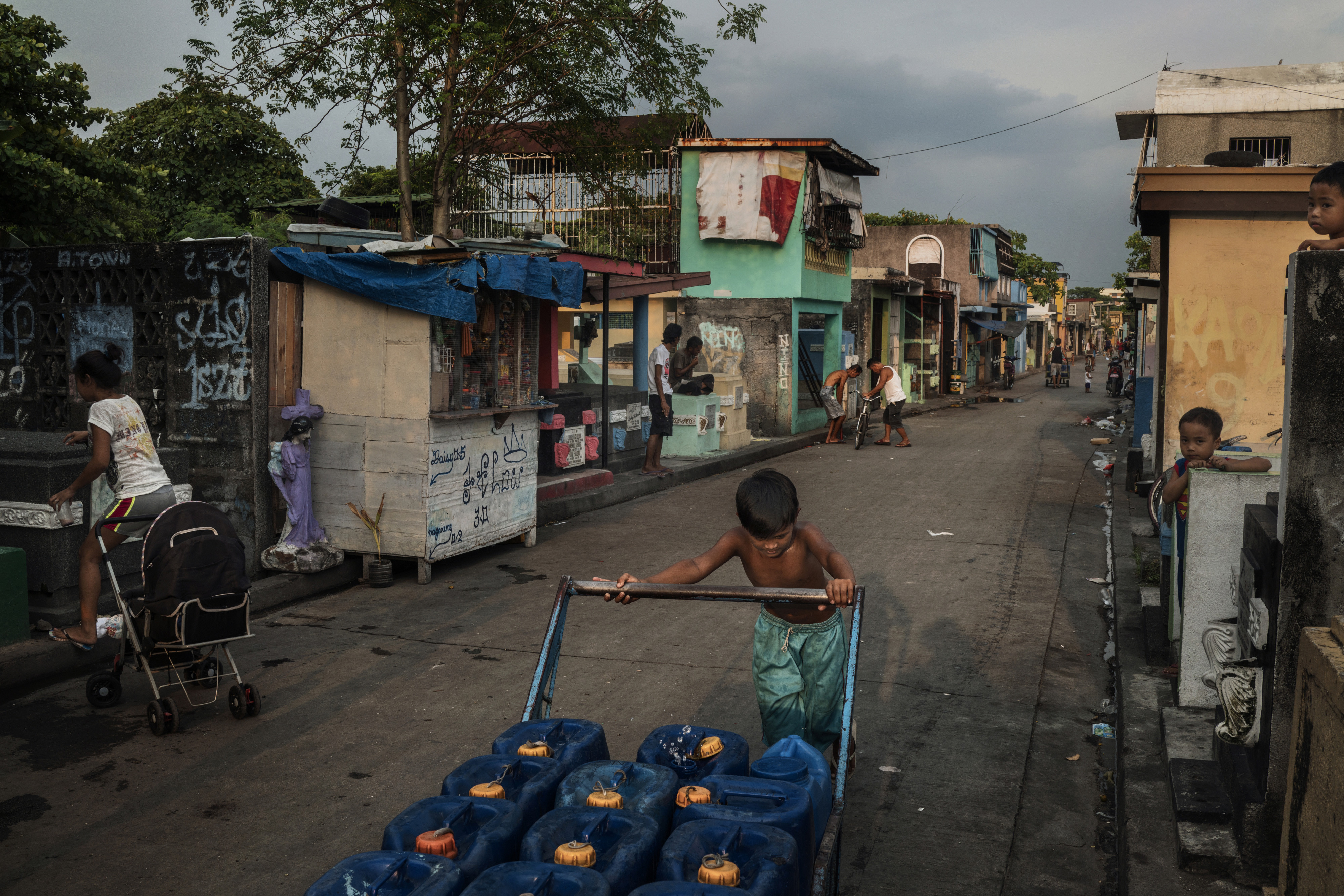 The Philippines - before mains water arrived, pushing a trolley full of bottled water
©RM Redux Pictures
Moving towards People First and a new generation of PPP
In order to overcome some of these problems, a new definition is needed. PPP needs to expand its scope from a focus exclusively on "value for money" to incorporate also a social and environmental agenda. It must improve access to essential services to the vulnerable. It must promote equity. It needs to keep its purpose of economic effectiveness and indeed become a "transformational" model. It should help countries move towards a green economy, cut CO2 emissions, and develop new renewable energy sources for its electricity. It should build an infrastructure that is resilient to the effects of climate change.
It must also engage stakeholders and be replicable and scalable - the idea is that multiples of the models are needed if the UN SDGs are to be achieved. These aspects need to be operationalized into new tests for doing PPPs, while Governments should include these as criteria for winning competitive tenders.
Clearly PPPs which increase access to basic services and reduce the gaps between the "haves" and the "have nots", move towards a more sustainable economy by direct efforts to reduce pollution especially in cities, give ownership to ordinary people in the design and even the management of the projects, can build the social fabric, and are more likely to achieve the UN SDGs.
The role of governments
But how feasible is such a vision of projects being developed to this level of accomplishment and desirability? In order to make such a vision a reality, governments will need to scale up their commitments to develop the best enabling environment for such projects. They must commit to good governance and a zero tolerance approach to corruption. They must build their own capacities to deliver such projects even when the skills for PPPs are found much more in the private as opposed to the public sector. They will need to establish new institutions; they will need to create new data sources on measuring the impact of these projects; they will have to pass laws that oblige the parties to disclose much more information on projects; they will have to put this agenda into practice by selecting the "good" projects that are compliant with the new criteria; and they may indeed decide to allow for local community representatives to be elected to the boards of the Special Purpose Vehicles established to run these new enterprises. These involve the moral and ethical demands of our time on this planet and these recommendations - currently being drafted in some Guiding Principles by the UNECE will have to be taken seriously by all governments.
China
China is supporting the PPP model. It provides an enhanced efficiency and a far greater likelihood of on-time and to-budget delivery and this feature of PPPs is attractive to the Chinese government, especially in rolling out the country's unique contribution to the global economy in the Belt and Road (B&R) Initiative.
At the same time it can play an exceptionally strong role - not so much in developed countries where partnerships between the public and private sectors are mainstream, but in the low and medium income countries, offering strong leadership. Lots has been written in the study of international relations about "leadership" and its importance for promoting peace and stability, but also about the risk of interference in sovereign countries or the exertion of undue influence. However, it is rather a more inspirational role - "lead by example" - that is called for here.
Also, China's corporate sector is becoming more sophisticated and able to meet the highest standards of behavior internationally. In this regard, also the state and its companies are important. Many corporations outside China are eager to partner with such enterprises many of whom appear in the Fortune 500. Together these entities - public and private - can leverage more resources into projects that have such a moral and ethical dimension. In the area of the superhighway and the internet, Alibaba could for example act as a platform for the banks and financial services industry to mobilize funds to assist the small and medium-sized enterprise sector to boost their involvement in international trade, which if it could materialize would be a potentially colossal contribution to the growth of international trade and a more inclusive global economy.
At the same time, China also will continue to improve its international practices amongst all its companies with respect to observing international standards in the environment and in society, making sure that projects are sustainable.
Five criteria for People First PPP projects
Increase access to essential services and lessen social inequality and injustice
Enhance resilience and more care with the environment
Improve economic effectiveness
Promote replicability and the development of further projects
Fully involve all stakeholders in the projects
Chris Heathcote, CEO of Global Infrastructure Hub, underlined this point at the UNECE International Forum held at City University of Hong Kong in May this year. "More private sector companies are coming to me and saying sustainability is one of their top three concerns in infrastructure ...making sure that a piece of infrastructure or building incorporates the needs for people as well as provide growth potential."
The march of progress
People First PPPs are increasingly on the agenda to build momentum to fill the infrastructure and financing gap so that the UN SDGs can be realized. This will raise standards and improve practices across the globe in infrastructure. At the same time, China's B&R Initiative can be a vehicle for accelerating the process and creating a win-win in the sense of a win for using PPPs in its B&R Initiative and a win in meeting the UN SDGs.
The Chinese corporate sector will be important for the success in both UN SDGs and in the B&R Initiative. Here the City University PPP China Centre affiliated to the UNECE International PPP Centre of Excellence for the UN SDGs, can play a critical role. Specifically, it can act as a conduit for transfer of good practices to Chinese companies already working abroad as well as informing and mobilizing the corporate sector in Hong Kong and elsewhere to exploit the new opportunities in the B&R Initiative and to prepare them for their new additional challenges and responsibilities in working outside China.
These are indeed exciting times - the march of progress for the Belt and Road Initiative and the achievement of the Sustainable Development Goals has well and truly begun.
CityU hosts UNECE International PPP Forum
The UNECE International PPP Forum, Implementing the United Nations 2030 Agenda for Sustainable Development through effective, people-first Public-Private Partnerships, was held at CityU in May. The forum was co-organized by the United Nations Economic Commission for Europe and the College of Business, City University of Hong Kong.
The three-day forum included discussion on how to promote international PPP standards, exchange PPP experiences, and showcase projects in support of the UN Sustainable Development Goals, and was attended by around 250 experts from over 50 countries, with several thousand more participating via live streaming.
In her inaugural remarks, Yvonne Choi, Commissioner for Belt and Road of the HKSAR Government, highlighted the importance of infrastructure development in the Belt and Road Initiative
"Infrastructure development is capital intensive, and usually the investment level falls short of requirement. The gap cannot be filled by public money alone, and this is where the PPP model comes in."
The forum featured a special high-level debate entitled How can the international community support China to operationalize its Belt and Road initiative and develop best practice on People First PPPs? Panel members included Danny Alexander, Vice President, AIIB, Xiaoping Chen, CEO, Everbright International, Chris Heathcote, CEO, Global Infrastructure Hub (G20), James Stewart, Chairman, UNECE PPP Business Advisory Board, Annie Wu, Standing Committee Member, the National Committee of Chinese People's Political Consultative Conference, and Houmin Yan, Dean of the College of Business, City University of Hong Kong.
A plenary session The Hong Kong Experience, moderated by Dean Houmin Yan, explored how this rich experience could be shared not only with mainland China but also with countries in Asia and Europe. Panel members included Dr Jacob Kam, Managing Director of the MTR Corporation, Wai-pan Sze, Chairman and CEO of Freetech Road Recycling Technology Limited, Professor Yongheng Yang, Associate Dean of School of Public Policy and Management, Tsinghua University, and Wilson Fung, Executive Director of the Hong Kong Airport Authority.
The forum attracted great interest with live streaming followed by around 40,000 participants on a daily basis. The positive feedback received from many participants, demonstrates the great interest in the UNECE work on People First PPPs for the UN SDGs, including the work on the cases studies and the international PPP standards.
The next edition of the international PPP forum will be held in Geneva, Switzerland, in May 2018.