Professor Frank Chen, Head and Chair Professor in the Department of Management Sciences, gave a President's Lecture entitled "Integrated Elderly Care, Challenges and Opportunities" on 12th March. Professor Chen described the crisis in Hong Kong's public healthcare system, some achievements of his healthcare research team to-date, and how he sees the Elderly Ecosystem developing in the future.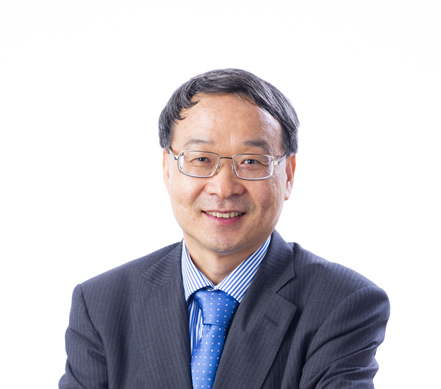 Lunar New Year this February once again brought a surge of demand to Hong Kong's overburdened hospitals. The overall occupation rate hit 111%, but this masked regional differences with several hospitals in Kowloon at over 120% – and resulting in waits of over eight hours.
Is the solution more doctors and nurses in the hospitals? As one doctor in Tuen Mun Hospital put it, "with these kinds of occupancy rates, it's even difficult to walk through. Where to put extra staff?"
Ironically, the crisis in public healthcare comes against a positive backdrop. Hong Kong's women and men enjoy the longest life expectancy in the world, with women living for an average of 87.3 years, and men 81.2. But therein lies the root of the problem. Hong Kong's population is rapidly aging.
Hong Kong's hospitals are in fact performing efficiently and with relatively thin resources. Total GDP in healthcare is at 5.7%. Compare this to 17.2% in the US, or 10.1% in Japan. And inside the two-track system, public hospitals are taking the brunt of the work, handling 90% of the patients whilst employing just 40% of the doctors. Above all, the main problem is with the care of elderly people, those aged 65 or above. They make up half of all patients in Accident and Emergency as well as half of all inpatient admissions. It is no exaggeration to say that healthcare is and will be about elderly care in the coming years.
Achievements to-date
Professor Chen and his team, with the support of Dr Eman Leung, have been working on multiple fronts. They have proposed practical solutions to mitigate hospital overcrowding, to estimate the effect of community service provision on minimizing hospitalization, and to anticipate hidden risks from elderly people not currently under the care of the social services. The work has been achieved with the support of the UGC funded theme-based research project "Delivering 21st Century Healthcare in Hong Kong – Building a Quality-and-Efficiency Driven System" and donations by Dr Joseph Lee Chung-tak and Mr Tat-chuen Lau.
Improving acute care hospitals
In the crucial battle against the severe over-crowding in Hong Kong's hospitals, the team has developed and validated three models: a new model for predicting patient segment-specific length of stay, a new estimator for hospital readmission risk, and a hybrid decision tree to optimize the allocation of post-acute care for minimizing readmission. The team has also developed a novel tensor factorization-based machine learning method for predicting the development of new chronic diseases. Currently, the theme-based research team is working with one of its hospital partners to implement the above analytic models at different junctures of the patient journey. This will improve the quality and efficiency of acute and post-acute care through data-driven discharge planning at admission.
Improving residential services
A data-driven care planning model has been developed in care homes to minimize emergency hospitalizations. The team has also created a decision modelling for frontline health workers to minimize unnecessary hospital readmissions.
Improving community services
A hierarchical frailty hazard model has been developed to estimate the effect of post-discharge service provision on minimizing re-hospitalization. One immediate takeaway: Elderly people who received social service support in the community such as sorting out medication, accompanying to follow-up hospital visits, meal delivery and basic care, stayed out of hospital longer compared to those who did not.
Identifying potential risks
Not all elderly persons are currently under the care of the social services. Data has been collected by a team of nurses and social workers from 1,500 elderly people living in the community on their clinical, functional, psychological and social metrics to develop risk profiles and identify personalized care plans to manage risk. Again, the main idea is to minimize hospitalizations.
What for the future?
Professor Chen proposes an Elderly Ecosystem working with assistive technology at six levels. One overall result would be to reduce the demand on human resources in the community.
Individual level – Artificial intelligence-assisted individualized care planning for chronic diseases management, fall prevention, mild cognitive impairment interventions, etc.
Organization level – Data-driven optimization of service delivery and resource allocation.
Community level – Advanced analytics to optimize the coordination between medical and social services, minimize hospital readmission and delay entry into residential care homes.
Public health level – Health and disease surveillance and modelling.
Government policy – Evidence-based policy design to incentivize private enterprise entry into the silver market and create a sustainable elderly care ecology through public-private partnerships.
Long-term Sustainability of Healthcare transformation – Talent training for the elderly healthcare ecosystem, internship opportunities would be created for university students to expose them to a silver market.
The scope of this multidisciplinary work is wide-ranging, and would involve many key academic units in CityU, as well as the Hong Kong Government and other stakeholders. Professor Chen looks forward to the theme-based project making further positive impacts on the elderly health ecosystem.