How would you describe Turkish-Chinese relations?
The Turkish and Chinese civilizations have been linked by the ancient Silk Road for several millennia. Trade routes from China crossed Asia, many converging on the bazaars of Istanbul. In more modern times, diplomatic relations between Turkey and China were established in 1971, and in the past decade frequent reciprocal visits have contributed to our strategic relations. On the occasion of the Belt and Road Forum for International Cooperation in May 2017, President Recep Tayyip Erdogan visited China and met President Xi Jinping.
Economic and trade relations between Turkey and China are developing dynamically. China is our largest trade partner in Asia and our second largest trade partner globally. Our trade has surpassed US$26 billion p.a. This is a solid relationship with a very bright future.
Let me also briefly touch upon on our relations with the Hong Kong SAR. We very much cherish our growing relationship with Hong Kong as an integral part of China and value the ties that we have developed so far in trade, tourism, culture and education.
On the economic front, both Turkey and Hong Kong are gateways to their surrounding regions with huge market potential. There is ample scope for our business communities to further develop their cooperation by using this geostrategic advantage. We encourage Turkish companies to settle in Hong Kong and utilize this key Asian city for the opportunities in the mainland and other markets. As for Hong Kong companies, I trust that they may like to benefit from the foreign direct investment friendly environment of Turkey as well as from the approximately 1.6 billion customers in the adjacent regions.
Is Turkey part of the Belt and Road?
The answer is "yes". Turkey has supported this initiative from the outset. President Erdogan, in his speech at the opening ceremony of the Belt and Road Forum hosted by President Xi Jinping in May 2017, highlighted the importance of the win-win approach in the realization of this initiative and underlined Turkey's readiness to provide all kinds of support for its success.
President Xi Jinping's Silk Road initiative has converging aspects with Turkey's longstanding efforts to revitalize the ancient Silk Road. Located in a key position, Turkey aims to realize the Trans Hazar- Middle Corridor Project, opening a new corridor connecting China and Europe. To align China's Belt and Road Initiative with the Middle Corridor Project of Turkey, a Memorandum of Understanding was signed in November 2015.
Geopolitically, will Turkey align more closely with Europe or Asia?
We live in an age of rapid changes and uncertainties, and our world is experiencing a transition period. Our policies need to adapt to constant change and help shape the dynamics around us in the direction of peace, prosperity and stability. Turkish foreign policy mobilizes several complementary political, economic, humanitarian and cultural means to that end and has global reach.
Turkey is pursuing membership of the European Union underlining that her membership would benefit both the EU and Turkey. As an active member of NATO, Turkey has been making essential contributions to the North Atlantic alliance and the core premise of the alliance, namely "one for all, all for one". Turkey is part of the European Customs Union and is an active member of the G-20. She is also a co-founder of the Alliance of Civilizations, amongst others.
As the world pivots towards Asia, Turkey is a significant player in the global power balance. In the mid-1970s, the world's seven largest economies were in Europe, North America and Japan. Nowadays three of the seven largest economies are in Asia.
We would like to redefine the world as an area of cooperation rather than conflict. Therefore, we cannot look at the world with narrow ideologies and strict identities. We strive to embrace Europe, Asia, the transatlantic, Africa and Latin America. Turkish diplomatic outreach has grown immensely during recent years, now totalling 239 missions abroad, and is the fifth largest network globally.
What major new infrastructure projects are underway?
Turkey is building tunnels, bridges, airports and canals. Several mega projects have been completed over the last 15 years, mostly using the public-private-partnership model. Istanbul's new airport project is 70% complete and the first phase will be open for service in October 2018. The Baku-Tbilisi-Kars Railway was completed in October 2017 and is one of the most important links in the modern Silk Road and a main component of the Middle Corridor.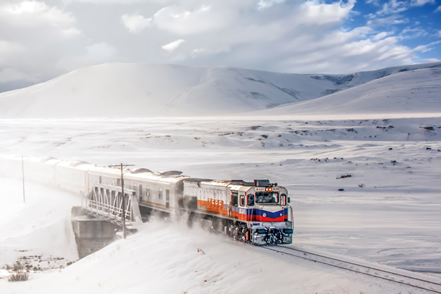 The Baku-Tbilisi-Kars railway is a regional rail link that connects Kars in Northeast Turkey to the Georgian capital of Tbilisi and Baku, Azerbaijan's capital city. The railway is an important link in the modern silk road
Mega projects such as the Trans-Anatolian Natural Gas Pipeline Project and nuclear power plants projects are underway, whilst a massive new project, Canal Istanbul, will provide an alternative link between the Black Sea with the Mediterranean on Istanbul's European coast. Another huge project is the 3-story Grand Istanbul Tunnel, designed to carry both cars and metro between Asia and Europe.
Economically, what are the expected growth areas in the next five years?
Based on Turkey's long-term vision for 2023, our country aims to be one of the top ten economies in the world, with a GDP of around US$2 trillion, a GDP per capita of US$25,000, and exports of US$500 billion.
Our goal is to shift production from low-technology to high-value and high-technology products. So the areas which mostly use advanced technology such as information systems, pharmaceuticals, telecommunication, defence and aviation will be the fields of growth in the forthcoming years.
Turkey also aims to increase the share of domestic resources in primary energy production in order to alleviate its high import dependency on energy products. Diversification of routes and sources for imported oil and natural gas, increasing the renewable energy in our energy mix, increasing energy efficiency and adding nuclear to our energy mix are the other goals we want to achieve in the near future. So energy as a whole will be one of the main areas for growth for the coming years.
Finance will also play a crucial role in Turkey's economic growth. The vision of the Istanbul International Financial Centre is for Istanbul to become a regional, and then a global financial centre.
What are the highlights of innovation and R&D?
R&D activities are, of course, crucial for innovation. A network of Technology Development Zones specializes in developing the high technology sector by supporting and encouraging R&D activities. The zones were first established in 2001 as sites integrating academic, economic, and other structures. To date there are nearly 50 TDZs in operation. Enterprises are provided with R&D allowances, incentives for withholding income tax, insurance premium support, stamp tax and customs duty exemption, etc.
At the end of 2016, our government launched a new project-based incentive system, to provide a flexible, tailored approach to support specific projects. In this regard, President Erdo an has recently announced 23 projects worth US$33.16 billion in sectors including aviation, renewable energy, health, defense, automotive, mining and metals.
Saint Nicolas
Saint Nicholas was born far from the snowy landscape of reindeer and sledges on the Mediterranean coast of Turkey at Patara in CE 270. As he grew up, he felt the calling of the Christian religion and eventually accepted a position as bishop of the nearby town of Demre. When his parents died he inherited a large fortune which he used to help the poor. He started to drop bags of gold coins down chimneys, gave nuts and fruit to good children, and helped look after the sick and elderly in the community. When Nicholas died, his sarcophagus was placed in his church. But his fame was spreading worldwide. He was named a saint and Italian sailors stole his bones to take to their homeland. Over hundreds of years, the image of Saint Nicholas also changed. The red-suited Santa Claus that we see nowadays helping to sell Christmas, bears little resemblance to the original.
How successful is Turkey in attracting Foreign Direct Investment?
Turkey is a major recipient of FDI, receiving nearly US$11 billion mainly from European countries, but also some 20% of the total from Asian countries last year. Currently we have a very liberal FDI regime. Turkish FDI frame law guarantees equal treatment to all investors and enables all international investors to enter Turkey without a preliminary authorization request, to transfer dividends freely, to access real estate, and to be protected against expropriation.
The investments of Huawei, Hyundai, Unilever, Pfizer, Ford and Microsoft in Turkey, represent important landmarks in our success story. We will continue our promotional campaign with the slogan "Come to Turkey, Discover your own Story" to project our country's strong economy abroad, and the opportunities open to investors.
What are Turkey's main tourist attractions?
Turkey is the 6th most popular tourist destination in the world and is well on the way to attracting more than 40 million tourists annually. With cities steeped in history, beaches, and beautiful countryside, rich cultural, culinary and natural wonders, Turkey promises a unique vacation experience for all visitors.
Capital to civilizations for millennia, Istanbul is an international landmark with its historical peninsula, numerous scenic vistas and historical beauty. Further south, the Turkish Riviera, first and foremost Antalya and its environs at the Mediterranean and Izmir on the Aegean coast offer a wide variety of sun and sand holidays for families, at reasonable prices. Also on the Aegean are diverse offerings such as the UNESCO World Heritage sites, including the extraordinarily beautiful ancient sites of Troy, Ephesus and Hierapolis.
Turkey has several landmarks of the Abrahamic religions which can be seen across the natural landscape of Anatolia with major religious sites such as the House of the Virgin Mary in Izmir, Sumela Monastery in Trabzon, Cappadocia, and the Monastery of Saint Nicholas in Antalya. Even Santa Claus originally comes from the southern Turkish town of Demre!
Last but not least, seafood lovers find terrific fish restaurants in Istanbul as well as along the Mediterranean and Aegean coasts. Gourmets should not miss the chance to taste the pastries, diverse kinds of baklava, Turkish coffee and other delicious specialties of Turkish cuisine including a variety of traditional kebabs.
Turkish Airlines flies to more countries and international destinations than any other airline. Year 2018 is designated "Turkey Tourism Year" in China. Turkey is ready to greet more visitors and tourists from China, including the Hong Kong SAR. We look forward to welcoming you!
The Eurasia Tunnel Project
The Eurasia Tunnel Project connects the Asian and European sides of Istanbul via a 14.6 kilometre undersea highway. The Republic of Turkey commissioned Eurasia Tunnel Operation Construction and Investment Inc. to carry out the design, construction and operation of the project. The Tunnel was opened in December 2016. The Eurasia Tunnel Project is a public-private partnership, and after the completion of the operation period of 24 years and 5 months will be transferred to the public sector. Many of Turkey's mega-scale projects also use the PPP model, such as the Yavuz Sultan Selim Bridge, the Istanbul New Airport, the Osmangazi Bridge, city hospitals in Yozgat and Mersin, and the Istanbul-Ankara High Speed Railway.