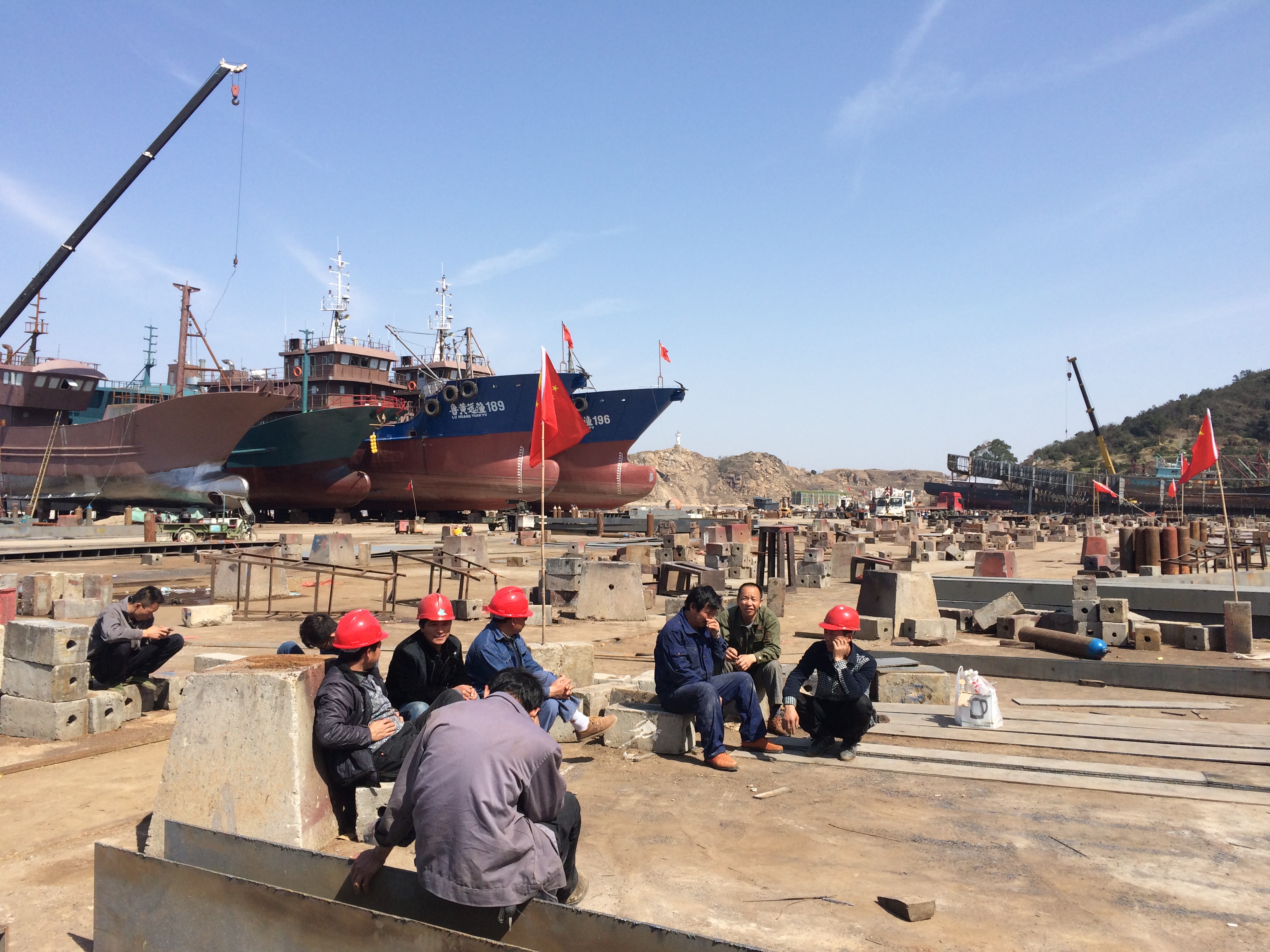 Overlooked amid headline collapses of major shipbuilders are China's small yards, which account for just a fraction of the world fleet but helped relieve the shortage of capacity during the boom, and by the same token have prolonged the shipping cycle afterwards.
At the southern tip of the Xiangshan Peninsula of China's Zhejiang Province lies Hepu Shipbuilding Park, a shipyard cluster established by the local government. Small yards are strung side by side along the waterfront: from east to west, Guanghe, Hepu, Pudong, Boda, Zhenyu, Donghong, Dajiang, Zhenhe. They sprang up at the peak of the markets like mushrooms, hiring farmers right out of the rice fields who had never seen a ship and putting them to work building simple bulkers, tankers, containers — but also sophisticated multipurpose (MPP) container vessels and chemical tankers.
Back then, the headache for the shipyard bosses of Hepu was how to manage the swarms of customers waiting in their conference rooms, begging to contract newbuildings or buy existing ships of all types and sizes. As the Baltic Dry Index (BDI) rocketed to 11,792 points in mid 2008, the shipping cluster in this small town went crazy as well. Local people did not know much about the BDI but they saw a simple fact: shipping could be easy money for builders or owners. One 20,000-dwt bulker carrying coal from Qinhuangdao in northern China to Wenzhou in the south would easily generate CNY 2 million to 3 million profit per year. The value of ships seemed to go upwards only.
On a recent visit to Hepu, these shipyards offered a very different impression to the senses. Lonely gantry cranes hovered over empty slipways. Gone was the noise of sanding on the dust of steel plates, the smells of paint and diesel. Every corner of the yard was silent except for dogs running loose.
There was hardly a worker to be seen other than security guards at the entrance gates. The cold current of the everlasting downturn of shipping markets has penetrated this small shipping cluster. No longer do buyers queue at the manager's office to sign new contracts. No longer do the waves of workers on their motorbikes overflow the shipyards. No longer is the 12-storey onsite hotel crowded with buyers, supervisors and suppliers drinking and hanging out. All the prosperity has gone.
The Baltic Dry Index (BDI) is an assessment of the average price to ship raw materials such as coal, iron ore, cement and grains on a number of shipping routes. The index is considered as a leading predictive indicator of economic activity since it involves events taking place at the earlier stages of global commodity chains.
Three to four years ago, some shipyards thought they could manage the drought of newbuilding orders by placing them on their own account.
It seemed to be a feasible interim measure because there was still tonnage demand in the market and freight was above operating expenses (opex), leaving some margin to pay the banks. But from the second half of 2014, through 2015 and the beginning of 2016, the market in freefall has driven the BDI down to one historical low record after another, and owners suffer from double losses: not only freight rates too low to cover opex and bank interest but also the dramatic drop in ship values, with banks forcing owners to increase equity in order to comply with loan-to-value covenants.
Unlike a few years back, when the problem of lack of liquidity was prominent, buyers now face the "Three Nos": No equity, no financing and no charter. Any ships ordered or built without at least the serious prospect of a charter will lead to a false prosperity of the shipbuilding industry. Eventually shipyards and shipowners have to pay for it. The commodity ships built in Chinese shipbuilding parks like Hepu have proven this. A government policy like the "White List" to limit capacity should have been issued before they emerged, not at the end of a boom when shipyards have no choice but to close down on their own.
Small yard capacity proves hard to take out
Shanghai China's small shipyards present a special obstacle for any hope of a readjustment of shipbuilding capacity: many can survive as going concerns despite near empty orderbooks. China's small shipyards, unlike troubled medium-size and large builders beset by headline crises, are in many cases not even shutting down when the orders dry up.
That means they are a different kind of problem from the big yards, where, as analysts often complain, physical capacity remains in place as a persistent threat, despite bankruptcies, restructurings and takeovers.
The yard owners are not as flash as in the boom years but many are still respected business figures in their local communities despite the downturn.
These small yards are not selling their gantry cranes for scrap steel. Many are staying in business even if the facilities are idle or almost idle, and if there are any signs of demand returning to the market, the capacity will still be there and production can be revived quickly.
This article was originally published in TradeWinds Magazine in March 2016 as: Small Chinese shipyards constitute a key piece of the overcapacity picture