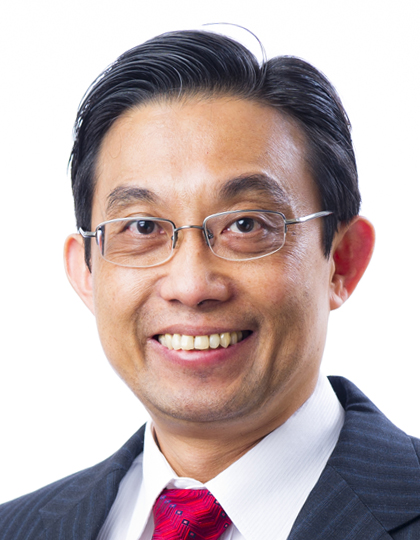 Prof. LIM Kai H.
林開教授
Department of Information Systems
Yeung Kin Man Chair Professor of Information Technology Innovation and Management
6-245, Lau Ming Wai Academic Building, City University of Hong Kong
Research Areas
Management of IT resources
Cross-cultural issues in Information Systems management and implementation
Human-computer interaction
Adoption of electronic commerce
Mobile Commerce
e-Health
Qualifications
Ph.D. - Business Administration (Management Information Systems) (University of British Columbia)
M.A. - Management Science/Management Information Systems (University of Nebraska, USA)
B.S.(Honors) - Mathematics and Economics (University of Minnesota)
Biography
Kai H. Lim, Yeung Kin Man Endowed Chair Professor of Information Technology Innovation and Management and Director of Research and Ph.D. Program at the Information Systems Department, City University of Hong Kong. His research interests include e-Health, cross-cultural issues related to information systems management, IT-enable business strategy, e-commerce, social media, mobile commerce and human-computer interactions. He served two terms (2011-2017) as a Senior Editor of MIS Quarterly and had served on the editorial board of ISR, MISQ, and JAIS. His research has appeared in MIS Quarterly, ISR, JMIS, and JAIS. Prior to joining CityU, he was on the faculty of Case Western Reserve University and the University of Hawaii. He has won numerous teaching and research awards, and is one of the top-ranking teachers teaching in the CityU's EMBA program. He has conducted executive training in Beijing, Guangzhou, Shanghai, and Hong Kong. He is also an Honorary Professor of Fudan University, China.
Faculty Positions
| Period | Department - Institution | Position |
| --- | --- | --- |
| 7/2016 - Now | Department of Information Systems - City University of Hong Kong | Yeung Kin Man Endowed Chair Professor of Information Technology Innovation and Management |
| 7/2015 - 6/2016 | Department of Information Systems - City University of Hong Kong | Chair Professor of Information Technology Innovation and Management |
| 9/2007 - 6/2015 | Department of Information Systems - City University of Hong Kong | Professor |
| 1/2010 - 6/2010 | Department of Management Information Systems - National Sun Yat-sen University, Taiwan | Visiting Professor |
| 9/2009 - 12/2009 | Department of Management Science and Engineering - Tsinghua University | Visiting Professor |
| 7/2000 - 8/2007 | Information Systems - City University of Hong Kong | Associate Professor |
| 8/2004 - 12/2004 | Department of Information Systems - National University of Singapore | Visiting Fellow |
| 7/1998 - 7/2000 | Management Information and Decision Systems Department - Case Western Reserve University | Assistant Professor |
| 1/1996 - 7/1998 | Information Technology Management Department - University of Hawaii | Assistant Professor |
Awards
| Award Title | Institution |
| --- | --- |
| College of Business Dean's Research Award | City University of Hong Kong |
| AIS Fellow | Association for Information Systems |
| Endowed Chair Professorship (Yeung Kin Man Endowed Chair Professor of Information Technology Innovation and Management) | City University of Hong Kong |
| College of Business Faculty Development Award (EMBA/MBA Teaching Excellence) | City University of Hong Kong |
| Honored Professor | Fudan University |
| College of Business Research Excellence Award | City University of Hong Kong |
| Honored Professor | Wuhan University |
| College of Business Junior Faculty Research Excellence Award | City University of Hong Kong |
| Teching Excellence Award 2002/03 | City University of Hong Kong |
Research Grants
PI: "The Platform Ecosystem Paradox: The Implications of App-Platform Integration Design", GRF - UGC, Amount: $476,924 (2018-2020), Prof. Kai H LIM, Prof. Peijian SONG, Prof. Cheng ZHANG
PI: "Imperfect Recommendations in Mobile Personalization: Tradeoffs among Taste, Need, and Location Matching", SRG - CityU, Amount: $100,000 (2016-2019), Prof. Kai H LIM, Prof. Shuk Ying HO
PI: "Humanizing Organizational Technology Adoption Decisions: An Integrative Model from the Upper Echelons and Symbolic Action Perspective", GRF - UGC, Amount: HKD646126 (2014-2017), Kai H LIM, Ting-Peng LIANG, Detmar STRAUB
PI: "The Effect of Institutional Power on User Resistance to Enterprise Systems: A Multi-Level Analysis", GRF - UGC, Amount: HKD389,557 (2012-2013), Prof. Kai H. LIM, Dr. Andrew Yulin FANG, Prof. Detmar STRUB
PI: "Beyond Service Quality: Understanding IT User Satisfaction from a Social Capital Perspective", RGC General Research Fund (GRF) - UGC, Amount: HKD660,300 (2010-2012), Prof. Kai H LIM, Dr. Andrew Yulin FANG, Prof. Detmar STRAUB
PI: "The Effects of Use of Knowledge Management Systems on Individual Employee's Innovative Behavior and Job Performance", Strategic Research Grant for unfunded GRF - City University of Kong Kong, Amount: HKD177,820 (2008-2011), Prof. Kai H LIM, Prof. Kwok LEUNG
PI: "IT-enabled Business Agility: A Multiple Paths Contingency Model", RGC General Research Fund (GRF) - UGC, Amount: HKD721,160 (2007-2010), Prof. Kai H LIM, Prof. Kwok-kee WEI, Prof. V SAMBAMURTHY
PI: "Knowledge Management Systems Diffusion in Chinese Enterprises", CityU Research Project (APR) - City University of Kong Kong, Amount: HKD120,000 (2006-2008), Prof. Kai H LIM, Prof. Kwok-kee WEI
PI: "Value System as an Online Customer Segmentation Tool: Increasing Satisfaction through Customizing Website Feat", RGC General Research Fund (GRF) - UGC, Amount: HKD498,820 (2004-2008), Prof. Kai H LIM, Prof. Matthew Kwok-on LEE,Prof. Choon Ling SIA, Prof. Kwok-kee WEI, Prof. Kwok LEUNG
PI: "Web Strategies to Promote Internet Shopping: A Cross-cultural Exploration", Strategic Research Grant for unfunded GRF - City University of Kong Kong, Amount: HKD179,750 (2003-2006), Prof. Kai H LIM, Prof. Matthew Kwok-on LEE,Prof. Choon Ling SIA, Prof. Kwok LEUNG, Prof. Izak BENBASAT
PI: "Building Trust in the Digital Economy: Perception Management on the Internet", RGC General Research Fund (GRF) - UGC, Amount: HKD330,500 (2001-2006), Prof. Kai H LIM, Prof. Matthew Kwok-on LEE,Prof. Choon Ling SIA, Prof. Izak BENBASAT
PI: "Building Consumer Trust with Website Designs: A Cross-cultural Exploration", Strategic Research Grant for unfunded GRF - City University of Kong Kong, Amount: HKD199,995 (2002-2005), Prof. Kai H LIM, Prof. Matthew Kwok-on LEE,Prof. Choon Ling SIA, Prof. Kwok LEUNG, Prof. Izak BENBASAT
PI: "Managing Risk Perception Associated with Internet Shopping", Strategic Research Grant (SRG) - City University of Kong Kong, Amount: HKD224,730 (2001-2004), Prof. Kai H LIM, Prof. Matthew Kwok-on LEE,Prof. Choon Ling SIA, Prof. Izak BENBASAT
Administrative Assignments
| Period | Name | Position |
| --- | --- | --- |
| 8/2011 - Now | Department Research Committee and Ph.D. Program | Chair and Director |
| 9/2007 - Now | Departmental Executive Committee | Member |
| 2007 - Now | College of Business EMBA Program Management Team | Member |
| 7/2005 - 6/2015 | University Cultural and Sports Committee | Member |
| 7/2011 - 6/2013 | Campus Space and Accommodation Sub-Committee | Member |
| 9/2007 - 8/2009 | Departmental Staffing Committee | Member |
| 9/2006 - 8/2007 | Information Systems Research Seminar | Organizer |
| 2/2002 - 10/2005 | BBA-IS | Program Leader |
| 2/2002 - 10/2005 | Departmental Executive Committee | Member |
Professional Activities
| Period | Client | Country | Role |
| --- | --- | --- | --- |
| 9/2011 - 2/2014 | The Open University of Hong Kong | China (Hong Kong) | External Course Examiner |
| 9/2001 - 5/2005 | Staffordshire University (SCOPE) | China/Hong Kong | Supervised student projects |
| 9/2003 - 5/2004 | The Open University of Hong Kong | China/Hong Kong | External Course Examiner |
External Academic Activities
| Period | Organizer | Country | Role |
| --- | --- | --- | --- |
| 1/2011 - 12/2016 | Management Information Systems Quarterly (MISQ) | United States of America | Senior Editor |
| 2013 - 2014 | International Conference on Information Systems | United States of America | Member, Program Committee |
| 2011 | International Conference on Information Systems (ICIS) | United States of America | Member, Program Committee |
| 2007 - 2011 | Information Systems Research (ISR) | United States of America | Associate Editor |
| 2002 - 2011 | The Journal of the Association for Information Systems (JAIS) | USA | Associate Editor |
| 2004 - 2008 | Executive Committee of Pacific Asia Conference on Information Systems (PACIS) | - | Member of Executive Committee |
| 2005 | Management Information Systems Quarterly (MISQ) | USA | Guest Associate Editor (Special Issue) |
| 2005 | Pacific Asia Conference on Information Systems (PACIS) | - | Member, Conference Committee |
| 2004 | International Conference on Information Systems (ICIS) | USA | Member, Program Committee |
| 2001 - 2004 | Management Information Systems Quarterly (MISQ) | USA | Associate Editor |
| 2001 | Information Systems Research (ISR) | United States of America | Guest Associate Editor |
Publications
Journal Publications and Reviews
Chapters, Conference Papers, Creative and Literary Works