CityU CB earns recognition as a High Honors Chapter in Beta Gamma Sigma
16 Sep 2020
The Beta Gamma Sigma Chapter at the City University of Hong Kong has been qualified as a High Honors Chapter for the 2019-2020 academic year.
Founded in 1913, Beta Gamma Sigma (BGS) is a society accredited by the Association to Advance Collegiate Schools of Business (AACSB) International. It invites outstanding business schools to establish collegiate chapters. It is an organisation that recognises academic excellence in business studies and only the top scholars are invited to join the BGS. The prestigious recognition awarded lifetime membership to elites from more than 525 collegiate chapters in over 20 countries and territories worldwide.
The BSG Chapter Honor Roll programme awards collegiate chapters who actively engage their members in the pursuit of academic excellence. Qualifying for this recognition is also indicative of a campus where chapter officers work diligently to enhance BGS' stature on campus.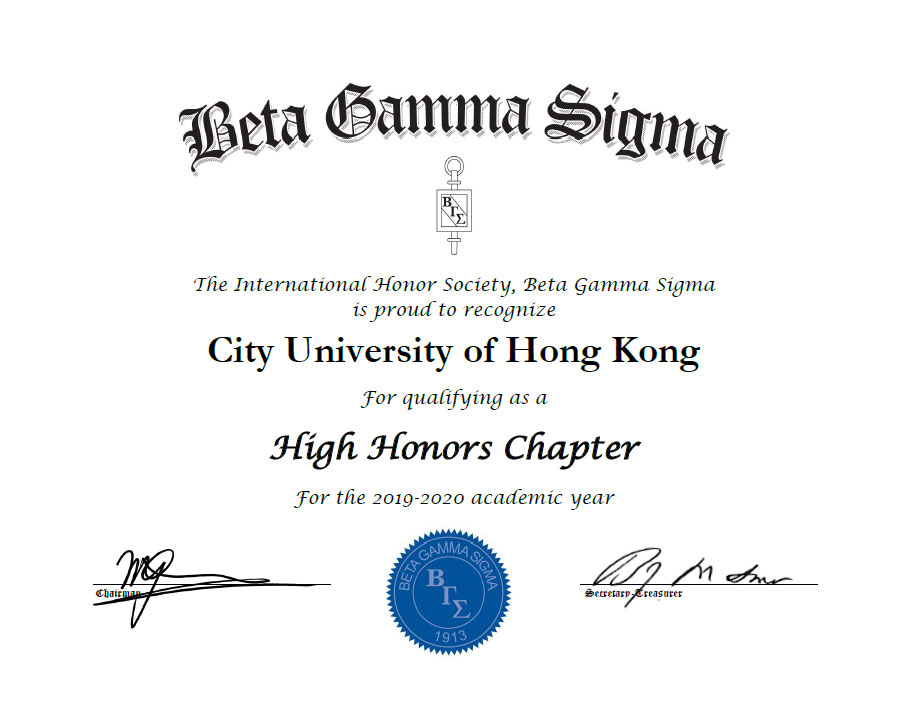 Professor Frank Chen, Dean of the College of Business, said, "This achievement is testimony to CB's commitment in developing our students for the passionate pursuit of professional and academic excellence. I would like to thank Dr Mary Pang and colleagues from the Undergraduate Programmes team for their dedication and hard work to help students unleash their fullest potential."
To learn more about BSG at CityU, please visit website.