CityU students shine at HSBC/HKU Hong Kong Business Case Competition 2021
20 Mar 2021
Undergraduate students including Phurnnee Mohanasunder and Ronny Torres from BBA Global Business, Arigna Guha from BBA Economics & Finance, and Evelyn Rosari from BBA Global Business Systems Management & Finance teamed up to take part in the annual HSBC/HKU Hong Kong Business Case Competition in March 2021. They outperformed peers from other local universities and won the first runner-up for CityU.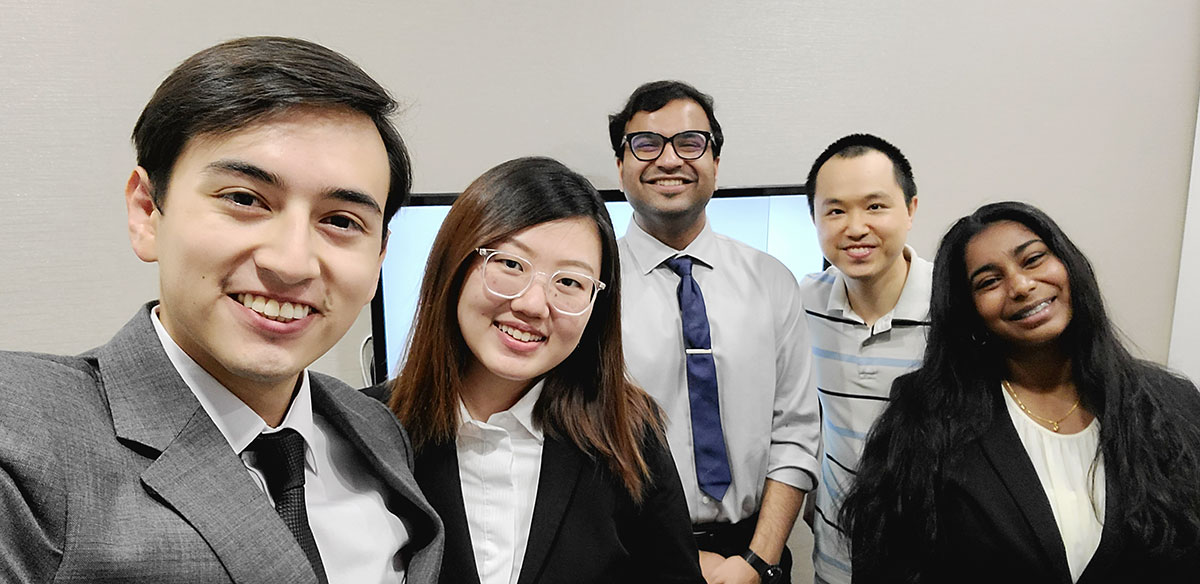 The HSBC/HKU Business Case Competition is an annual competition organised by the HKU Business School and the Asia Case Research Centre of The University of Hong Kong, and the event went online this year amid the coronavirus outbreak. The competition included two rounds, in which each round comprised a six-hour case-solving, followed by a 20-minute presentation. In this year's final round, the participating teams were given a case on Urban Spring, a mission-driven company aiming to build a network of innovative water stations across Hong Kong; the goal of this case was to identify growth opportunities and devise a comprehensive expansion plan for the company. Participating teams conducted their presentations through video-conferencing on 8 March and 10 March respectively, followed by an online feedback session on 18 March.
Before the competition, the team spent a considerable amount of time on multiple training sessions led by Dr Zachary Leung from the Department of Management Sciences.
"Two especially challenging aspects of the HSBC/HKU competition are: the short case-solving time; and the requirement to use handwritten slides. The team handled the situation calmly and competently, and produced an outstanding presentation under difficult constraints. I am proud of the team and I am looking forward to seeing the great success that these young people will go on to achieve in their careers!" said Dr Leung.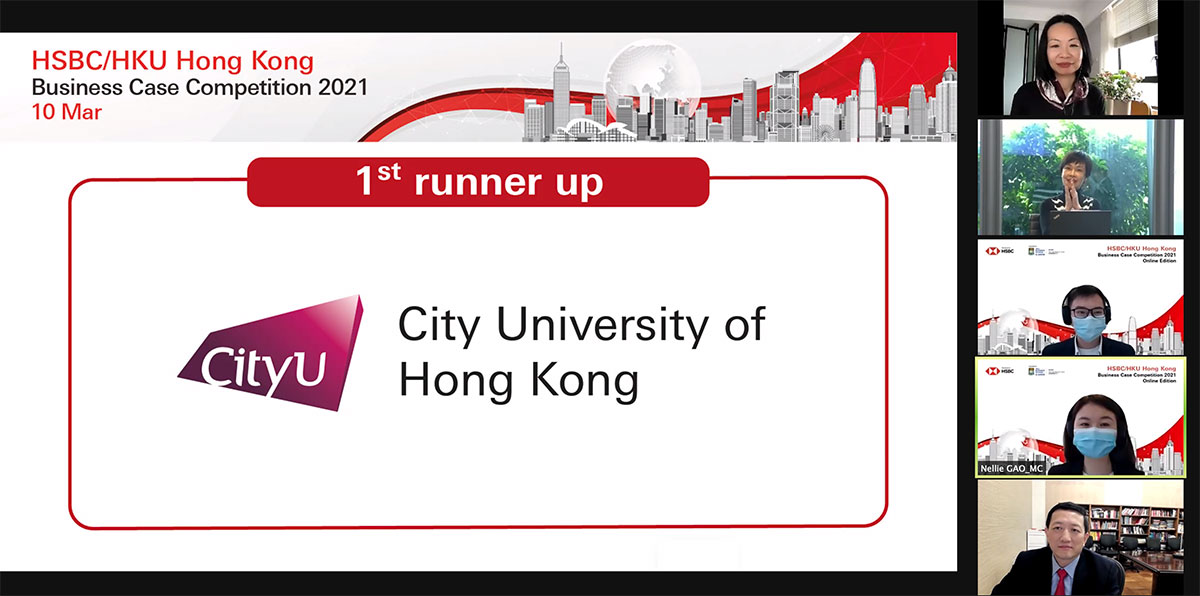 Sharing from team members
Phurnnee Mohanasunder
The HSBC/HKU Case Competition was one of the most intense and rewarding events of my university life. This was my first case competition of this type, which was often quite intimidating but ultimately such a valuable experience. As a team, you practice and train interpersonal skills such as critical thinking, teamwork, and working under pressure; you learn to build confidence in the face of uncertainty, how to handle disagreeing ideas, and even how to continuously improve your presentation skills.
The competition itself is truly unique, because throughout the long history of this competition there have been such a wide variety of cases about different companies and industries. Although there is a standard format and a trend to the cases, in some aspects it can be quite unpredictable; even after countless practices, you could always be faced with a topic you're not familiar with, which can be tough but in the process you never stop learning, and you discover more and more about something you didn't know before. The competition also gives you a good platform to compete with the best teams in Hong Kong, and even Asia-Pacific. It also provides a good opportunity for networking with the judges, who come from prestigious positions within HSBC or sometimes from the client company in the respective cases.
Anyone who has ever participated in a case competition knows a reliable team and inspiring coach are vital to success - I had the best of both. I had an amazing team to work with; I worked with very experienced students who were extremely knowledgeable and taught me many things about the typical style of cases, how to match the judges' criteria well, and even tips on how to present a more persuasive case. I was very lucky because despite the pressure, we worked really hard to support each other. Our coach Dr Zachary Leung dedicated so much time to creating tips, guidelines, and frameworks that would help us in the solving process. He devoted himself to learning and developing his approach to case-solving alongside the team, which was one of the most encouraging aspects of the whole process. I'd say as a team we were all quite close, especially after some fun team-bonding activities like a team hike!
All in all, this competition creates an opportunity for students to face challenges and develop their thinking and interpersonal skills in ways that are very rarely found in regular classroom environments, which is absolutely vital to your university life if you're driven to learn. I am immensely grateful that I had this chance to participate in the competition with such a wonderful team, and I definitely recommend the HSBC/HKU Case Competition to any student looking for a genuine but rewarding challenge!
Ronny Torres
When I first received an email inviting me to apply for the Course CB3045 (Advanced Seminar on Business Case Analysis), I never imagined that only one year later, I would be representing CityU in the HSBC/HKU competition. Most of the students who have represented our university are in years 3 and 4. I must admit, as a year 2 student; I felt a great deal of pressure on the arduous training months leading to the event. Fortunately, I had a great team and coach; despite the formidable challenge, we managed to come out as first runner-up this year!
Training for the HSBC competition was equal parts fun and taxing. I've always compared case competitions to a battlefield. The bond between your teammates is akin to that of comrades, and your coach is your general. I'm grateful I had a team I could always rely on during training and the event itself. We pushed ourselves to the utmost, and I'm very proud of the work we put out. We couldn't have been more prepared, and at the end of the day, we all came out better than before.
I learnt many lessons from participating in this event. Firstly, you can make any experience enjoyable with the right people and attitude. Second, dedication and preparation are paramount, but there is always an element of luck involved. And last, case competitions are about your clients; the winner will be the team who puts themselves in the client's shoes and solves the critical problem in their eyes. 
To conclude, the HSBC/HKU case competition was an unforgettable learning experience that pushed me further than any other I've had while studying at CityU. I want to thank Evelyn, Arigna, Phurnnee and Dr Leung for their continued support. I trust what we learnt will help us going forward, and I can't wait for the next chance to try our skills.
Arigna Guha
The HSBC/HKU Case Competition was my very first high profile case competition at university and it has been a singularly transformative experience. I was put in a group of exceptionally gifted and diverse teammates selected by Dr Zachary Leung, who all brought very different skills to the table.
I got to work with these delightful people under the careful guidance of Dr Leung, for over 12 weeks. We tried solving different types of cases every week, to best prepare for any given scenario. We looked at cases that ranged from marketing issues, all the way to logistics problems; to even inefficient human resource management. We simulated the exact conditions of the competition and always went over the recording of us presenting in forensic detail to find every little room for improvement. We also reflected on what we have learnt every week to track our progress. We had to learn how to focus our attention on the big picture, instead of getting lost within the minutia. This sounds easier than it was, as the cases often provided a barrage of information enough to cause an imbroglio at our brainstorming sessions when we started.
Thanks to Dr Leung, we learnt how to efficiently read a case, identify the core elements/structure/hints and the main strategic question posed. Only then would we even start thinking of potential solutions. This not only made our solutions better, but was also great for our time management. Our team ended up with an unspoken motto "We always need to do a sanity check," which meant answering how our solution will help the company achieve its strategic goals. Once every single team member was satisfied with the answer, we moved onto the final stage of hand-drawing all our slides. This helped us go a long way because this simple process would ensure that our solution maintained cohesion throughout. This sanity check was also crucial because it greatly helped in the Q&A session. It equipped us with the ability to be confident in our final solutions.
The training process was extensive. Dr Leung cared so deeply about us as people and as a team that we were constantly inspired to work harder, better and together. He was our leader who gave me the good fortune of working with the nicest, most talented people in this competition. Phurnnee, with her compassion, always took care of us like a mom. Ronny, who is simply sunshine personified, was always an extremely innovative and quick thinker. Evelyn, always calm and composed, made sure we remained on track and focused on the big picture. I have learnt so much from each of these people and made life-long friends along the way.
The knowledge and skills I have gained cannot possibly be quantified. I came out of the process a much better communicator and a more studious and resourceful student. I hope all ambitious students sign up for this and get to experience this wonderful learning opportunity.
Evelyn Rosari
The HSBC/HKU Case Competition was the most intense and challenging compared to other competitions I had participated in before. We were only given six hours to understand the case, provide the solution, and prepare the hand-written slides for the presentation. Moreover, the case is always unexpected, from an early-stage startup to a world-renowned corporation, which requires the participants to have extensive business skills and diverse perspectives.
We spent most of the weekends from the beginning of the semester until the competition day to join the training by Dr Zachary Leung to prepare ourselves for the competition. We tried to solve different types of cases and focus on developing our storytelling skills to deliver the proposed solution. We also learnt a lot from several alumni who were invited to give feedback on our presentation. I would like to give a special shout-out to the alumni who had been taking time out of their busy schedules to share their experience.
During the competition, we had to solve two cases and presented our solution in front of the judges, consisting of professors from HKU ACRC and senior executives from HSBC and case companies. In the first round, we proposed an expansion strategy for Foxconn, an electronic manufacturing giant. Meanwhile, in the final round, we proposed a growth strategy for Urban Spring, a local sustainability-driven startup providing water refill stations. We were beyond grateful for finishing this competition as the First Runner-Up.
After weeks of working together, we often made fun of ourselves as a 'slide-making factory' where each of us had a special role within the team and tried to work as effectively as possible within the time constraint. Although it sounds very stressful, we knew how to turn a very intense case-solving process into an enjoyable experience. I was really grateful to be working with extremely talented and supportive teammates whereby our strengths compensate for each others' weaknesses.
Finally, I would, once again, thank my teammates and Dr Leung, who had given me continuous support throughout the competition. I believe this experience will allow me to develop both personally and professionally.