CityU partners with Georgetown University for a 4-day online programme
28 Jul 2021
The EMBA+MPA programme joined hands with the McDonough School of Business of Georgetown University in the US to organised a 4-day online programme from 24th to 27th June 2021. With a theme of "Government and Markets", the joint programme discussed the relationship between government and business, as well as foreign policy, trade and capital markets in the US, through an array of activities including interactive lectures, guest speaker talks, case studies and business simulations etc.
In addition to students of the EMBA+MPA programme, classes were also open to students from other programmes including DBA, EMBA and BBA Global Business, with a total of 60 participants.
Professor Frank Chan, Dean of the College of Business, said in his welcoming remarks, "As one of the fastest rising universities in the world, CityU strives to enrich students' international and multicultural exposure and learning experience. Through this 4-day programme, I hope participants can gain valuable insights into current global economic and political climate."
Course leader Professor Houmin Yan, believed that the programme would be a good learning opportunity, he said, "The corona virus has swept across continents and brought great social and economic impacts to many countries. It is worth examining the strategies of public-private partnerships, in particularly in the post-pandemic era."
Speaking on behalf of Georgetown University, Professor Michael O'Leary, Senior Associate Dean of Executive Education, hoped that the programme would bring new insights to students, and he also encouraged them to apply the knowledge learnt into their career.
EMBA+MPA student Xuan Fang said she was grateful for the learning opportunity with the Georgetown University, she said, "The professors and guest lecturers shared inspiring and new insights into how business influences government policy, AI economy, current international trade and policy situation, capital markets, etc. which made me more eager to learn and think."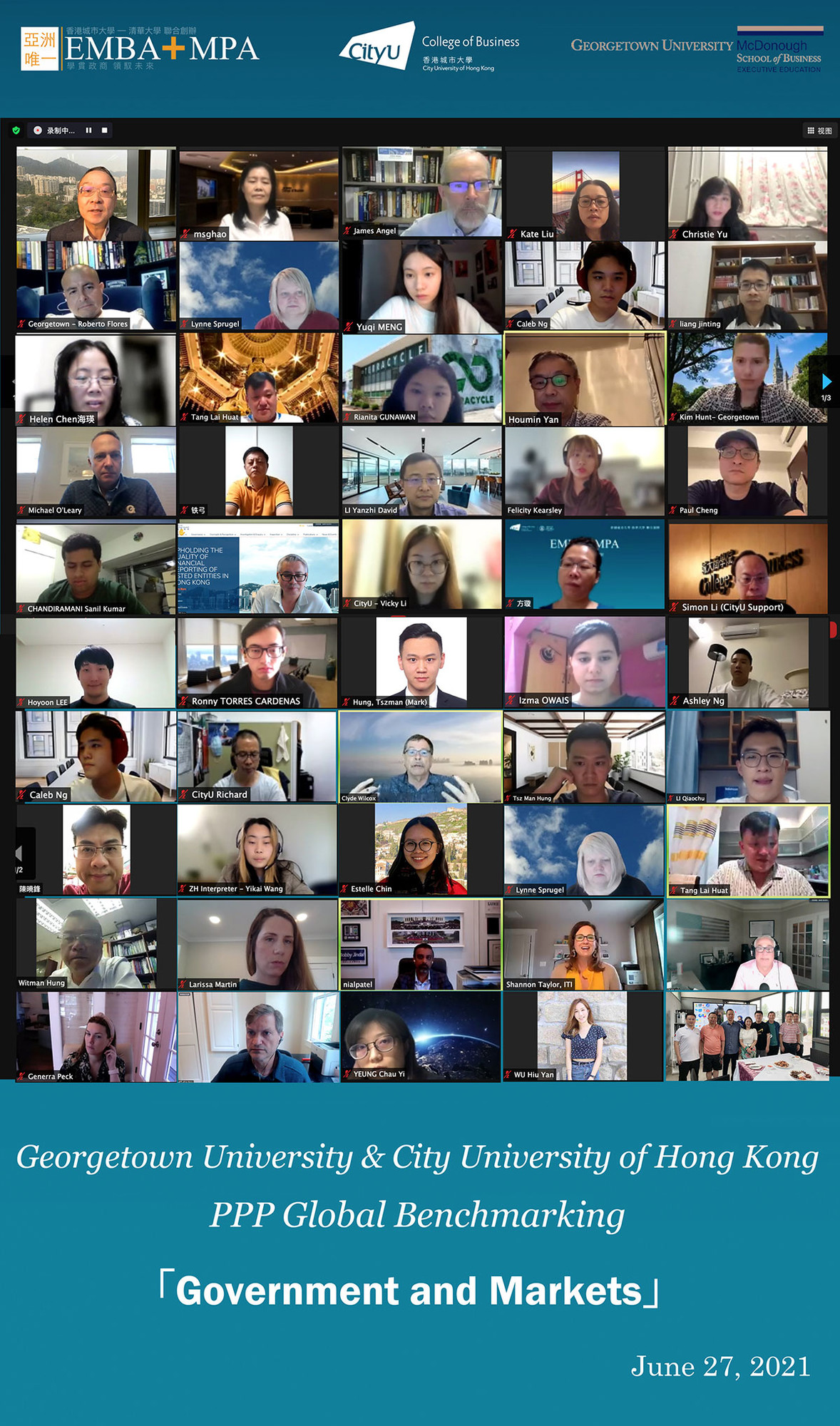 List of speakers:
Jeffrey Macher
Professor, Georgetown Center for Business and Public Policy, McDonough School of Business, Georgetown University
Clyde Wilcox
Professor, Department of Government, Georgetown University
Stephen Weymouth
Associate Professor, McDonough School of Business, Georgetown University
Marc L. Busch
Professor, Edmund A. Walsh School of Foreign Service, Georgetown University
James Angel
Associate Professor, McDonough School of Business, Georgetown University
Ryan Williams
Executive Vice President, FP1 Strategies
Generra Peck
President, P2 Public Affairs
Nial Patel
Principal, Cornerstone Government Affairs
Larissa Martin
Principal, Guide Post Strategies