CityU partners with Tel Aviv University for online programme in innovation, techonology and business
2 Aug 2021
In collaboration with Tel Aviv University in Israel, the EMBA+MPA programme hosted a four-day online programme from 29th July to 1st August 2021 for students of its programme and other executive programme students of the College of Business.
Themed "Innovation, technology and business," the joint programme invited 18 distinguished scholars and influential business leaders in China, Hong Kong  and Israel, to share insights into trending technologies including cryptocurrency, AI, biotechnology and data etc. Speakers also looked into the technological eco-system and mindset of Israel as the rising innovation nation.
Course leader Professor Houmin Yan, said in the opening remarks, "Israel has been transforming into a global technological and entrepreneurial powerhouse. Riding on the Belt and Road inititiave, the country would have more and more strategic cooperation with enterprises in the Greater China region. The course would be a great opportunity for participants to understand more about Israel and the country's mettle in innovation and entrepreneurship."
On the second day of the programme, the College was privileged to have Professor Way Kuo, President and University Distinguished Professor of City University of Hong Kong, to give a lecture on "Crisis management: from nuclear accidents to outbreaks of infectious diseases." Reviewing some major accidents in recent years, Professor Kuo shared that setting up emergency response unit at the early stage of a crisis could minimise psychological and political impacts among the general public, which in the end could minimise loss associated with the crisis.
This online programme marked the completion of all courses for the first cohort of the EMBA+MPA students, and the programme will have its first batch of graduates very soon. Since its launch in 2019, the EMBA+MPA programme has engaged many outstanding entrepreneurs, government officers and corporate executives from the cross-strait four regions, and the Belt and Road countries.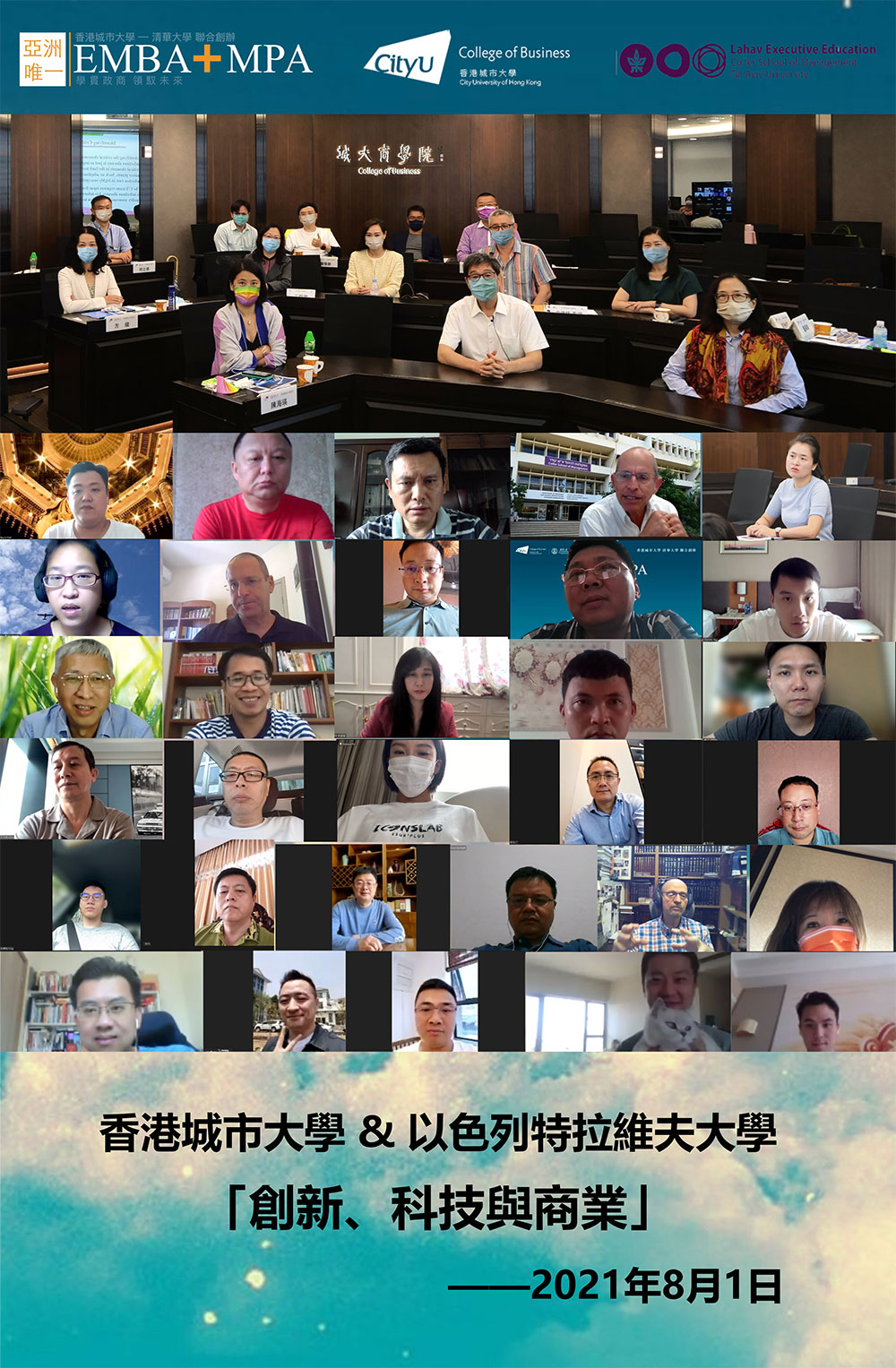 List of speakers and topics:
Professor Way Kuo
President and University Distinguished Professor, City University of Hong Kong
Topic: Crisis management: from nuclear accidents to outbreaks of infectious diseases
Professor Houmin Yan
Chair Professor, Department of Management Sciences, City University of Hong Kong
Topic: Artificial Intelligence technology and Fintech
Professor James Lei
Program Director, Hong Kong Applied Science and Technology Research Institute (ASTRI)
Topic: Logic, principles and innovations in cryptocurrency business
Professor Jun Wang
Adjunct Professor, School of Life Sciences, Chinese University of Hong Kong
CEO, GeneHarbor Biotechnologies
Topic: The evolution and contribution of biotechnology
Udi Aharoni
General & Academic Director, Lahav Executive Education, Tel Aviv University
Topic: Born global
Professor Uriya Shavit
Associate Professor at the department for Arabic and Islamic Studies, Tel Aviv University
Topic: Israel and the Middle East at a glance
Professor Moshe Zviran
Dean, Coller School of Management, Tel Aviv University
Topic: The Israeli innovation eco-system
Nir Klar
CTO, Bluevine
Topic: Introduction to Bluevine-Fintech solutions
Nadav Poplawski
Co-Founder & CEO, Uniqai Systems
Topic: Enhancing decisions and efficiency through Artificial Intelligence
Dr Eyal Benjamin
Faculty member, Coller School of Management, Tel Aviv University
Topic: Strategic innovation and intrapreneurship models
Guy Barnhart Magen
Co-Founder & CTO, Profero
Topic: Introduction to  profero -a boutique cybersecurity services company
Ron Baruchi
President & CEO, Agmatix
Topic: Introduction to agmatix growing data for Impact
Dr Jacob Mendel
Senior Lecturer, Coller School of Management, Tel Aviv University
Topic: 1. Blockchain & Fintech solutions 2. Cyber security – the dark side of the digital world
Doron Cohadier
VP Business Development, Foresight Automotive
Topic: Introduction to foreSight – driving solutions for the automotive industry
Dr Shachar Reichman   
Head of the Technology and Information Management Department, Coller School of Management Tel Aviv University
Topic: Utilising online data to improve business performance
Ofer Tziperman
CEO, Anagog
Topic: Introduction to anagog-drive better results using data
Saul Orbach
Senior Adjunct Lecturer, Tel Aviv University
Topic: The VC industry-cultivating small businesses and startups
Yotam Drechsler
CEO, BrainQ
Topic: Introduction to BrainQ – control your blood glucose