CB students shine in AWS Educate - Business Innovation Competition 2022
14 Dec 2022
A team of five undergraduate students Chloe Cheng Ho-yi, Justin Kwan Ching-sum, Anthony Liu Chin-Yui, Tony Ting Siu-shing and Thomas Yip Tik-hang from the Department of Marketing notched up a win in the AWS Educate - Business Innovation Competition 2022. Organised by Amazon Web Services (AWS), the competition is designed for university students from Hong Kong to enrich their knowledge of cloud computing as well as AWS services.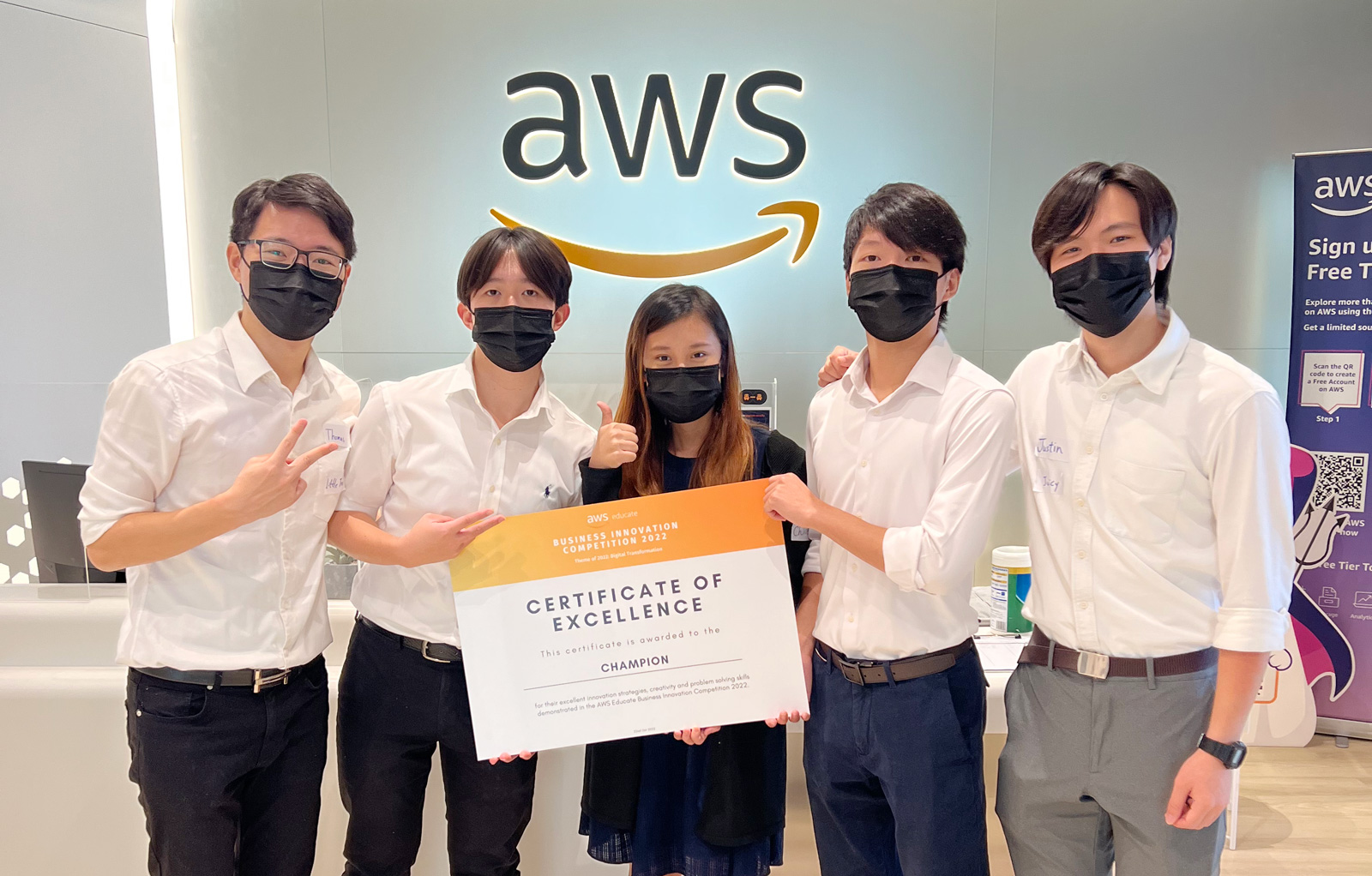 The theme of the competition was "Go All-in for Digital Transformation!" Students were asked to identify and tackle business problems with the help of the latest technology, so as to optimise customer experience, operational efficiency or Environmental, Social, and Governance (ESG) factors.
The case was about greenwashing, which may mislead investors' decision-making and financial services institutions' ESG data collection and analysis efficiency. The team worked out an integrated data-driven solution backed by AWS cloud, including managed machine learning service, data warehouse, and business intelligence tools to help stakeholders evaluate whether firms fulfill ESG principles.
Justin and Thomas, who participated in the Department's ESG Planning Executive Training Programme, said, "The programme provided us with in-depth insights and understanding about ESG in the real business world. We applied the example we learnt in the competition and stood out from other participants." 
Chloe, Anthony, and Tony, who are taking the Innovation and Design course, said that it was a golden opportunity to apply what they had learnt in class. "The courses inspired us in utilising technologies in tackling users' pain points. Design thinking model and digital transformation have been trending topics recently. We are happy that the Department has equipped us with relevant skills that are practical in resolving real-life business problems."