Final Pitch Night of 180 Degrees Consulting CityU Branch
7 Feb 2023
The Final Pitch Night for 2022/23 Semester A of the 180 Degrees Consulting CityU Branch was held on 20 January 2023. Eight student consultants at CityU were divided into two teams to provide consultancy service for local NGOs Impact Hong Kong and Feeding Hong Kong.
180 Degrees Consulting is the world's largest consultancy for non-profits and social enterprises with operations in 35+ countries and branches at over 150 leading universities worldwide. The CityU Branch was set up in 2020. It is a student-led body operated with the support and sponsorship of the College of Business. Students from all streams in CityU are welcome to join as consultants. They receive training from a renowned consulting firm, PersolKelly Hong Kong, on problem-solving skills and Creating Shared Value (CSV) strategies. In addition, the branch partnered with CSRN, a British-based NGO, for online training and another consulting firm EZee Learning for mentoring services.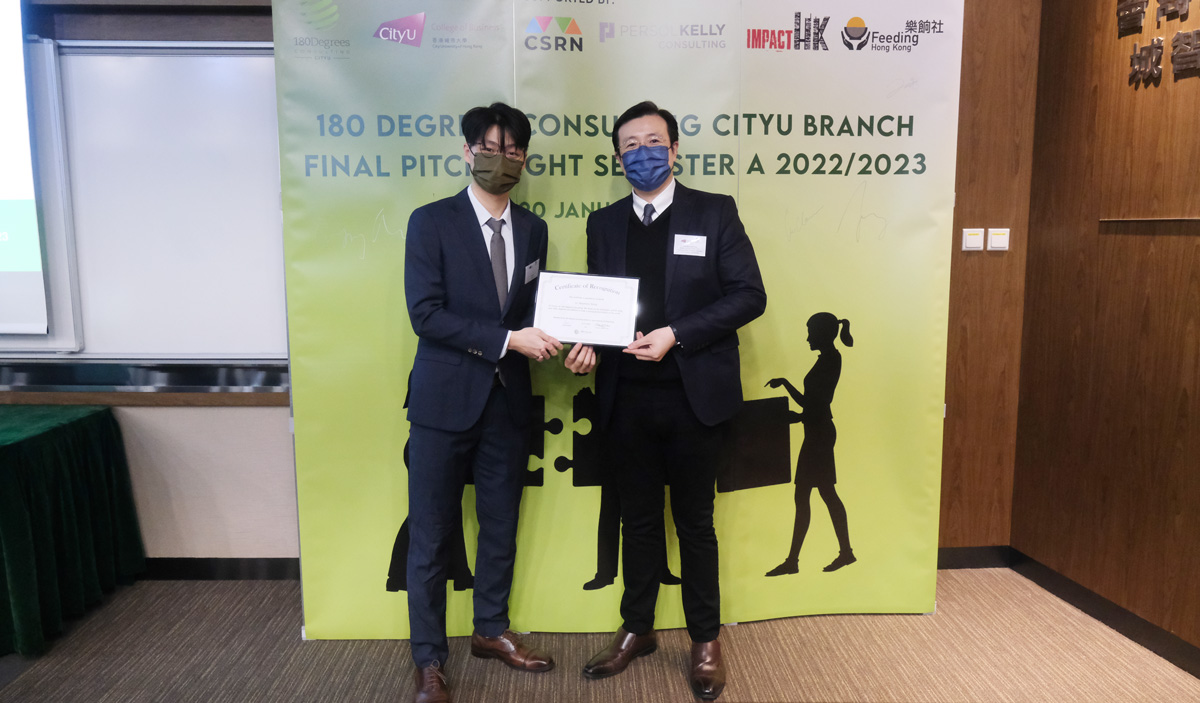 In his opening remarks, Dr Raymond Wong, Associate Dean (Undergraduate Programmes) and Branch Advisor of 180 Degrees Consulting CityU Branch, thanked the partner consulting firms and NGOs for the unfailing support given to CityU students, and added, "I envision a continuous growth of the student members, who will keep on challenging themselves and exploring different opportunities to serve society. We are proud of your hard work," said Dr Wong.
Lead consultant Sammi Chang, a year 4 BBA Finance student, shared that 180 Degrees Consulting provides training and resources to help student members build up analytical skills, communication skills, and a customer-obsessed mindset. She said, "It was my first big step in making a positive impact on society. I am eager to use my passion and knowledge to help more people in my community."
Lead consultant from another team Bernice Chan, a year 3 student majoring in English, was excited about gaining precious knowledge, skills, and experience that can only be learnt outside the classroom. "The satisfaction is being able to bring influence to local NGOs while obtaining various skills that help my future career planning," she shared.
To learn more about 180 Degrees Consulting CityU Branch, please visit website.