College of Business Commencement Ceremony 2023
16 May 2023
The College of Business Commencement and Award giving ceremony, held on 13th May, was an occasion to celebrate the collective achievement of graduating students, supported by their family and friends, as well as faculty and staff. This year saw some 2,500 CB students graduating, marking a new milestone in their life journeys.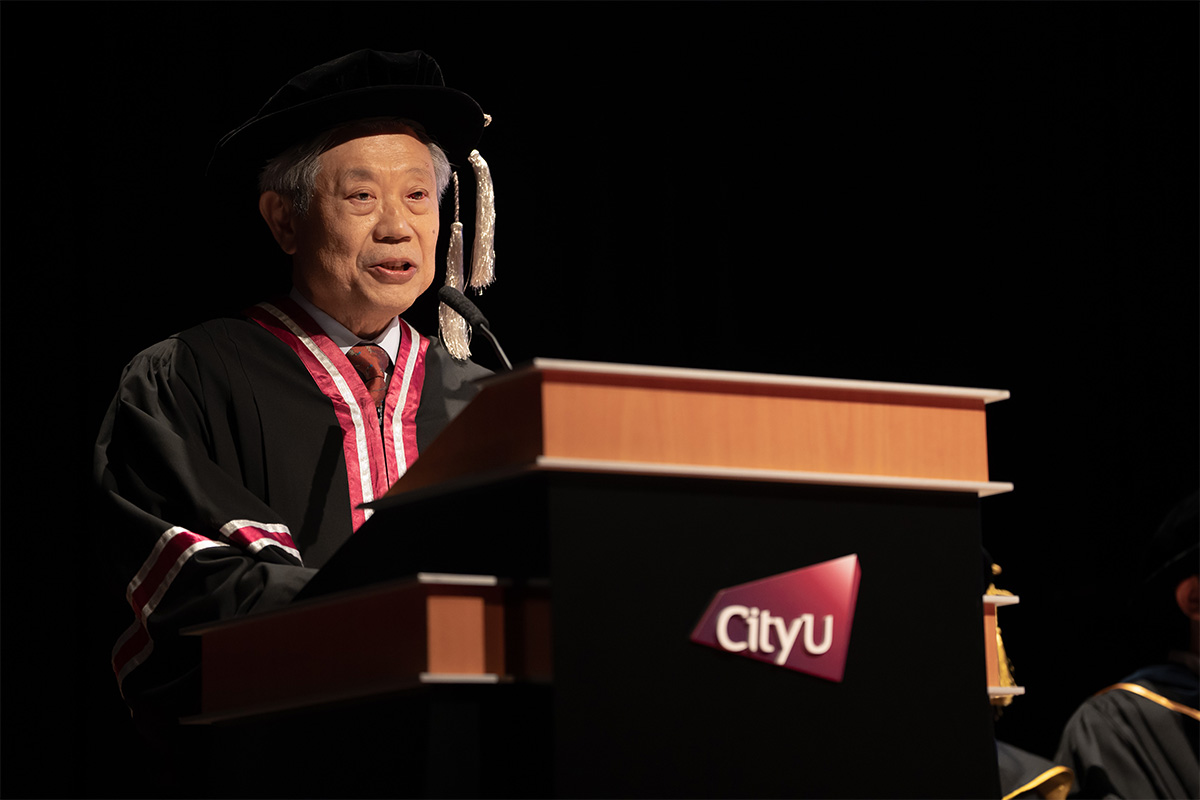 Acting Dean Jeong-bon Kim addresses the 2023 College of Business Commencement
Presiding at the ceremony, Acting Dean Professor Jeong-bon Kim congratulated the graduating students, in particular for performing so well against the backdrop of the global health crisis.
"I know it was really challenging for all of you during the pandemic, the effects of which only lessened during your final year. So, well done for getting through to this graduation!"
Looking to the future, Professor Kim said, "I am confident that all of you will do very well armed with what you have learned at CityU."
Representing the undergraduate population, Ronny Torres Cardenas made a concise summary:
"I hear there are 5 things all university students must do. Job, exchange, love, live hall, societies. These past 4 years the world went through a lot, so if you completed at least 3, I'd say you did a great job!"
Speaking for the graduate community, Tyler Russel Toscani reflected on his MBA journey, in particular an assignment "Project my life" which prompted him to think about his future career path.
"Careful reflection on one's true desired path is powerful, and could easily be the difference between a life of happiness and purpose, versus one of resentment and lack of fulfilment."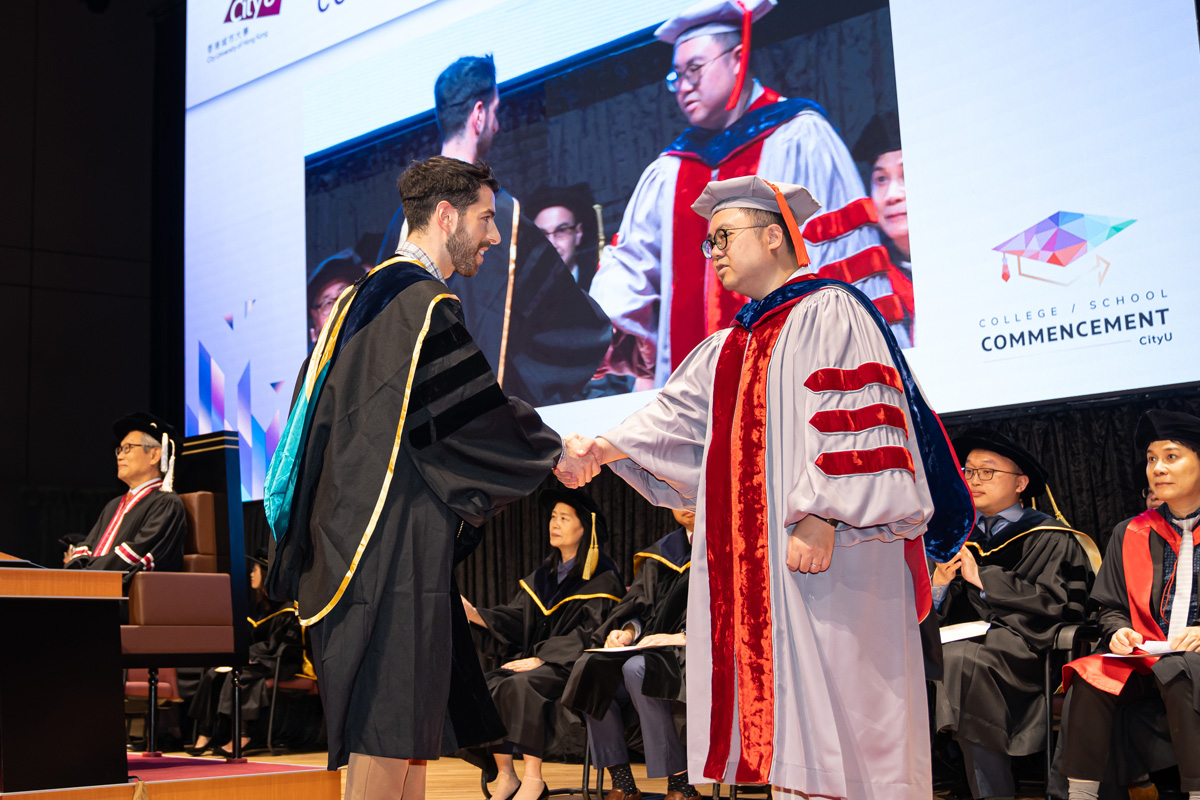 Professor Stephen Shum, Associate Dean (Research & Faculty), congratulates a PhD graduate
The Commencement this year was a double-barreled occasion also featuring a multiple award-giving to our faulty and distinguished alumni.
The College Assurance of Learning Award was presented to Dr Xu Zheng for her work on the BBA Global Business (2020-2022); to Dr Ron Kwok Chi-wai for his service to IS4940 Global Tech Entrepreneurship & Innovation offered under BBA Global Business Systems Management (2020/21); and to Dr Chak-fu Lam for his work with CB2300 Introduction to Management offered under the BBA core programme (2020/21).
The College Teaching Excellence Award was conferred upon Dr Ferenc Horvath, of the Department of Economics and Finance, and Dr Jane Park Jeongin of the Department of Marketing. Dr Horvath was commended for his commitment to developing students as lifelong learners and discoverers, offering students a novel learning structure of "assumptions + observations -> consequences" to reinforce self-discovery. Dr Park was recognized for providing students with a stimulating learning environment featuring market-relevant course materials, future-ready skills- and tool-sets, fun-filled engagement activities, and a diverse set of assessment tools.
The College Research Excellence Award was presented to Professor Wei-thoo Yue of the Department of Information Systems, and Dr Zhi Chen of the Department of Management Sciences. Professor Yue was recognized for being an established scholar with a strong publication record in top-tier journals. Dr Chen was commended for research productivity in his early career with numerous published and forthcoming papers in top-tier journals.
The College of Business Distinguished Alumni Award was conferred upon three alumni: Ms Loretta Lee Wing-yee (Executive Master of Business Administration, 2022), Chairlady and Executive Director of the Canvest Environmental Protection Group Company Limited; Dr Louis Poon Lok-ming (BA Business Studies, 1996; Doctor of Business Administration, 2014), Director, Deputy Head of Wealth Management at Fusion Bank based in Hong Kong; and Mr Banting Sze Wai-pan (MA Quantitative Analysis for Business, 1994), the Chinese People's Political Consultative Conference (CPPCC) standing committee member for Jiangsu province. The College of Business is grateful to all three alumni for their varied and valued contributions towards the welfare of our CB community.
The College of Business congratulates all participating members, students, faculty and alumni alike for their tremendous achievements and wishes graduating students especially a joyous and successful future.