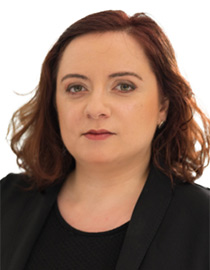 Prof. NERVINO Esterina
Assistant Professor
M8085, R R S Creative Media Centre, City University of Hong Kong
Research Areas
Business and professional communication
Social semiotics
Multimodal discourse analysis
Corpus linguistics
Luxury studies
Marketing
Sustainability
Reputation management
Qualifications
PhD - Applied Linguistics (The Hong Kong Polytechnic University)
MA - Languages for communication in international enterprises and organizations (Universita' degli Studi di Modena e Reggio Emilia)
BA - Language Mediation (Universita' degli Studi della Calabria)
Biography
Esterina Nervino is currently Assistant Professor holding a joint appointment at the Department of English and the Department of Marketing of the City University of Hong Kong, where she is also Associate Director of the Sales and Marketing Consulting Unit (SMCU). For both departments, she teaches subjects in the area of business and professional communication and entertains relationships with industry players for different purposes, including research, student internships, and career development. She is also Cultore della Materia (Junior Adjunct Professor) of Intercultural Communication and Language Variation at the Department of Studies on Language and Culture of the Universita' degli Studi di Modena e Reggio Emilia (Italy) and invited External Member of the Research Centre for Professional Communication in English at The Hong Kong Polytechnic University. She holds a PhD in Applied Linguistics from The Hong Kong Polytechnic University and her research interests include social semiotics, multimodal discourse analysis, corpus linguistics, business and professional communication, luxury studies in relation to digital transformation, art, space, sustainability, country of origin effect, reputation management, branding and retail experience.
Prior to CityU, Esterina was the Director of Retail in Asia (part of Bluebell Group) in charge of media brand operations including content selection, curation, edition, and commercial strategy. At Bluebell Group she also took on the additional role of Public Relations Lead for the Group working on both internal and external communication projects.
She holds a M.A. in Foreign Languages for Business Communication from the Universita' degli Studi di Modena e Reggio Emilia (Italy), a B.A. in Language Mediation from the Universita' degli Studi della Calabria (Italy), an Executive Education Certificate in Social Entrepreneurship from INSEAD (Singapore), and a certificate in Business Sustainability Management from the Centre for Sustainability and Leadership of the University of Cambridge.
Professional Qualifications
| Qualification | Certifying Organization |
| --- | --- |
| Certificate in Business Sustainability Management | Centre for Sustainability and Leadership of the University of Cambridge |
| Certificate in Social Entrepreneurship | INSEAD (Singapore) |
Awards
| Award Title | Institution |
| --- | --- |
| RGC Award | Research Grants Council Hong Kong SAR |
| Faculty of Humanities Distinguished Thesis Award | The Hong Kong Polytechnic University |
| Faculty Delegate at WC2 Network Conference | The Hong Kong Polytechnic University |
| Hong Kong PhD Fellowship Scheme 2014/2015 | Research Grants Council Hong Kong SAR |
Teaching Areas
Business and professional communication
Research Grants
PI: "Mapping sustainability in the luxury sector: A social semiotic analysis of environmental, social and governance multimodal discourse", Early- Career Scheme + RGC Award - Research Grants Council Hong Kong SAR, Amount: 662,000 (2022-2025), Dr. Esterina Nervino
PI: "Environmental, Social, and Governance Discourse in the Luxury Sector: A Social Semiotic Analysis of Social Media Posts", Start-Up Grant - City University of Hong Kong, Amount: 297,000 (2021-2023), Dr. Esterina Nervino
"Environmental, Social, and Governance Discourse in the Luxury Sector: A Social Semiotic Analysis of Social Media Posts", Top-Up Start-Up Grant - City University of Hong Kong, Amount: 100,000 (2021-2023), Dr. Esterina Nervino
Teaching Activities (past 2 academic years)
| Academic Year | Level | Title |
| --- | --- | --- |
| 2023-2024 | Bachelor's Degree | Communicating Fashion Culture |
| | | Internship |
| | | Professional English Final Year Project |
| 2022-2023 | Bachelor's Degree | Communication Strategies in Business Projects |
| | | Communicating Fashion Culture |
| | | Fundamentals of Public Relations |
Administrative Assignments
| Period | Name | Position |
| --- | --- | --- |
| 1/2022 - Now | Sales & Marketing Consulting Unit (SMCU) | Associate Director |
| 2022 - Now | Research Seminar (Department of English) | Co-ordinator |
| 2021 - Now | BA in Business and Professional Communication (Department of English) | Committee Member |
| 2021 - Now | EN3593 Internships (Department of English) | Co-ordinator |
| 2021 - Now | Departmental Career Development (Department of English) | Co-ordinator |
External Academic Activities
| Period | Organizer | Country / Region | Role |
| --- | --- | --- | --- |
| 2017 - Now | Research Centre for Professional Communication in English (The Hong Kong Polytechnic University) | China (Hong Kong) | Invited External Member |
| 2014 - Now | Universita' degli Studi di Modena e Reggio Emilia | Italy | Cultore della Materia (Junior Adjunct Professor) |
Selected Publications
Journal Publications and Reviews
Conference Papers
Chapters, Conference Papers, Creative and Literary Works