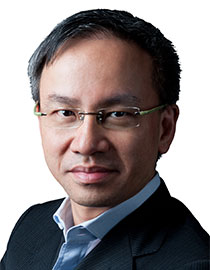 Dr. H Eric CHIANG
江昕博士
Adjunct Professor
Research Areas
Behavioral Finance
Asset Pricing
Qualifications
MEcon - Economics (THE UNIVERSITY OF HONG KONG)
DBA - Business Administration (THE HONG KONG POLYTECHNIC UNIVERSITY)
MBA - Finance (COLUMBIA UNIVERSITY)
MIA - International Affairs (COLUMBIA UNIVERSITY)
BSE - Computer Engineering (THE UNIVERSITY OF MICHIGAN)
Biography
Dr. H Eric CHIANG (江昕博士) has 20 years of professional experience in investment management and corporate finance in New York as well as Hong Kong.
Presently, he advises ultra-high net worth individuals, family offices and foundations within Greater China at Goldman Sachs. Prior to that, Dr. Chiang led the public investments effort at Shining Capital Management, a Beijing-based multi-asset advisor for a Chinese family. Before that, Dr. Chiang founded the Hong Kong office and managed the Asia Pacific investment portfolio for The Invus Group, a New York-based global investment firm serving selected European families. Dr. Chiang started his career in investment banking in New York, specializing in mergers & acquisitions for technology companies.
Dr. Chiang is currently a member of the Board of Governors for City University of Hong Kong Foundation. He also sits on the SIPA Advisory Board at Columbia University.
Professional Qualifications
| Qualification | Certifying Organization |
| --- | --- |
| Certified International Wealth Manager (CIWM) | The Association of International Wealth Management (AIWM) |
| Chartered Market Technician (CMT) | The Market Technicians Association (MTA) |
| Chartered Alternative Investment Analyst (CAIA) | Chartered Alternative Investment Analyst (CAIA) Association |
| Financial Risk Manager (FRM) | Global Association of Risk Professionals (GARP) |
| Certified Financial Planner (CFP) | The Institute of Financial Planners of Hong Kong Limited |
| Chartered Financial Analyst (CFA) | Chartered Financial Analyst Institute |
| Certified Private Wealth Professional (CPWP) | Private Wealth Management Association (PWMA) |