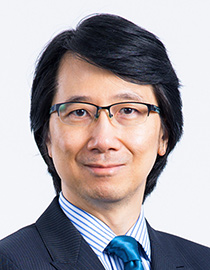 Prof. LEE Kwok On Matthew
李國安教授
Vice-President (Development & External Relations)
Chair Professor of Information Systems & E-Commerce
6117, Cheng Yick Chi Building, City University of Hong Kong
Research Areas
Electronic Commerce
Online Social Networks
Knowledge Management
Managing IT-based Innovation Adoption and Diffusion
Qualifications
LLM - Commercial & Corporate Law (University of London)
LLB - Law (University of London)
PhD - Computer Science (University of Manchester)
MSc - Computation (University of Oxford)
MBA - Business Administration (University of Sheffield)
BEng - Electronic Engineering (University of Sheffield)
Biography
Professor Matthew K. O. Lee is Vice President (Development and External Relations) at CityU, where he also holds a tenured position as Chair Professor of Information Systems & E-Commerce. He was Associate Dean (2001-2006, 2007-2011) and Acting Dean (2006-2007) of the College of Business, CityU, and the founding Director of the CityU DBA Programme. Professor Lee was also Head of Department of Information Systems at CityU (1995-2001), and the Residence Master of Jockey Club Harmony Hall at the CityU Student Residence (2005-2011), and Director of Communication & Public Relations of CityU(2010-2015). He was previously a faculty member at University College London (UCL), and a staff scientist at BP Research headquarters in London. Professor Lee holds a first class honors bachelor's degree in electronic engineering, an MSc in software engineering, a PhD in computer science, an MBA, and two law degrees. He is the recipient of a number of prestigious University scholarships, including a College Scholarship from Oxford University where he read for one of his degrees. He has also completed the Internet Law Program at Harvard Law School. Professor Lee is a qualified Barrister-at-Law in both Hong Kong, England & Wales, a Chartered Engineer (UK Engineering Council), and a professional member of the British Computer Society.
Professor Lee has a research and professional interest in IT based innovation adoption and diffusion (focusing on systems implementation management issues), knowledge management, electronic commerce, online social networks, and legal informatics encompassing the legal, ethical and policy aspects of information technology. He is Chairman of the Hong Kong Committee for Pacific Economic Cooperation (HKCPEC) advising the Secretary for Commerce, Economic and Development (SCED) on relevant economic and cooperation matters. He is also an independent non-executive director of two major IT enterprises listed in the main board of the HK Stock Exchange. Professor Lee was a member of the Hong Kong Research Grant Council (RGC) Business Studies Panel (2009-2014), and an Appeal Board member under the Unsolicited Electronic Messages Ordinance. He was a founding vice-chairman of the Hong Kong Computer Society e-Business Special Interest Group and served as a member of the IT Training Committee of the Vocation Training Council. Professor Lee had also served on the IT Projects Vetting Committee of the Innovation and Technology Commission for many years.
Professor Lee's has published over one hundred refereed articles in international journals, conference proceedings, and research textbooks. He is the Principal Investigator of a number of prestigious competitive grants and has published in leading journals in his field (such as MIS Quarterly, Journal of MIS, Communications of the ACM, International Journal of Electronic Commerce, Decision Support Systems, Information & Management, and the Journal of International Business Studies). His work has received numerous citations in the SCCI/SCI database and Google Scholar. Professor Lee serves/has served as Associate Editor and Area Editor of the Journal of Electronic Commerce and Applications (Elsivier), the International Journal of Information Management (Elsivier) and the International Journal of Information Policy and Law (Inderscience) and served on the editorial board of the Information Systems Journal (Blackwell Scientific). He has also served as a special Associate Editor for MIS Quarterly and the Information Systems Journal. Prof Lee is currently Associate Editor of the International Journal of Information Management.
According to the "H-Index for Management Information Systems" published by the University of Arizona in May 2020, Prof Lee ranks 38th in the world, and ranks top in Hong Kong. He is ranked among the top 2% of scientists in his field, according to a recent report and data metrics published by Standford University.
(Google Scholar Citations: 26242 ; H-Index: 69 ; i10-Index: 147 - as of 22 March 2021)
Research Grants
PI: "CoolThink 2.0 - Computation Thinking for Primary School Students", , Amount: $53 million (2020-2024), R. Li
PI: "Why We Cannot Put Down Our Smart-phones: Explaining Compulsive Smartphone Use Through Positive and Negative Reinforcement Processes ", GRF - Hong Kong Research Grant Council , Amount: $293,104 (2014-2015), MKO Lee, CMK Cheung
co-PI: "Understanding Instant Information Sharing in Social MediaNational ", , Amount: CNY250,000 (2013-2015), XL Jin, MKO Lee, et al
PI: "The Development of Problematic Use of Online Social Networking Sites: A Theoretical Model and its Empirical Test ", GRF - Hong Kong Research Grant Council , Amount: $183,410 (2012-2013), MKO Lee, CMK Cheung
co-PI: "Why Members Continue to Share Knowledge in Virtual Knowledge Communities : A Longitudinal Study", GRF - Hong Kong Research Grant Council , Amount: $453,100 (2009-2011), CMK Cheung, MKO Lee
PI: "KM Information e-Portal User Satisfaction: The Asymmetric and Non-Linear Impact of Perceived Performance and Expectation Disconfirmation ", GRF - Hong Kong Research Grant Council , Amount: $420,100 (2007-2010), MKO Lee, et al
PI: "The Measurement of Web-based Information Systems Satisfaction: Theoretical Development and Testing of Competing Models ", CERG - Hong Kong Research Grant Council , Amount: $500,080 (2005-2007), MKO Lee, et al
co-PI: "Building Trust in the Digital Economy: Perception Management on the Internet ", CERG - Hong Kong Research Grant Council , Amount: $475,174 (2003-2005), K Lim, MKO Lee
PI: "The University Learning Park ", TDG - Hong Kong University Grant Council , Amount: $1,300,000 (1999-2000), MKO Lee, C Wagner, J Ma, et al
PI: " Organizational Adoption of Internet-based Electronic Commerce: A Hong Kong Study", CERG - Hong Kong Research Grant Council , Amount: $447,000 (1998-2000), MKO Lee, KK Wei
PI: "Adoption and Impact of Financial EDI in Hong Kong ", CERG - Hong Kong Research Grant Council , Amount: $320,384 (1997-1999), MKO Lee, KK Wei
co-PI: "IT Centre for Business Process Reengineering ", ISF - Hong Kong SAR Government Industry Department, Amount: $3,700,000 (1996-1999), J Ma, MKO Lee et al
Publications
Journal Publications and Reviews
Conference Papers
Chapters, Conference Papers, Creative and Literary Works