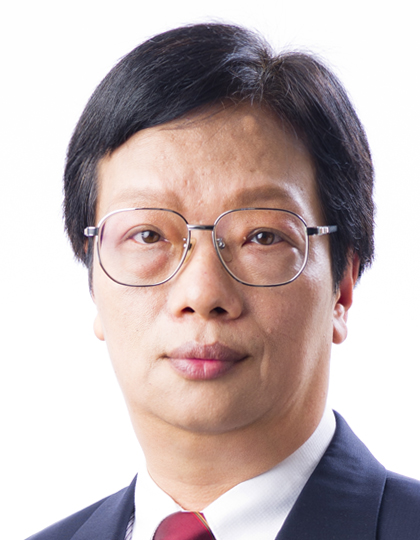 Dr. TSE Woon Kwan Daniel
謝煥坤博士
Instructor I
5-240, Lau Ming Wai Academic Building, City University of Hong Kong
Research Areas
Information Security & IT Governance
Business Process Management
Systems Development Methodologies
IT Consulting
Knowledge Management
Green IT
Business Intelligence
Qualifications
DBA - Information Security
MBA - Business Administration
MSc - Information management
Graduate Diploma - Management Information Systems
Biography
Dr. Daniel W K Tse was an IT practitioner for many years before joining and starting his university teaching in City University of Hong Kong in 2000. His previous positions include EDP Manager of some stock-listed manufacturing companies. Due to his bright and important IT experience, he earned (by exam & experience) the prestigious professional qualification Chartered Engineer (CEng) in Information Systems Engineering granted by Engineering Council (UK) in 1999. Besides, he has other important professional qualifications including Certified Information Systems Auditor (CISA) granted by ISACA, Certified Information Security Manager (CISM) granted by ISACA, and Certified Information Systems Security Professional (CISSP) granted by ISC2. He was once the members of IEEE, ACM, IMIS, IIE. Now, he is the chartered member (MBCS, CITP) of British Computer Society.
After starting his academic life in City University of Hong Kong in 2000, Dr. Tse was responsible for several student administration duties including BBABM Program Coordinator, BBAIS Deputy Program Leader, Admissions Tutor, Student Mentorship Scheme Coordinator, and Student Exchange Coordinator. After stepping from most of the administration duties in 2009, he has endeavoured in research and collaboration with external companies in academic conferences and educational events. He has helped 3 teams of postgraduate students in successfully gaining the participation qualification for Kaspersky Student Conference held in 2014 in Korea. His research papers were published in several refereed journals/conferences including 5 in PACIS2014, 2 in PACIS2004, 2 in IEEE/Explore, 1 in BCSIITC2013, 1 in BCSIITC2014/eWiC, 2 in GSTF, 3 in JICTA, 2 in MISNC2014, 7 in ICAIT2014, etc. In addition, he has several some articles in local newspaper/journals like SCMP, HKEJ, HKET, PCMarket, e21 Security Conference proceedings, etc.
Dr. Tse had been interviewed by local/overseas television/radio companies and press media about mobile and internet security topics. He had given speeches for some international IT security vendors' press conference about internet security. Besides, he has helped some international companies (e.g. PayPal) in field research studies.
Professional Qualifications
| Qualification | Certifying Organization |
| --- | --- |
| Certified Information Security Manager | Information Systems Audit and Control Association |
| Certified Information Technology Professional | British Computer Society |
| Member of Hong Kong Institution of Engineers | Hong Kong Institution of Engineers |
| Certified Information Systems Security Professional | Institute of Information Systems Security Certification Consortium |
| Fellow of Institute for the Management Information Systems | Institute for the Management Information Systems |
| Certified Information Systems Auditor | Information Systems Audit and Control Association |
| Chartered Engineer in Information Systems Engineering | Engineering Council, UK |
| Member of British Computer Society | British Computer Society |
Administrative Assignments
| Period | Name | Position |
| --- | --- | --- |
| 2010 - Now | BBABM for IS department | IS Program Advisor and Coordinator |
| 2009 - Now | Knowledge Management for Teaching (IS department) | Coordinator |
| 2006 - 2009 | Undergraduate Admission for IS department | Admission Tutor |
| 2005 - 2009 | BBAIS | Deputy Program Leader |
| 2005 - 2009 | Mentorship Coordinator | Coordinator |
| 2005 - 2007 | Outcome Based Teaching & Learning Departmental Coordinator | Coordinator |
| 2005 - 2006 | New degree (Global Business Systems Management) program planning team member | Member |
| 2005 - 2006 | New degree (Systems Consulting & Risk Management) program planning team member | Member |
Working Experience
| Period | Title | Company |
| --- | --- | --- |
| 1994 - 2000 | General Manager | TSE Computer Limited |
| 1990 - 1994 | Senior Consultant | Deluxe Computer Consultants |
| 1988 - 1990 | EDP Manager | Luke Industrial Company Limited |
| 1985 - 1988 | EDP Manager | C & K Components (HK) Limited |
| 1983 - 1985 | EDP Supervisor | Jan Sin Mee (Holdings) Limited |
Consultancy Experience and Executive Training
| Year | Client | Role |
| --- | --- | --- |
| 2003 - 2004 | Vogue Laundry Ltd | Consulting on Business Loss Analysis |
| 2003 | SCOPE | Module Leader of Building Interactive Graphics User Interface for BSc (Hons) degree program |
| 2003 | SCOPE | Module Leader of Advanced CASE (I) for BSc (Hons) degree program |
| 2003 | SCOPE | Module Leader of Advanced CASE (II) for BSc (Hons) degree program |
Professional Activities
| Period | Client | Country / Region | Role |
| --- | --- | --- | --- |
| 2001 - Now | Institute of Information Systems Security Certification Consortium | Hong Kong | Member |
| 1999 - Now | Information Systems Audit and Control Association | Hong Kong | Member |
| 2000 - 2009 | Institute for the Management of Information Systems | Hong Kong | Fellow Member |
External Academic Activities
| Period | Organizer | Country / Region | Role |
| --- | --- | --- | --- |
| 2008 - Now | AMCIS | China (Hong Kong) | Reviewer |
| 2008 - Now | SJI | China (Hong Kong) | Reviewer |
| 3/2010 | PACIS | China (Hong Kong) | Reviewer |
| 2004 - 2005 | Information Technology & People | China/Hong Kong | Reviewer |
| 2004 | Journal of Strategic Information Systems | China/Hong Kong | Reviewer |
Conferences
| Period | Name | Country / Region |
| --- | --- | --- |
| 9/2014 | MISNC 2014 | KaoShiung / Taiwan |
| 6/2014 | PACIS 2014 | Chengdu / China |
| 2/2014 | International Conference of Accounting & Information Technology '2014 | Taiwan |
| 3/2013 | British Computer Society International Information Technology Conference '2013 | Abu Dhabi, UAE |
| 5/2010 | The 11th Info-Security Conference 2010 | Hong Kong |
| 5/2009 | The 10th Info-Security Conference 2009 | Hong Kong |
| 5/2006 | The 7th Info-Security Conference 2006 | Hong Kong |
| 7/2004 | PACIS 2004 | China/Shanghai |
| 10/2002 | ICEC 2002 | China/Hong Kong |
Publications
Journal Publications and Reviews
Conference Papers
Chapters, Conference Papers, Creative and Literary Works