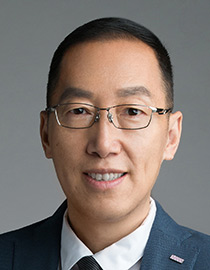 Prof. DOU Wenyu
竇文宇教授
Associate Dean (Graduate Programmes)
Professor
10-216, Lau Ming Wai Academic Building, City University of Hong Kong
Research Areas
Advertising: Social Media Marketing, Content Marketing
E-commerce
Marketing Strategy, Digital Marketing Strategy
Qualifications
PHD - Marketing (Minor: International Business)
Master of Science - Atmospheric Sciences
Bachelor of Science - Meteorology
Biography
Professor Dou Wenyu is Associate Dean for Graduate Programs & Director of EMBA-Chinese Program, in College of Business, City University of Hong Kong.
Prof. Dou received his B.S. degree from Beijing University, M.S. degree from University of Wyoming, and Ph.D. in Marketing from the University of Wisconsin - Milwaukee. His primary research interests include e-commerce, advertising, social media marketing, and content marketing. As an internationally renowned advertising scholar, Prof. Dou has published extensively in prestigious journals such as MIS Quarterly, Journal of International Business Studies, Journal of Advertising, Journal of Advertising Research, Journal of Interactive Marketing, among others. Prof. Dou served as Associate Editor for Journal of Interactive Advertising (2014-2016), and currently sits in the editorial board of Journal of Advertising.
Prof. Dou is a highly experienced educator/scholar in the international education domain. Before joining City University of Hong Kong, he taught at St. Cloud State University (USA) and the University of Nevada – Las Vegas (USA). He is also appointed as Chair Professor under the Chu Tian Scholars Program with Zhongnan University of Economics and Law (China).
Prof. Dou's expertise in new media marketing has earned him strong recognition from industries as well. He is a Columnist for Financial Times (Chinese), contributing regular articles on topics related to Social Media Marketing. He is also a frequent speaker at gatherings of business leaders, corporate events, and conferences. Prof. Dou has taught and consulted executives from many parts of the world, including US, Hong Kong, China, India, South Korea, Russia, and Spain.
External Links
窦教授新浪微博(Sina Weibo for Prof. Dou)
FT 中文网专栏作家(Columnist for Financial Times Chinese)
Publications
Journal Publications and Reviews
Conference Papers
Chapters, Conference Papers, Creative and Literary Works