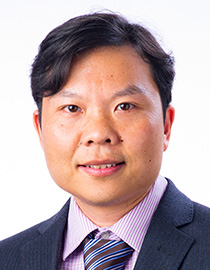 Dr. YU Yimin
虞義敏博士
Associate Professor
7-273, Lau Ming Wai Academic Building, City University of Hong Kong
Research Areas
Inventory Models
Emerging Supply Chain Strategies
The Interface of Operations Management and Marketing
Behavior Models
Qualifications
PhD - Industrial Engineering (University of Minnesota)
BS - Automatic Control (University of Science and Technology of China)
Biography
Yimin Yu received his Ph.D. degree from University of Minnesota, Twin Cities. His research focuses on supply chain management and service operations. This includes topics on optimal design of inventory-production systems, incentive issues in supply chains and pricing strategies. His research work has been published in leading business journals including Manufacturing & Service Operations Management, Marketing Science, Operations Research, and Production and Operations Management. His papers can be downloaded from this page: https://sites.google.com/site/yiminyu/research His current research projects explore how incomplete information affects business strategies, including the robustness of microeconomic models in the presence of model uncertainty, and data driven decision-making.
Awards
| Award Title | Institution |
| --- | --- |
| Finalist, INFORMS JFIG paper competition | INFORMS |
| IIE Pritsker Doctoral Dissertation Award | IIE |
Research Grants
PI: "Robust Salesforce Compensation with Inventory Considerations", GRF - Hong Kong Research Grants Council,, Amount: $ 385,200 (2018-2020), Yimin Yu
co-PI: "Safety, Reliability, and Disruption Management of High Speed Rail and Metro Systems", Theme-based Research Scheme - Hong Kong Research Grants Council, Amount: 40,845,000 HKD (2016-2020), Tsui et. al.
PI: "Managing Capacitated Multi-Echelon Supply Chains", GRF - Hong Kong Research Grants Council, Amount: 350,000 HKD (2015-2017), Yimin Yu and Saif Benjaafar
PI: "Managing Perishable Food Processing Supply Chains", GRF - Hong Kong Research Grants Council, Amount: 378,789 HKD (2014-2016), Yimin Yu
Administrative Assignments
| Period | Name | Position |
| --- | --- | --- |
| 3/2021 - Now | Management Sciences PhD Programme | Coordinator |
| 9/2018 - 6/2020 | MSc. in Operations and Supply Chain Management (MSc. OSCM) | Program Leader |
External Academic Activities
| Period | Organizer | Country / Region | Role |
| --- | --- | --- | --- |
| 1/2019 - Now | Service Science (INFORMS) | United States of America | Associate Editor |
Publications
Journal Publications and Reviews