PhD Accountancy'17
Karen Zhang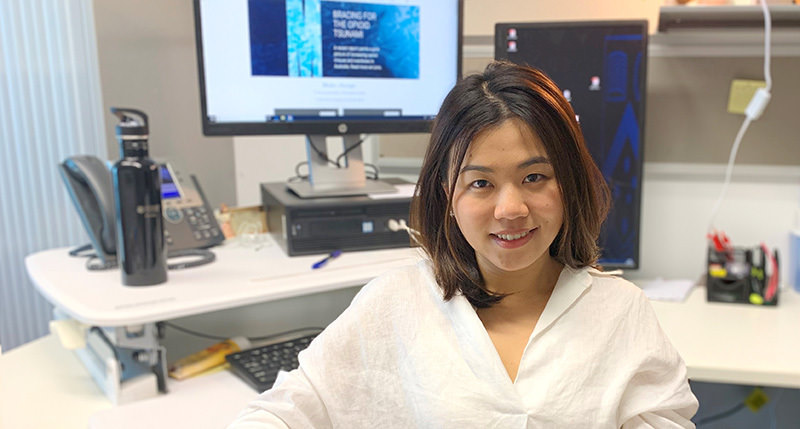 A typical work day during teaching semester 
I am now working as Assistant Professor at the Department of Accounting, Monash University, Australia. I usually get up at 6:50 am, start the day with yummy avocado on sourdough and my beloved first cup of coffee of the day. Ten minutes of morning bible reading has become ritual after breakfast, though I go over only 2-3 verses and just take it slowly. I live in a suburb called South Yarra which is 10km away from school. I bring my light-weight bicycle to the station as in the morning I opt for an express train from home to school which only takes me 10 mins to the office. It's no problem taking the bike on board, as this is not a crowded commuter train. At dusk I cycle home. 
Arrive in office around 8:15am. After a quick browse of research news, I pick up my research notes and agenda prepared the day before which I am going to use in a skype talk with co-authors in about 10 mins. I include the challenging yet useful comments that I incorporated from a visitor whom I met with yesterday, as well as my execution thoughts. Update my research agenda and to-do-list accordingly after the meeting.
If it's a teaching day, I get ready for class. I am currently working as a course leader on "Accounting for Business" which emphasises interpretation by users of accounting information. This is delivered in lecture format with 250+ students in each stream. Lecture content is automatically recorded once we turn on the system, meaning that students can ask lecturers questions in real time by using their own tablets. Lecturers can then decide which questions to answer - or go over certain material again to benefit the greatest number of students. Students can refer to the archive recordings after class.
I am also one of the lecturers for "Auditing and Assurance" which is delivered in seminars with 20-30 students in each class. Each student is expected to proactively engage in class by group presentation using the topic assigned to them, and by answering questions from lecturer and classmates following the presentation. Sometimes students share very interesting thoughts and I go into hands-off mode and my role swift transforms to moderator.
I also serve on the Accounting Department Research Committees as a representative for early career researchers. It's a good opportunity to engage with both senior and junior colleagues in deciding what sort of mentoring programs we might run to continuously hone our research skills, such as programming and writing skills. I really enjoy the process of discussing, seeking feedback, and engaging in something that will benefit people.
When lunch time approaches, I usually grab a sushi box or soba salad for a quick bite either by myself or with my coffee buddy and take this chance to chit chat on the road (my coffee buddy is a colleague whom is informally assigned to new-to-Monash staff and helps new staff with quick access to working culture).
With another coffee to freshen up my mind in the afternoon, I begin to mark students' assignments. Each student has a unique pair of companies assigned to them which cannot be easily emulated by another. To successfully pull out a unit there are many preparations ex ante as administrative functions have been centralized by the university and faculty are expected to run student logistics by themselves.
What a nerve-wracking yet exciting experience it was when I acted as a chief examiner for the first time to coordinate with different working parties, to prepare workload budget of TAs for central ratification, even to submit final exam and defer exam papers via online system. I do feel blessed to have very friendly and actively engaged staff from the education services of the business school to guide and escort me through the whole process.
5:00pm, time to cycle home. Have a quick check of the weather before heading home. Melbourne has been described as having four seasons in a day—very fickle!
Arrive home at 5:40pm. Cool down a bit, turn on speaker to play music and prepare dinner. When looking back, I feel impressed by my change moving to Australia---and enjoy cooking every day.
After dinner, I sometimes cannot help myself checking email again as students may have different urgent personal requests during the teaching semester which they hope could get a quick response from my side. Evening is my golden time to read in the living room with a scented candle on. It could be something related to culture or recently hotly debated news at ABC iview.
9:30pm start to pick up the suit from wardrobe for next day's class.
9:50-10:00pm bed time.
A typical weekend
Saturday, I totally immerse myself and enjoy the uninterrupted private spare time to do research for a few hours. So what to do in my free time? Melbourne, as one of the most liveable cities in the world, is not only about Australian ingrained social etiquette such as egalitarianism and mateship, but also is famous for its vibrant sport culture (tennis, Australian rules football , Formula 1 etc).
One of the most memorable weekends was to watch AFL final with colleagues as a group of 5 people from 5 different nationalities and sit together and cheer for our team. I still cannot understand well the fuzzy Australian Football League rules but the group spirit is of good cheer for me. A typical weekend, otherwise, usually either I hang out with friends for picnic or swimming or do baking at home. Sunday, I lock it free from work and enjoy the close-knit fellowship in church to worship God.
Hints to PhD fellows who intend to look for an overseas job? 
Incorporating my very limited experience and my observation from others, please cherish the chance to seek feedback. This could be when you present a paper in a conference, or pitch an idea with your colleague or with visitors, or just engage in small talk with your fellows. Sometime you cannot tell what plan may lay ahead for you if you actively engage there. Teaching is important for sure in terms of not just historical record of teaching evaluation, but also in how to interactively engage with students in the class (at Monash). "