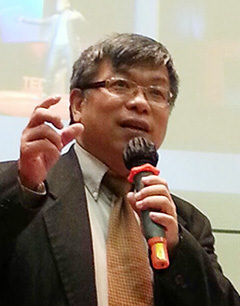 EMBA'08
Joseph Yim
"It is never too old to learn."
-- a Chinese saying that is easy to understand but difficult to actualize. Nevertheless, EMBA alumnus Joseph Yim is one who has lived up to this saying for more than 30 years.
Interest ≠ career
Joseph had an ordinary childhood and teenage years. He was eager to learn new things and skills in various areas. "I always dreamed of having my own business when I was young. I found myself interested in visual and graphic design when I graduated from secondary school. I started taking freelance jobs when studying my first design course – Visual Communication Design. Everything looked fine and wonderful at the beginning. However, I gradually realized that things could turn complicated when doing business in the real world. Design is actually a subjective and costly thing. When you do it for a living, sometimes it is painful to strike a balance between the creative freedom and a customer's demand."
A successful bridge in communication
With a strong background in graphic design and interest in functionalism, Joseph found himself compatible with both the creative team and technical team from a management perspective. As a Project Director in an advertising agency, he always acted as a communication bridge between his team and clients. He understands the need of the clients as well as the practical issues in creative design.
"Unlike technical staff, I know how to deal with clients' expectations. I would always meet with the clients first to understand their needs and requirements, then visualize a solution in my mind before delivering the concepts to my designers. It allowed me to have better control on both ends. Unnecessary communication problems can be eliminated. It was actually a win-win arrangement."
Nevertheless, Joseph chose to leave the creative industry because he became more rational as he grew older.
From learning to teaching
Joseph continued his learning journey after he left the design industry. He has obtained quite some academic qualifications, such as an EMBA, a LLM in Chinese Business Law, three different Masters in languages, culture and multimedia, and some Diplomas in different disciplines. "I do have a wide range of interests. I like learning and am eager to learn. But after all those years of study", he said humbly, "I am a Jack of all trades and master of none."
He started to consider taking up a teaching job to nurture the youth a few years ago. "I was one of the few who started working in the multimedia industry in the 1990s. I was also a pioneer to publish the City's first-ever magazine in multimedia. The magazine was well received by the industry practitioners and amateurs. It was so successful that I was even invited to visit the company of the late Steve Jobs to learn about the new trends in the industry. The skills and knowledge that I learnt from other experts and professionals around the world is valuable. I think I should pass it on to others."
Currently, Joseph is taking a teaching and consultation job while doing his doctoral degree. He is doing a research on multimedia literacy for adult learners. When asked about his next move, the answer is still – learning.
Words of advice
"Learning is a life-long career worth investing in. Happy Learning!"
– Joseph Yim
(Jul 2015)