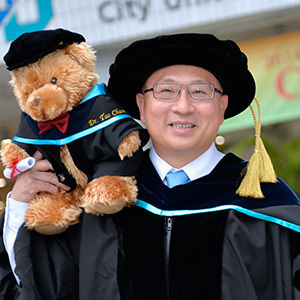 DBA'14
Dr Toa Charm
Dr Toa Charm has been spearheading the development of the IT industry in Hong Kong since the early 90's. In a 25-year career he has taken up key roles in a number of leading companies - Oracle, IBM, HSBC, Jardine and Kingdee. He has a track record as an innovator, founding the first Business Intelligence Competency Centre at HSBC.  Dr Charm is now the Vice President (Innovation and Technology Application) of Hong Kong Computer Society.  He also founded BI and Big Data Special Interest Group and FinTech Special Interest Group for the Hong Kong Computer Society.  With his specialized knowledge and professional experience, he helps foster and shape IT and business development in Hong Kong's and Asia's next generation.
Right Place, Right Time
Dr Charm got the opportunity to study aboard in the United States in the early 80's. It was a time when computer science was not a popular subject in Hong Kong.
"It was really about the right macro."
Dr Charm attributes a great deal of his success to timing.
"You can be perfectly prepared, but if the macro isn't right, it won't help.  Of course, still, you have to be well prepared for the opportunity."
Majoring in Computer Science, Charm launched his career in the United States as the IT boom of the late 80's took off. On graduation from his masters, he got a couple of offers from Silicon Valley, and started his career as a technician software engineer at Informix, a leading database software company and a rival of the software giant Oracle in the 90's.
Again the "macro" directed Charm to the next level of his career. Informix decided to set up a new branch in Hong Kong, and to extend its business into the booming Asia market. He found himself in a key position: there were not many people with the technical background willing to leave Silicon Valley and to work on the other side of the world. He moved back to Hong Kong and never looked back.
In the following 25 years, he held key management and consulting roles in leading multinational enterprises in Greater China and the Asia Pacific Region.  After this journey in corporate life, Charm started something new and meaningful based on another "macro" i.e. big data era.  Charm envisions that big data is a game changer and brings revolutionary changes to enterprises and societies in Asia.  He founded Big Data Elite Asia with an aim to leverage big data and innovative strategies to help traditional enterprises in Asia transform their business models. 
Today Charm provides consulting services to companies and supports the development of the industry. He is the Vice President of the Hong Kong Computer Society, and Chairman of the Business Intelligence and Big Data Special Interest Group. He specializes in nurturing start-up projects and offering consulting and training services on strategies, big data and management to Asia clients.
Positive stress
"Do not be afraid of stress or challenge. Nobody likes stress, but if you find yourself the right kind of stress for the things you are interested in, it will lead you to success."
Most people believe that getting a doctorate degree is challenging, considering the effort one has to put in to research and write a thesis. But it is a kind of stress that Charm looked for and considers that it helped push him forward.
"Getting a doctorate degree doesn't necessarily mean that you know everything. You only master the way of analysing business research. Let's say if I was asked to give a speech on big data and dancing, I would have to learn something new about dancing." Charm continues to share his learning experience.  "The process of learning dancing for this presentation might be challenging.  After I have done the presentation and looked back, I would be glad that I did it because I would have never learned dancing if I did not dare to take this up in the first place.  Frankly speaking, I have made mistakes in my career but they gave me chances to learn something that I would have never had chance to learn if I did not make that mistake." 
Charm's philosophy perfectly illustrates the ideas of life-long learning and braving new challenges.
Hong Kong startup
Another "macro" is the rising culture of startups in Asia.  Charm sees this as another golden opportunity as well as a responsibility.  In the past 15 years, China has become a major hub of IT development. Its enormous population provides a lot of opportunities to start innovations. Charm notes the surge of Alipay  Baidu, Alibaba and Tencent or so called BAT. Meanwhile, the growth of the IT industry in Hong Kong has flattened since the "Dot-com bubble" in 2000 and resulted in a lot of major companies shifting their markets from Hong Kong to mainland China. Looking forward, while China remains as the major market of the IT industry, Hong Kong still has its advantage in international talents, better protection of intellectual property as well as favorable geographical location.
"It's getting better in Hong Kong.  There are more startups now.  Traditionally, university graduates would prefer to work for large companies.  Today, young people have one more alternative.  It's to innovate something useful and profitable for Hong Kong, mainland China as well as the world."  Charm currently acts as advisor for a number of big data and fintech startups in the region with the aim to nurture them to transform innovation into profitable business.  He is also mentor for the incubation programs in Hong Kong Cyberport and Hong Kong Science and Technology Parks.  In addition, Charm teaches in a number of leading universities in Hong Kong and China, and supervises a number of big data and fintech student projects.
"The new trend of business should put emphasis on collaboration instead of competition."
A useful advice to our younger generation when thinking about their business plans.
Charm concludes the interview with an advice to the young generation. 
"The big macro in the 21st century is China and we are so close to it geographically and culturally.  Don't miss this life-time opportunity."
(Mar 2016)