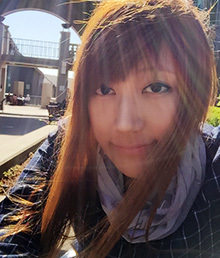 MBA'17
Rheia Leung Yeuk-hei
"If you never try you'll never know just what you're worth,"
are lyrics from my favorite song Fix You by British rock band Coldplay. It summed up my unusual journey as a typical local graduate.
Make Mom proud
I grew up in a not-so-happy environment. I was raised singlehandedly by my mother. But I have always been the "talented kid" in the words of my teachers, and was always a top student in school. "Study hard, get a proper job, make mom proud" used to be the single formula in my mind.
In search for a path
Unfortunately my hard work did not pay off in the secondary education examination. I only entered a third-tier university, majoring in Marketing and minoring in Finance. Although I was immediately hired into a marketing position after graduation, I felt lost. I was unsure of my values. This eventually made me leave Hong Kong for Sydney.
I was not thinking much when I decided to go Sydney; I had no plans on what to do or where to go. I only knew that I was wasting my time in Hong Kong, working in a job that had no future. Even if I planned nothing, I was determined that it would at least be a refreshing trip for the mind and soul.
If you never try, you'll never know
Backpacking was not as fancy as most people imagined. It was hard to find a job in Sydney. Exchange rates and expenses were high at the time of my travel. I soon got down to the last of my travel money. In desperation, I began looking for business jobs which were not designated for temporary residences.
Perhaps it was my eye-catching foreign resume, perhaps it was my exceptional interview performance, or perhaps it was just mere luck, probably the latter. Anyhow I landed a job as an energy consultant with one of the largest energy providers in Australia.
Just what you're worth
It was not easy working in a field where I had no prior knowledge. I came from Hong Kong, a city where energy is mainly imported from other countries. To add to the stress, I was also the only Asian employee in the company. It felt like I had to work extra hard to be recognized.
Within one year, I got promoted to team manager. That was when I started to regain my confidence; something that I thought was long gone - since that secondary education examination.
An epiphany! I realized that I may be judged by others based on my skills, knowledge, and personality, but not by academic grades, where I graduated, or by failures from the past. As long as I can deliver my tasks, that's all that matters.
Coming home for new challenges
After another year of work in Sydney, I finally came to a decision to move back to Hong Kong. It was in fact not a difficult decision. The logic was simple. Utilities will be a thriving business in Australia for the foreseeable future, but engineers generally have more opportunities than consultants. So my career prospects in Australia were limited.
I decided to return to Hong Kong in 2014, hoping to pursue a career in economics and finance, something I have felt I would be able to do since secondary school times. My knowledge of local industries was a bit out of date. But I wasn't too worried. I had done it once from nothing in Australia. I can do it again in my hometown – Hong Kong.
CityU MBA
To launch myself into a new field I needed a professional qualification. I believed that the Master of Business Administration programme at CityU could offer me such knowledge. Admitted in autumn 2014, the programme has so far exceeded my expectations through its practical course structure and innovative learning environment. I am also amazed by the level of industry exposure I have received!
My adventurous journey continues. How about yours?
(Article written by Rheia Leung Yeuk-hei, Oct 2015)