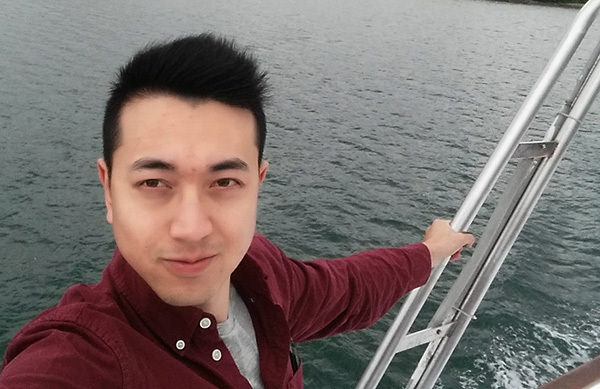 MSc Marketing'16
Thomas Liu Wuyang
In July 2013, I graduated from Beijing University of Posts and Telecommunications, and started to work as a brand executive for Hainan Airlines, a Skytrax 5-Star Airline in Mainland China with high passenger satisfaction for its service quality and innovation. I have a strong commitment to the company. I love its people and its culture.
Why I quitted the job I loved?
I was on a three-week business trip in Seattle two years ago. I had never been to any countries, and never experienced what I had learnt from books and movies in real life. The different culture and lifestyle aroused my interest, and I would like to take on a new life. I then decided to go back to school.
My decision to pursuit a full time master degree was supported by my family. Considering my academic background, career plans and the programme expenses, I decided to go to City University of Hong Kong.
What I have learnt in the past year?
Bidding farewell to a good job and promising company was tough, but the new life in Hong Kong is worth taking. In the past year, I have tried to absorb knowledge like a spongy. I have finished all my ten master courses in merely six months, and then I sat in on several additional MBA courses. All these have broadened my view, to take a more global or marketing perspective in problem solving. The lectures, class presentations, and group discussion were all stimulating, inspiring me to find my true self, my road I plan to take.
The College of Business provides abundant resources of which not many students are aware of. Apart from sitting in on classes offered by other programmes or disciplines, the library is another treasure house of knowledge. I can gain access to hundreds of reports, thesis and research papers from the online library for free. The strong alumni network of our College expands my social reach and connection as well.
My classmates always wonder what I actually learned in lessons, in my opinion, professors here are teaching us to "fish" than "feed", and inspiring us to solve the problems ourselves.
After one fruitful year at CityU, I have become an active-learner and have found my career path. I would say the time in CityU is definitely unforgettable. As Hainan Airlines' slogan says, "it is a cherished experience." Isn't it?
(Provided by Thomas Liu, July 2016)