BBA Information Management' 18
Kenny Mang Shing-yau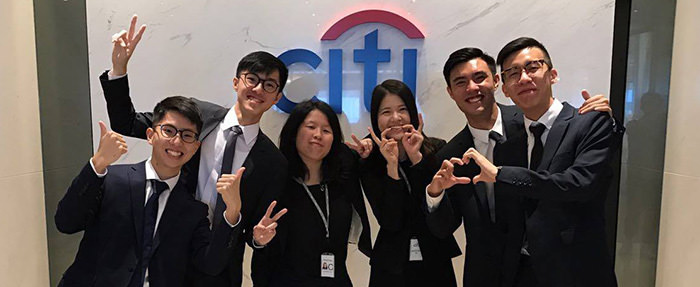 When I was a child, my grandparents taught me the two magic words "please" and "thank you".
Now as an adult, I have discovered a third magic word – "yes".
Saying yes to new opportunities is about stepping outside your comfort zone and challenging yourself to be a better person.
Frankly, it never crossed my mind to be involved with philanthropy when I started university. Nonetheless, that is exactly what I did. In year one, I became one of the student leaders of the volunteering program co-organized by the College of Business and the Students' Health and Welfare Centres Organisation (SHAWCO) of the University of Cape Town.
This experience not only gave me practical and first-hand knowledge of the plight of the underprivileged but also allowed me to reach out to people on the other side of the world who I might otherwise have never come across. I would not have had this invaluable experience had I not said "yes".
Although it is common nowadays for students to study abroad, it is less frequent for them to actually work abroad, so when an opportunity came up for me to work in Berlin, I immediately said "yes". My employer was a start-up that provide online collaboration solution for institutional clients.  The language barrier and cultural difference in a fast-paced working environment did concern me, however I quickly put aside my hesitation. During the internship period, I was responsible for exploring the possibility to develop online collaboration and a design thinking platform which provided approach to resolve issues other than professional design practices, such as business and social contexts. After thorough research and countless presentation to multifarious stakeholders, I was glad to see the prototype of the design thinking platform had been launched. The result was tremendous personal growth and professional development, as I was involved in the decision-making process at all levels.
Saying "yes" definitely opens up more doors. In summer 2017, Citibank offered me the opportunity to join their Summer Analyst program. Even though I am not a finance major, I decided to take it up. During the ten-week internship, on top of my day-to-day work, I got the incredible opportunity to lead a business project and present the preliminary results to the Managing Directors. My FinTech training in the Department of Information Systems was put to good use as I worked on the digitization of financial services, and I am happy to say that I got a return offer from Citibank.
Opportunities may only knock once. Live your life to the fullest by saying "yes".
As Richard Branson once said, "If someone offers you an amazing opportunity to do something and you're not sure if you can do it, say yes. Then learn how to do it later."
(Written by Kenny. January 2018)