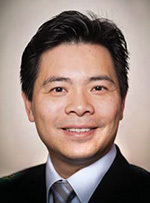 MBA'08
Victor Chang
The CityU Master of Business Administration (MBA) programme was my first choice because of the opportunities it can provide to advance my career development. I enjoyed the learning environment offered in terms of its ubiquitous learning platforms. It has better equipped me for new business challenges and enhanced my fundamental communication and collaboration skillsets.
The residential diagnostic trip was truly a hands-on experience; it gave us a chance to apply the skillsets learned in lectures to real life situations. The in-company project was a surprise! I collaborated with participants from diverse backgrounds, explored in-depth real business problems, and made recommendations for those companies. The experience and skills learned were beyond the classrooms. I am sure it can help me develop innovative concepts and ideas in the future.
Leveraging my experience
I have been promoted multiple times at WKK Distributions Ltd. (WKK), a pioneer in supplying capital equipment, materials, and services for the electronics industries in China, since my MBA graduation in 2008. Currently as the Director and General Manager, I am mainly responsible for developing and launching innovative marketing strategies to help generate new opportunities as well as build sustainable businesses.

Ever since I have taken up a management role, I realized that in order to inspire or motivate others; one must first be a good role model him/herself. I volunteered to become a Business Mentor for the MBA programme and hope that I can motivate current MBA students by sharing my own experience in study and career, as well as supporting them to develop skills required to excel to the next level in their careers.
(Written by Victor Chang; provided by CityU MBA programme, Sept 2015)