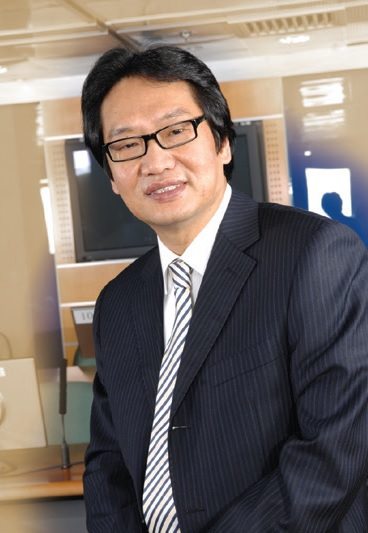 DBA '09
John Chan
It is a remarkable story of spirit and determination.
Dr John Chan Chun-tung grew up in a squatter camp and started out working as an office boy after secondary school. He is now Chairman of Chaifa Holdings Limited.
The motto of this CityU Honorary Fellow and recipient of the first CityU Distinguished Alumni Award is perfectly apt: To expect success, to be prepared for failure, but never give up.
"Young people should have the Lion Rock Spirit: perseverance and strenuous effort for constant improvement. Then, they will be able to build a bright future," he says.
After graduating from secondary school, Dr Chan joined an evening class in accounting, before going on to start his own business when he was in his thirties.
Dr Chan's decision to study at CityU was inspired by students from CityU's Executive Master of Business Administration (EMBA) programme. They visited Dr Chan's factory on the mainland in 2003 as part of their coursework. The visit rekindled Dr Chan's childhood dream of studying at university. The next year he enrolled on the EMBA at the age of 52.
After completing the EMBA, he continued to study, and was the first graduate of CityU's Doctor of Business Administration programme.
Dr Chan strongly believes that education is vital to the future development of China, and heacknowledges that access to resources is needed to ensure progress. He understands that CityU needs to look actively for new resources in order to continue to invest in teaching and research, develop the Schools and Colleges, and offer additional support to students in need.
As a CityU graduate, Dr Chan believes it is his responsibility to repay CityU, which is why he donates, and why he encourages his friends to do the same. Their collective aim is to support the University's development. Lecture Theatre 11 was named after him in appreciation of his contributions.
"As a donor, I am delighted with CityU's ongoing advancement and the success of the students," Dr Chan says.
Education initiatives on the mainland have also benefited from Dr Chan's generosity. He started to sponsor charity work there in the 1980s. He has helped many students from impoverished rural villages to study at university, hoping that the knowledge they learn will transform their lives.
He recently met up with one of the beneficiaries of his charitable work during a visit to Xi'an Jiaotong University in Shaanxi. He met a student from a rural village whom he had sponsored. By studying hard, she had become the Director of the Foundation of her alma mater. Dr Chan and the sponsored students have now become firm friends.
Business has not always gone to plan, as Dr Chan freely admits. His company suffered severely during the global financial crisis, which is when his motto took on real meaning.
"We should never again lose ground if there is a crisis. We must be brave to meet challenges and renew our efforts. I have succeeded and failed during my professional career, but I have never given up. We have to stand up by ourselves," he says.
Dr Chan is also pleased that CityU is ranked 57th in the latest QS World University Rankings. He hopes CityU can scale new heights in its continued pursuit of excellence.
This article originally appeared in the CityUtoday January 2016.