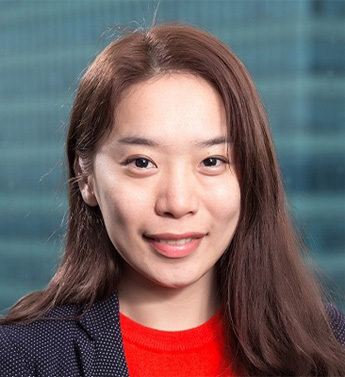 MSc Finance' 12
Lara Song
Lara Song, a graduate of MSc Finance in 2012, is currently a Generalist Banker in ANZ, the fourth largest bank by market capitalisation in Australia, and the largest bank in New Zealand. ANZ is a high profile international bank, with branches operating in thirty nations, and has been named one of the most sustainable banks globally. Here Lara talks about how she joined the ANZ Generalist Bankers Program and what it means for her career. 
Connection with CityU
I was looking for an advanced degree in finance to enhance my professional knowledge after a few years' of work experience, and was interested in exploring Hong Kong as a world financial center. I found the CityU programme best fitted my needs: its comprehensive curriculum, well-qualified faculty and career development support were all plusses, and it encouraged me to come to Hong Kong to further my study. 
Becoming an international banker
What is the ANZ Generalist Bankers Program about?
The ANZ Generalist Bankers Program selects about 10 candidates each year to help develop their careers in the banking industry, and groom them to be international bankers. It comes with a two-year intensive programme, structured into four six-month rotational programmes across different business areas, in order to develop future senior leaders and Country CEOs who have a breadth of perspective and expertise in a range of banking disciplines, cultures and geographies.
How did you join the ANZ Generalist Bankers Program?
I first learned about this programme through my College's career advisor, Mr Albert Ip, who is a veteran banker and well-connected network in the industry. This job opportunity was very unique and competitive, and I was very fortunate to be chosen as one of the 11 hires globally that year.
After I joined the programme, I spent two years in the Hong Kong office, rotating through functions such as loan syndications, transaction banking, commercial banking as well as back office operations. Then, I was sent to Shanghai to join the Natural Resources Team, which mainly deals with China clients with a regional footprint. I work closely with my clients to structure the solutions and offer a variety of products such as trade finance, project finance and cross-currency hedging.
What are the gains from the programme?
The time I spent with ANZ has been challenging yet rewarding. In every rotation, I needed to adapt to new teams and new roles as fast as possible, but I found the rotation experience very helpful in building a solid foundation in my banking career. The different experiences gave me a broad exposure at work and widened my angle of view.
I like the fact that the programme offered me the possibility of working internationally, of gaining knowledge on various aspects of banking, and providing a long-term, goal-driven career prospect. 
Any standout benefits to work internationally? 
I got to know many peers and senior management through working in different teams and places, and I certainly learned a lot from them. ANZ's got talents from all kinds of backgrounds and experiences, and it was fun and inspiring to work with them, and become friends.
What are the major differences working in Hong Kong and Shanghai?
I find working in both places very different, as each follows its own work pattern and culture. Hong Kong is a very international city and you often get a mixture of people and lifestyle; while the work environment in Shanghai is more local. The communication style at work in China is very different from Hong Kong's. I reckon Hong Kong's communication style is more international, being more result driven, straight to the point, while communication in China depends highly on the relationship between the counterparties. One has to "read between the lines" to understand the content.
Future development
What are you looking to achieve in future career development?
In the near term, I want to deepen my knowledge and experience in one specific area before I move on to the next. I like the "generalist approach" in the early stage of my career. But I would prefer to be more "versatile" in the long run, being part of the management of the bank and bringing the regional business forward.
The personal Lara
How would you describe yourself?
I'm very self-driven, sociable and creative. I like challenges and am willing to take on new adventures throughout my life.
What do you like to do in leisure time?
I like arts, music and reading on various subjects. Learning new things is always fun, and it's the same at work. After these years at work I realised that life is always full of changes and uncertainties, and you just have to live with them and embrace them, as Steve Jobs put it,
"Stay hungry, stay foolish."
(August 2016)