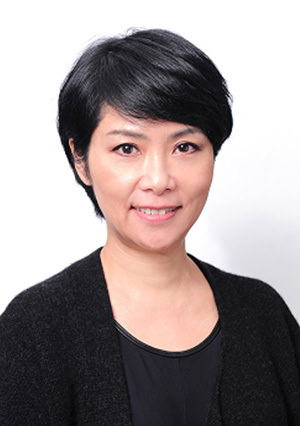 EMBA'12
Alvine Suen
Talking with Alvine Suen, Managing Director of TianEn International Co. Ltd., you can sense her energy, enthusiasm, and unique personality, all characteristics of a motivational leader. Alvine started her career in the fast-moving consumer goods industry soon after graduation, specializing in cosmetics and personal care products.
"It was nothing special. You know, girls like cosmetics."
It was this simple beginning that set her off on her 30-year journey in the industry.
Work with your whole heart
Alvine is a person of commitment, "Work with your heart" is her motto. "Treat every task like your own business, as if you are running it on somebody's investment, then things will naturally turn out great." With such spirit she has never found reason to complain about job responsibilities.
Alvine has reached countless milestones; from the early times working as a sales manager in the retail arm of John.D. Hutchison Trading limited, now CK Hutchison Holdings Limited, a Fortune Global 500 company with a diverse array of holdings including the world's largest port and telecommunication operations, retail, property development, and infrastructure; to Inchcape Plc, one of the leading British merchant firms in the 19th and 20th centuries ; and eventually to Li & Fung, a global consumer goods design, development, sourcing, and logistics company.
"In the late 20th century women were still not so common in management roles," Alvine recalled. She was often assigned roles such as brand management for new or small brands, but she never complained. "It was sometimes difficult starting things from the ground up, but you have more flexibility in devising a solution. It's a process which one can learn a lot from."
Through her journey, she had introduced new brands to different markets with a big success, such as haircare brand TRESemmé, Adidas' personal care, and launched Maybelline Color Cosmetics into the China market.
Inspiration from EMBA
In 2010, an urge for self-development along with feedback from colleagues led Alvine to the CityU Executive Master of Business Administration (EMBA) programme.
"You are bound to be good when you have worked in the same field for a long time, but from time to time you start to wonder whether you can do well in other things as well." The EMBA programme was a fruitful experience for Alvine.
She treasured the opportunities to communicate and learn from people of different career backgrounds. These were unique opportunities different from what she had come across in the work field.
Inspired by the EMBA programme, Alvine decided to leave her position of Vice President of Li & Fung and started her own consulting firm in 2014. She aimed to utilize her management experience and knowledge to help small and medium-sized enterprises expand and grow.
At the same time Alvine also took up the role of Chairman for the CityU Executive Master of Business Administration Association (EMBAA). She appreciates the EMBA concept of "Learning Partners", in which each participant is a learning partner to his or her peers as well as to professors. Alvine wishes to maintain and cultivate such friendships through the EMBAA. The association organizes events and activities to promote networking among EMBA alumni and make contributions to the society. It has recently established the EMBA Association CharityTrust aimed at supporting charities, development of the College and EMBA programme, as well as funding the EMBA scholarships and teaching awards.
Words of advice
American philosopher Elbert Hubbard once said,
"Do your work with your whole heart, and you will succeed – there's so little competition."
This is a sentiment that Alvine echoes, and has stayed true to throughout her career and life.

(Mar 2016)