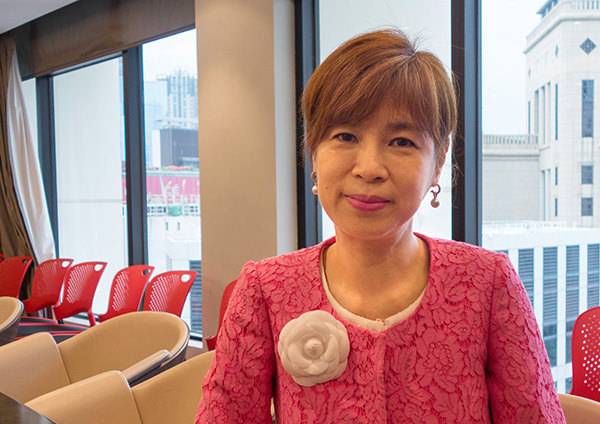 DBA'12
Lydiya Huang
Dr Lydiya Huang has a tight schedule, but the interview is not rushed. Lydiya is happy to share her learning experience on the DBA programme, and her thoughts on the recent changes and reforms of the Hong Kong financial system.
Outcomes from DBA
Lydiya Huang started out as a Forex dealer in Taiwan back in the late 80's, focusing on the trading of foreign currencies. She later joined the investment banking industry and has worked there ever since. In 2006, Lydiya had an urge to seek new knowledge and decided to enroll on the DBA programme.
"Work experience can provide you with the techniques, but not the fundamental knowledge. To generate insight you need to dig deeper." Lydiya's thinking was proven right later when Hong Kong was affected by the financial crisis in 2008. With her business analytical ability, Lydiya and her team came out of the crisis successfully, steering their clients away from suffering huge losses.  
Lydiya attributes her achievements to the DBA programme:
"The study group and the mentoring system are very robust, and my mentor provided me with guidance in conducting a research. We went through steps together one by one, hand in hand. I shared the advice and analysis with my team and we eventually helped our clients avoid undesirable losses."
Lydiya also appreciates her members in the study group as she was greatly inspired by them. Today, she still maintains good friendships with a lot of her learning partners from the DBA programme.
A Positive Change
After the financial crisis came regulatory reform and increasing emphasis on compliance in financial institutions. A lot of practitioners in the industry do not favour the changes. However, Lydiya holds a different view.  She reckons that banks and financial practitioners need to protect their clients' best interests, and therefore the tightened standards on compliance encourage the industry to provide better and professional services to clients. In particular, Lydiya feels strongly fulfilled in her contributions to changing the Standard Operating Procedure in banks. She is happy to see that this can lead to a fairer and more ethical treatment of clients.
"It is my belief to treat people with honesty and fairness, and this is the way to happiness. To live in light, live in love."
Looking Forward
Since moving to Hong Kong in 2007, Lydiya recognises the city as the best place to benefit from the rise of China. The region has a superb location, right on the door step of China. It has a reliable financial structure and a simple, low-rate tax system that can attract investment and finance professionals from all over the world. When asked about the rising concern of a "China threat", that cities like Shanghai may eventually replace the function of Hong Kong, Lydiya sees this as an open-ended question.
"China is going through a lot of financial reforms right now and they do need the support from Hong Kong. Whether it's "China threat" or "China play" depends on how Hong Kong is going to manage itself. The pie can be made larger and shared with each other."
Word of Advice
"Everything is possible."
(June 2016)