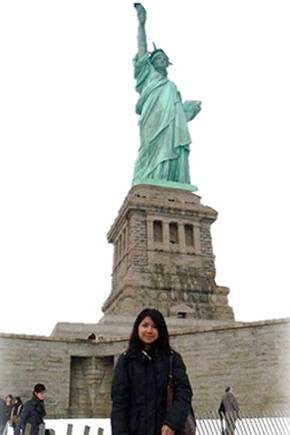 BBA Human Resources Management'11
Janice Shek
Janice Shek lives a simple life, just the same as everyone else.
"I am thankful that everything went smoothly in my life; from secondary school form 7, to post-secondary BBA HRM at CityU, to Year 3 exchange in New York, to grad trip to Europe, to 1st full time Human Resource job at Tsui Wah, and now to Customer Service Officer at Cathay Pacific (CX). They all seemed like a dream that just happened yesterday."
Working at Tsui Wah
During her one year at Tsui Wah, she had the opportunity to be part of the preparation team prior to Tsui Wah becoming a listing corporation in the market. Shortly after the announcement of the Tsui Wah Listing Plan, a team leader was assigned, and the rest of the team came together as "followers" to complete the tasks. Everyone contributed to the success of this Listing Plan. It takes more than individual leadership to achieve corporate goals, team work is also important. If there were no "followers", then the leader alone would not be a leader.
A change in life — back to Ground Zero
"A couple months ago, I felt 'empty'; my job at Tsui Wah was doing well, but I wanted a change."
"My classmates influenced me to become a diligent person; I am working hard to achieve my goals. My exchange study gave me courage to speak up; I have expressed my views to others. My university experience made me realize the importance of setting goals; I have planned my future paths. And my Tsui Wah job directed me to finding a job in the customer relations field." Janice explained her reasoning for choosing CX.
Janice is starting a new page from ground Zero at CX. She is looking forward to the new challenges that lie ahead and hopes that these challenges can lead her to new aspirations and new goals in life.
"You must have the heart to move forward, to face and tackle the challenges ahead with a positive attitude. Be motivated and you will have the "will" power to succeed in anything, and everything in life."
( Jan 2013 )