BBA Marketing'17
Miki Chan Pik-to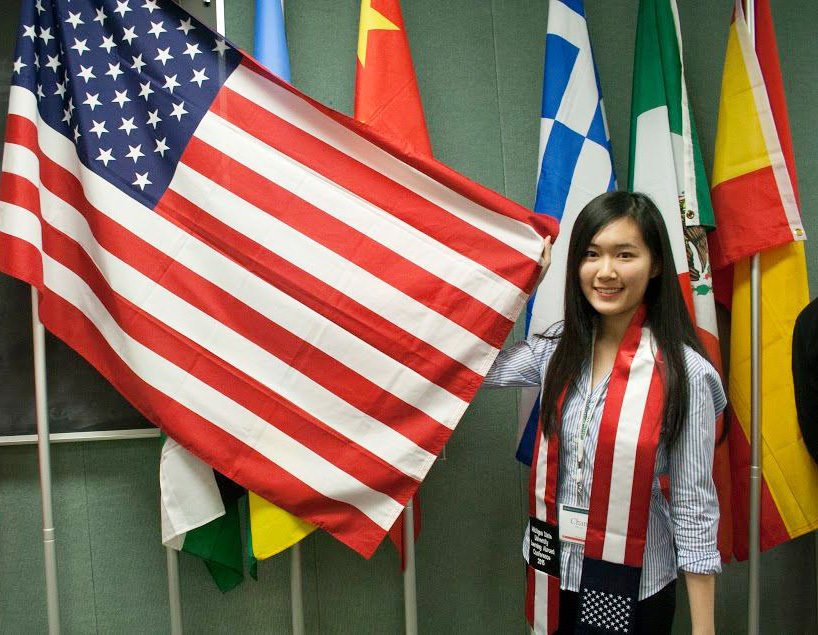 For every CB student, going on exchange in a foreign country is a must-do on the bucket list, as it is a valuable opportunity to see the world, travel and meet new friends. It means more than just a journey to broaden your horizons.
While everyone has their own definition of how exchange life should be, as a goal-oriented person, I decided to make this journey of self-discovery a little bit different.
In one regular day in my exchange study, I happened to see a poster about an academic conference called Learning Abroad Conference, recruiting both local and international students to talk about their student life. It caught my full attention as my goal for this exchange tour was to step out of my comfort zone and get to know myself more. This would make the most perfect chance to build my confidence in presentation and get a very first taste of public speaking in front of hundreds of audiences. At first, I was worried because I was the only new student there, I had no experience nor perfect English to present in front of American students, professors and scholars. Facing such cultural and language differences I had low confidence. However, with the encouragement of my new friends and professors there, I was determined to give it a try as my favorite quote goes, I have nothing to lose because I am young and bold.
But it was not easy at all. Presenting my ideas in one full-page was extremely challenging. Precise explanation and unique story were fundamental to impress the judges. Finally, I made it. I was nominated to be one of the speakers to represent Hong Kong in the conference. Before the big day, there were numerous training and coaching sessions about how to make a good speech and pitching techniques. It was a really nice experience because I had made good friends and developed network with the professors and other speakers.
The big day finally came! I was honored to have a 15-minute speech on the stage. I talked about American education, Hong Kong education and university life at CityU. They liked my sharing a lot and I received a very good response from the audience. I was really delighted when I saw their smiles.
If I have to conclude the whole experience in a few words, I would say
"Be bold, and act now" 
You will never get all the nice experiences and meet good people if you do not take the initiative. Never look down on yourself because everyone is unique in his or her own way. Exchange is definitely one of the best memories you will have in university life.
To go further, here are some of my observations and insights on American education system:
1. Heavier workload but exams are less difficult
When I studied in Michigan State University, I was fully occupied, which was very different from my life in Hong Kong. In the US, it is completely normal to have 5 exams each semester and assignments every week as the course syllabus is divided into many components. While in Hong Kong, one project, one assignment and one final exam for each subject are a standard. Each part of the assessment is important. In short, study in the US is extremely packed but with relatively easier tasks, while learning in Hong Kong is all about projects that last for weeks! It was really stressful to adapt to the differences at the beginning, but later you came to know that it is all about self-discipline. Stick with your schedule and no procrastination is allowed if you want to finish all the tasks on time. Also, regular busy study can reinforce understanding of the topics more effectively. Gradually I found myself even better immersed in study, and have developed deep interest in areas I like, which was an amazing experience.
2. Advocacy of the work hard play hard spirit
Work hard play hard spirit is prevalent throughout the US. A party queen here could also be a straight A student in class. You should enjoy your playtime and also your work.
3.  Like note taking instead of delivering notes
My first day of class was an embarrassment because I was the only one going with a laptop for reading the lecture notes. In Hong Kong, everyone brings a laptop or lecture notes along to class. However, US students love jotting their own notes. Instead of exam-oriented tips or reminder, they write down interesting points on a certain topic or their opinions to a theory. After class, they may even do further research, and discuss their opinion to the professors to demonstrate their understanding on the topic. I talked to a professor there, and he commented that is related to the strong individualism in the US. Students prefer exploring their own learning experience because they believe even a well-established theory can be challenged or interpreted in different ways.
4. Express own idea proactively
We all know how active western students can be in class. It is completely acceptable to share your own stories or even emotions in class discussion.
( Written by Miki. In Semester A, 2015/16, she went abroad for an exchange study in Michigan State University in the US. This is the reflective journal sharing her exchange and learning insights. August 2016.)