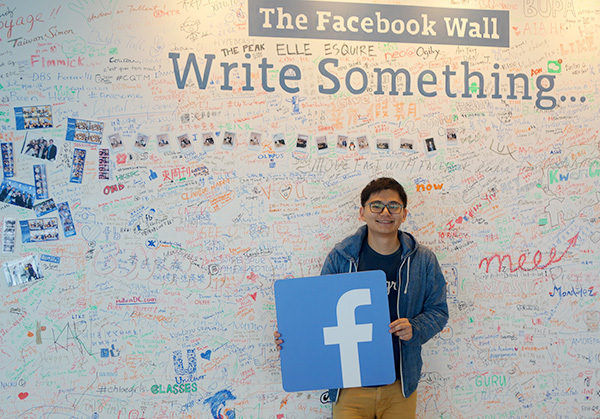 BBA Electronic Commerce, 14
Jerry Zhang
Jerry Zhang, a graduate of BBA Electronic Commerce in 2014, is currently a Client Solutions Manager, E-commerce, Greater China in Facebook Hong Kong. Here Jerry talks about how he works at Facebook and what it means for his career. 
"I feel fortunate to have the opportunity to work at Facebook. Look at this office - there's a snack bar, an open kitchen, gymnastic chairs, even a mah-jong table! There's graffiti from local artists on the wall, adjustable tables, and conference rooms named with local Chinese slang (夠薑- Be Bold Like Ginger, 大茶飯- Big Tea Rice etc). It all reflects a core Facebook value — to connect with the community, and the world. We can work from home. Parents can take care of their children even when they are at work. There are flexible working hours. You name it - this is a cool place to work.
Here we have a groundbreaking management culture. There's no rigid hierarchy and management is hands-off. Staff work titles are almost the same, in the hope of creating quality and removing class boundaries. Strict regulations and rules were made to be broken.
All ranks of employees are encouraged to express their thoughts - even student interns get involved and participate in the Facebook system construction. They can input anything if it's workable. Their opinions and ideas are respected equally. Changes can be initiated at any time You can directly execute your project whenever you are confident!
No one is here to act as a gatekeeper. That brings an enormous sense of freedom, allows creativity, and brings intelligence to practice. People get together and exchange ideas frequently. We are encouraged to play to our own strengths and be ourselves, which adds to the vitality of the place. We are expected to be proactive, go to learn and be self-motivated.
For my work, I started out supporting the sales team in a 'clerical' way, following up client cases. But these jobs were time-consuming and inefficient. I asked myself how we could develop a more user-friendly system? I proposed a new system that facilitate our daily routine.  But I met with lots of opposition, people saying that it was almost impossible to change the behavior of our clients. Though my plan was not initially favored by the majority, it was actualized after a nine-month collaboration with a website engineer. Now it's been adopted throughout the global and received positive comments from clients.
After that I got the post of Client Solutions Manager, specializing in big e-commerce clients, mainly from the Taiwan base. To be frank, I used to feel stressed – in the company of colleagues graduating from top international universities, so I would compensate by spending loads of time on presentations. My manager's encouragement took a load off my mind and I managed to overcome many obstacles. My manager is indeed my career mentor who has given me lots of inspiring advice. She asked me what was my five-year plan? I told her I wanted to be the industry specialist of e-commerce. She asked me to be bold and never underestimate myself, which was very encouraging. So to become e-commerce leader is my five-year goal now. Aim high is always my motivation.
At CityU I participated in student affairs, was keen to fight for student rights and welfare, and I joined the Student's Union. I also got international experience on the exchange programme in South Africa. We helped Mothers Unite, the local NGO to develop their official website, with the aim of reaching out to get more donations from the world. Though it did not produce an immediate effect, the website did provide a digital platform for attracting more publicity.
At the Student's Union, I suggested doing live broadcasting during the inauguration ceremony, a concept similar to Facebook's live function launched recently. My experiences in constructing the website and running a start-up have also helped me get a foundation in e-commerce, which paved my way to my career today.
I think that CityU students possess advantages that make them stand out from the crowd. So: Never take no for an answer. Go for every possibility. All limits are self-imposed. Courage is not the absence of fear, but the acquired ability to move beyond fear. Always be bold and think big!"
(Sept, 2016)