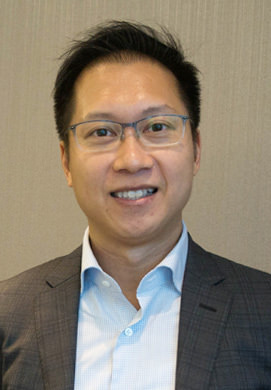 BA Business Studies'96
Danny Fok
Danny Fok is one of the earlier generation of graduates from CityU. After his graduation he started his career in media and advertising, and has a strong background in online media. Danny is now the Associate Director, Business Development (Asia) of STATS LLC, a global sports data and technology company. Coming back to the College, he shared his story with us.
The Data Behind the Movements
You may not have heard about STATS, but it is the leading sports data company in the world, providing statistics, technology, and content covering more than 300 leagues and competitions across the globe. It also provides content to multimedia platforms, television broadcasters, leagues and teams. Nearly every franchise in North America's four major professional sports leagues use products from STATS.
One of our leading technologies is the "SportVU" system. The system consists of an array of cameras and image processing software to provide real-time player tracking and ball positioning data, and very accurate statistical analysis of that data for coaching and game strategies. 
Bringing it to Asia
I focus on the business development in Asia market. The business model in North-America and Europe is well established, but it is way more complicated in Asia.
The culture is different. Other than the kind of popular sports, the way people watch games is different in Asia. It is not as "data driven" as in North-America and Europe. People there rely more on game statistics. But I reckon the new generation of sports fans in Asia will become more likely to read game statistics.
Besides, the opportunity is promising. China has reformed its sports organisations to push forward football development, while in Hong Kong and Taiwan, sport betting has been legalised since 2003 and 2008 respectively. All these changes are going to drive up demand for sports data services in the future.
Be Flexible, be Global
I feel hopeful about Hong Kong's future even if some industries such as marketing and advertising consider shifting business to mainland China.
I don't see such changes as marginalisation, but integration to a global society. Business will certainly become more global through the internet, and the new generation has to be flexible: seize the opportunity to work outside of Hong Kong if  opportunity comes. People who have grown up in Hong Kong may see the city as a hub. But if you see the bigger picture of the whole region, Hong Kong is just another city.
"Attitude is a little thing that makes a big difference." – My favourite quote from Winston Churchill. I believe that right attitude is crucial to one's success. And if you have the right attitude, and do a little bit more than you were asked to, you would be surprised by what that little bit brings you.
(June 2016)