BSc Computational Finance
Joey Hou
Joey Hou was admitted to the BSc in Computation Finance programme at CityU in 2017. He was the first student in his major admitted to the Joint Bachelor's Degree Program between CityU and Columbia University. Earlier this year, he graduated with First Class Honours. Here he shares about his life in the two universities.
Hi everyone! My name is Joey (Jiangtian Hou). I was in the major of computational finance in my freshman and sophomore years at CityU, and I majored in computer science in the following three years at Columbia University in the US.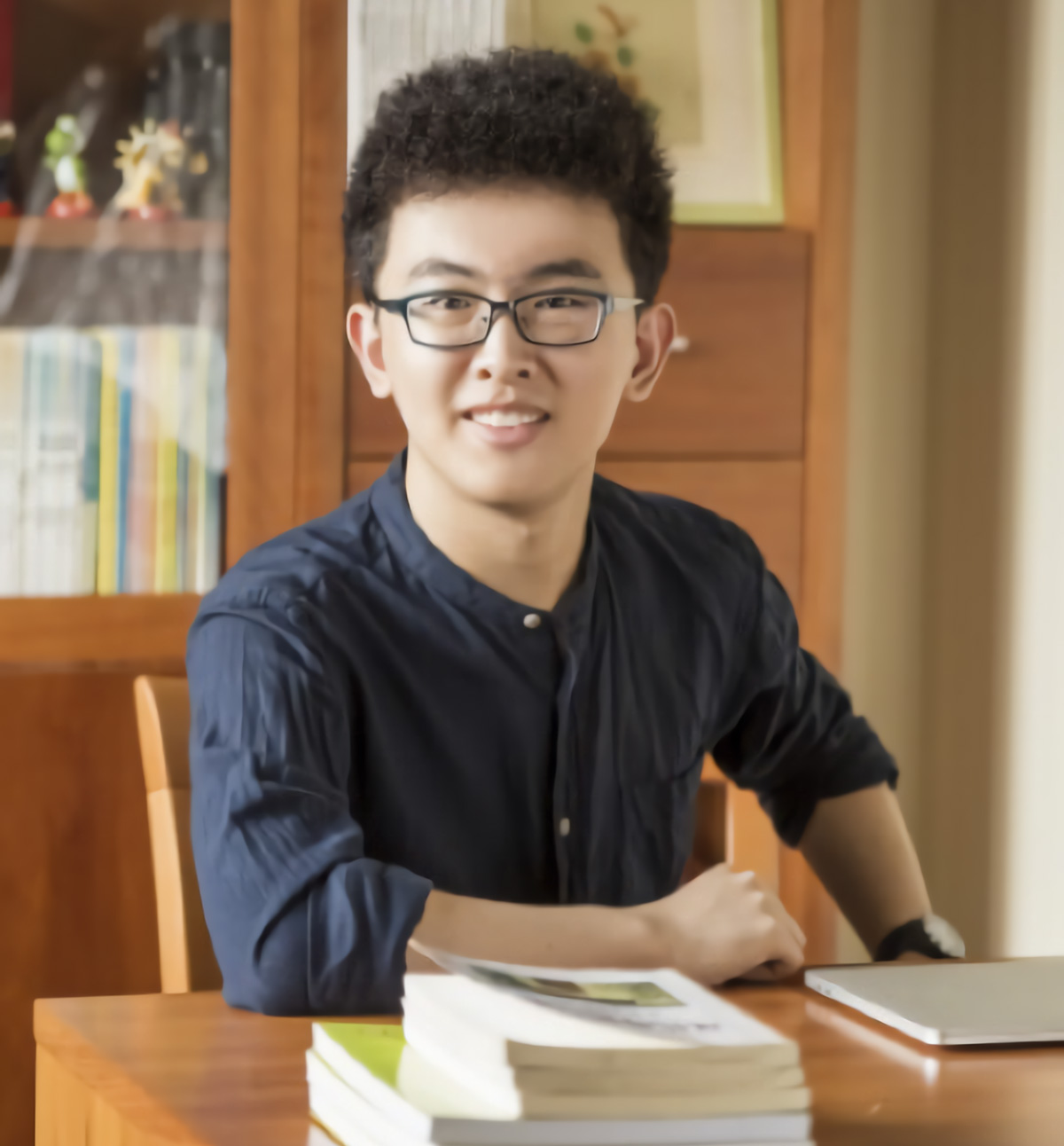 I'm a northeastern Chinese coming from Changchun, Jilin. Since I was a middle school student, I had always wanted to study in Hong Kong. The first time I visited the city was in 2011 when I was in Grade 7. I was fascinated by the multicultural, energetic vibe of this international city. When choosing my major, I talked with my parents and considered my interest in computer science and interpersonal communication skills, and made the choice of studying computational finance at CityU. The Computational Finance (or now called the Computational Finance and Financial Technology) programme is a highly integrated major that greatly helps build crucial foundations in math, computer science, and business knowledge. I especially enjoyed the experience of taking multiple courses in different disciplines. The timetable was full, and so was my mind: the variety of course selections helped me explore multiple possibilities for the future. This experience is what makes me unique and competitive – I am grateful that CityU helped me build a solid foundation which allowed me to understand about my goals and the way of achieving them.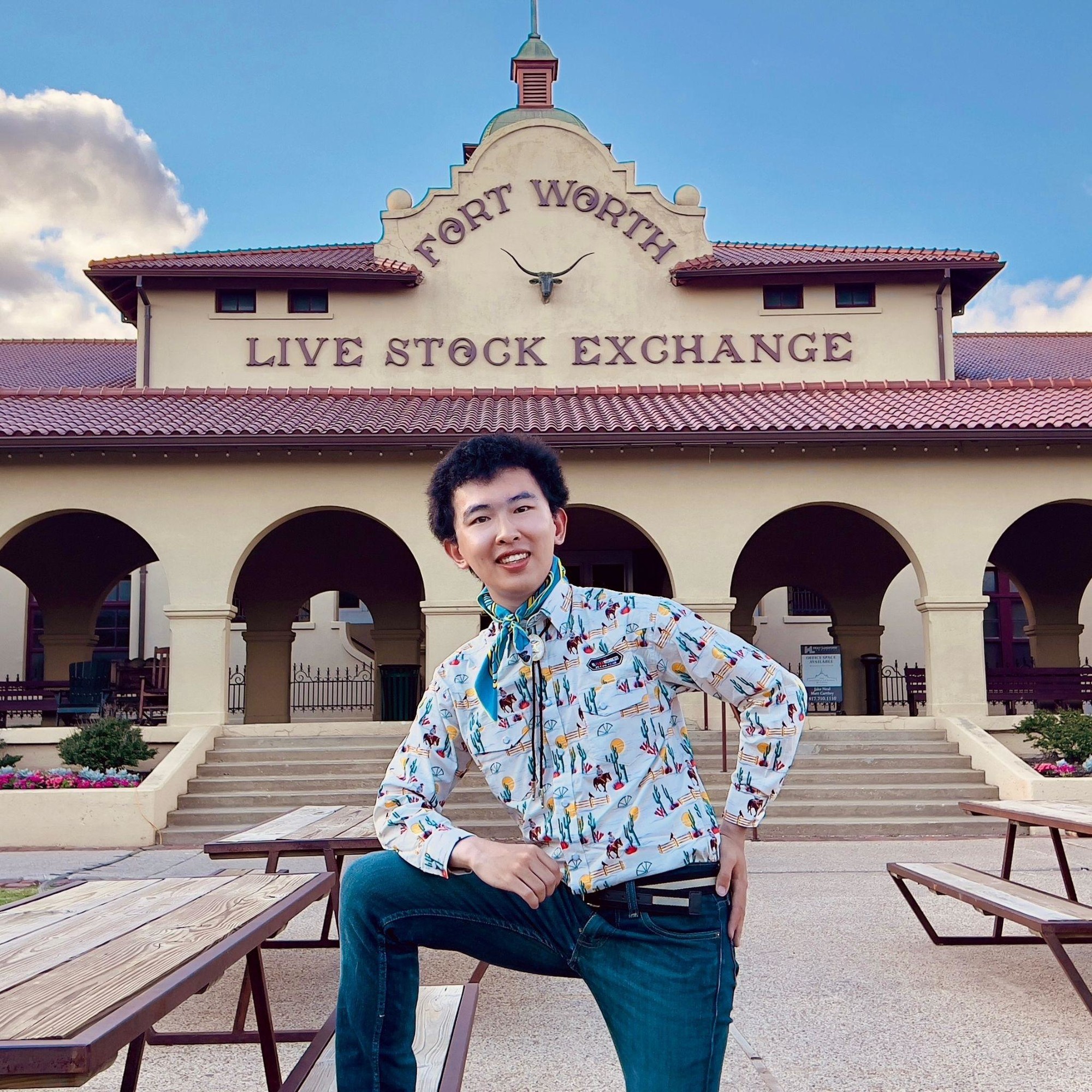 Hi guys! (or should I say: Howdy?) This is a picture of myself in Texas. I really like my cowboy outfit!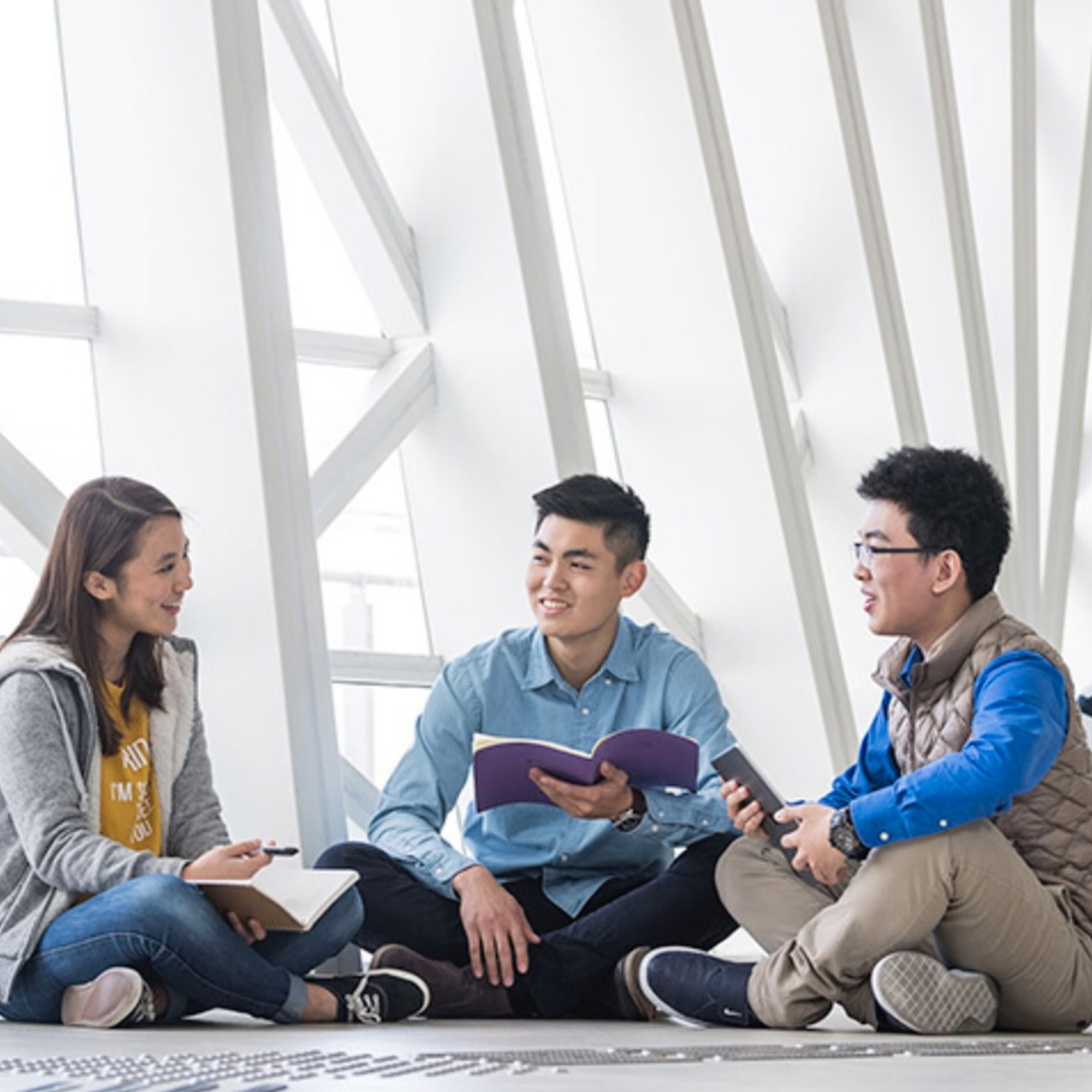 I really like discussing school projects and daily life with other fellow students at CityU. We can also enjoy a fascinating city view and great afternoon sunshine.
The way to the Joint Bachelor's Degree
I was the first student in my major applying for the Joint Bachelor's Degree Program. It not only meant that I would have no companions with similar backgrounds to walk through the application process, but I would also need to face all potential outcomes by myself. Luckily, the faculty in the College of Business greatly helped me throughout the process. I also met several applicants from other majors and several senior students at Columbia who gave me opinions and help. With the help of my parents, my friends at CityU, senior Columbia students, and faculty in the College of Business, I went through a lot of difficulties and gained both a clear view of myself and a determined mind. I am glad that I was finally admitted to the Joint Program.
My life in Columbia
Columbia students are very determined and effective. Upon my first day at Columbia, I was told by senior students that there exists a so-called "Columbia bubble" which traps students from leaving the campus. The barriers are made of endless assignments, projects, essays, and readings. This may sound scary, but I must admit it is a truthful representation of Columbia students' life. While I took fewer courses at Columbia (I decreased the number of courses I took per semester from six to four), the pressure increased because of competitive students and fast-paced instruction. My corresponding Columbia major was computer science and this was also my personal interest. However, the change from a computational finance major to a focus on computer science brought great challenges at first. I didn't pay enough attention to the fundamental computer programming course as I was a bit over-confident. I got my first and only C grade on a computer science major course, which served as a great warning and encouraged me to rethink my abilities and future plans. One thing that I found precious at Columbia was the way in which you get to know who you really are. After talking with professors, senior students, and fellows, I realized that it was more important to have a complete and clear understanding of myself rather than just getting pretty grades. I then spent three semesters taking opportunities in various career paths and academic areas, including taking a consulting internship, beginning a linguistics concentration, and trying AI and NLP (Natural Language Process) courses. In the fifth (and final) year, I combined my interest in designing and visual graphics with my major, and focused on UI design and front-end web development. These are precious paths that led me to know more about my potential and guided me to what I have achieved so far.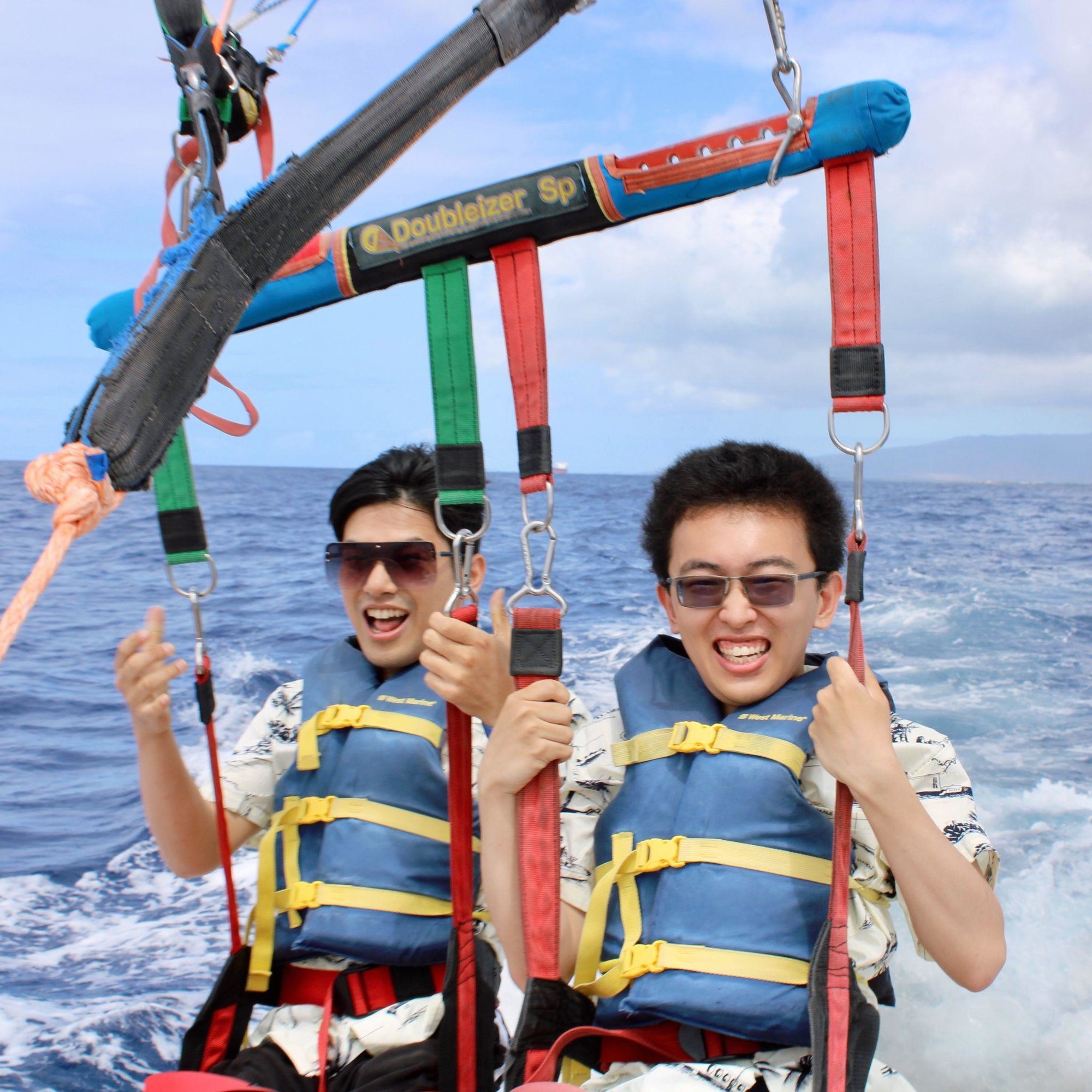 Be open and try new stuff! I was enjoying this exciting paragliding in Hawaii with my friend Sage.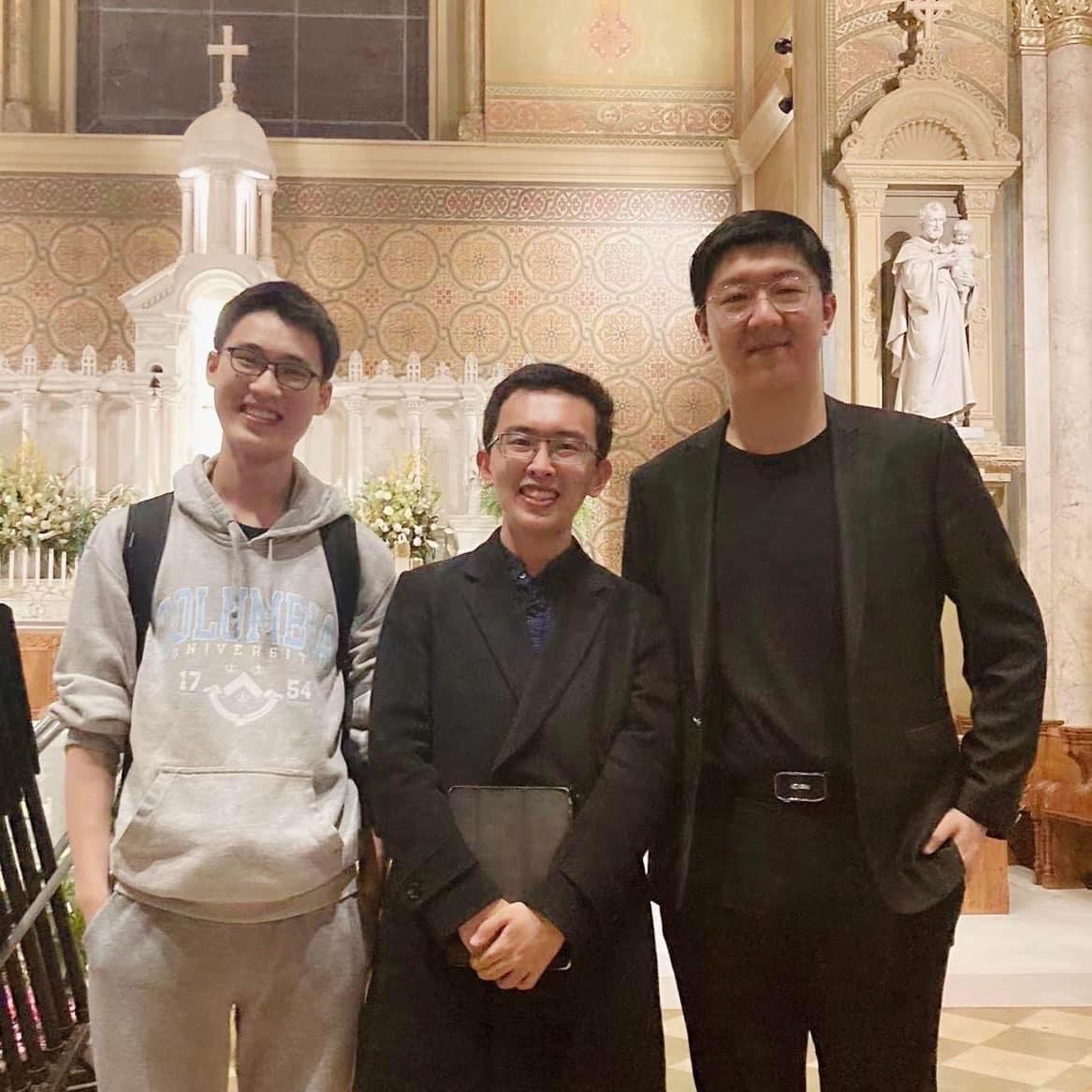 Zhenfeng really enjoyed the choir performance which has Frank and I in it! We are both from the Barnard-Columbia Chorus.
Creating a website for incoming and prospective students
Other than taking courses at school, I aimed to improve my abilities by cooperating with others and self-teaching along the discovery paths after exploration. I was motivated by the idea of contributing something back to both CityU and Columbia. Therefore, I initiated several projects about telling my past experiences at the two schools on a resource website to better help junior students. In 2021, after taking online courses, I gained techniques in web development and user interface design. I built a website called "CityU Columbia Resources" to make it easier to understand the Joint Program application experience from a student's perspective. With the help of several fellow students, I also initiated and designed a set of handbooks named "Admission-pedia" and Q&A videos on the website. Together we finished two volumes of handbooks in three languages for students interested in the program. Fortunately, both CityU and Columbia promoted the website and related sources on their official websites.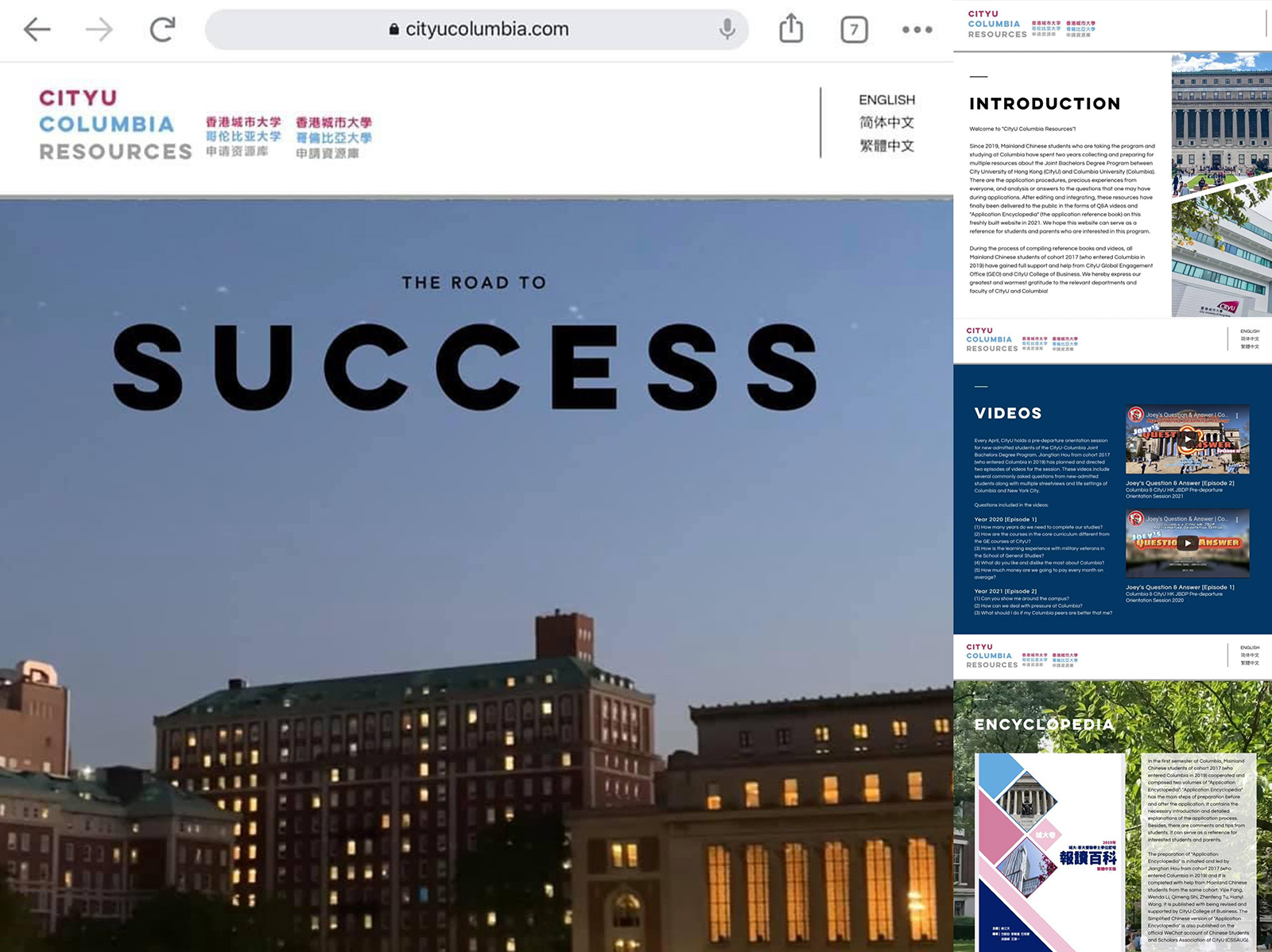 "CityU Columbia Resources" website provides booklets, videos, and more related to the Joint Program in three languages.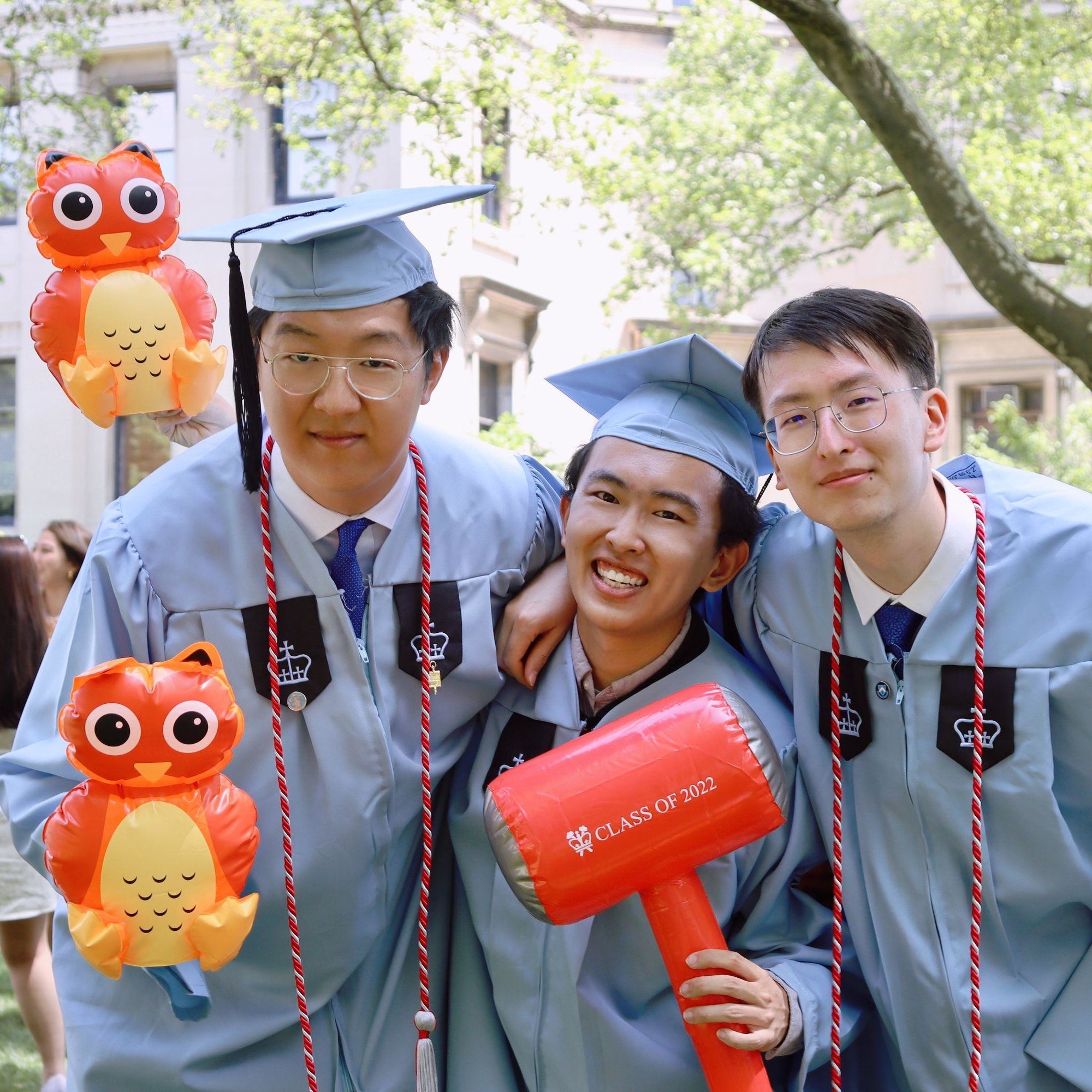 Happy graduation! Frank, me, and Harry had a wonderful time when laughing and holding our college mascots at our graduation ceremony.
A clearer future path
When I prepared for the admission interview to the Joint Program, I planned several vague paths for my future. After experiencing the past five years, the paths in front of me have become clearer. After I focused on web development, I sent applications to several US schools to take a Master of Engineering program to better explore my interests and build necessary skillsets for my future career. I was lucky to be admitted to the University of California Berkeley to learn more about visual computing and computer graphics. After completing this one-year program, I hope I can combine what I have got from both CityU and Columbia, to find a job in a tech company which needs capabilities in both business and technology. With handy skills and a sense of business, I'm ready to put my interests into my future career.
I want to give the following sentences to myself and all my fellow students:
"Be unique, be interesting, and be open. Learn from others and yourself. Make friends, be tolerant, and enjoy your life."
On second thoughts, these are more like a summary of myself and an expectation of what I want to be in the future.