BBA Management student
Stephanie Wong Kit-man
I always want to travel around the world to broaden my horizons.  This summer, I have been selected as one of the recipients of ELC scholarship to join a 4-week summer exchange programme in London, the United Kingdom. It is offered by the English Language Centre for first-year local students at City University of Hong Kong. Each year, 2-3 students are selected to go on the exchange programme to improve English.
London is really far away from Hong Kong. I took a 13-hour flight to reach there, which is the longest flight I have ever taken. When I got off the airplane, I quickly noticed the most obvious differences between London and Hong Kong – the weather and the time zone. Talking about the former, London's weather is much cooler and dryer, while that in Hong Kong is vice versa. Therefore, it is common for people to have a radiator rather than air conditioner in London. Meanwhile, the time in London is 7 hours slower than Hong Kong. It was quite difficult to contact my families and friends in Hong Kong because they would be asleep when I was free to call them at night according to London's time zone. Further to that, the sky turns dark only around 10pm during summer, which is completely different from Hong Kong. 
Similar to my personal goal, this programme aims at improving students' English. It offered loads of interactive activities for us to participate and each of them had given me new insights. During weekdays, my classmates and I had lessons at Middlesex University about IELTS, an exam we took at the end of the programme. Apart from the lessons, we also did sightseeing, sports activities and service learning at weekends.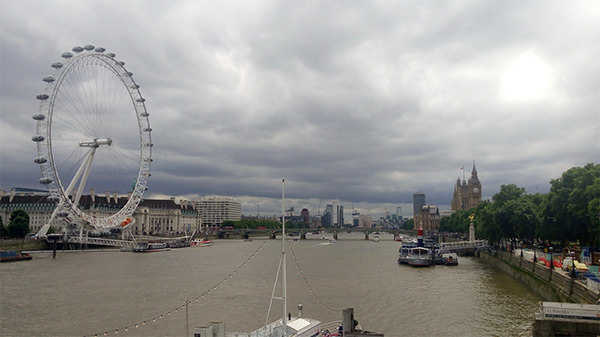 Of course not all things went smooth during the trip. In London, people speak with different accents. The difference in pronunciation may cause misunderstanding.  There was an incident happened in a restaurant, I wanted "chicken and rice". The waiter, however, misheard "rice" into "fries". Even though I had repeated it for several times, they still served me "chicken and fries". Though I finally got the dish I wanted, I realized differences in accents can be problematic. Another unforgettable incident came from our visit to the elderly home. The elderlies were gentle to us. However, problems appeared when we wanted to talk with them. Suffering from dementia, they had bad memory and they repeated the same question for several times. Luckily, the staff were helpful that they assisted us in communicating with them.
Finding destination can also be troublesome. The tube system in London is much complicated than that in Hong Kong, so it is more difficult to get to the right destination.  GPS and google map were my "best friends" that time. Without them, I would be getting lost easily. 
I do had some happy experience. The first one was playing cricket as I especially enjoyed team activities. The tutors were friendly and patient. Even if we could not do the postures correctly, they still encouraged us and at last we could all do them in the right way. After learning some basic techniques of crickets, we were grouped and began to play in competitions. It was thrilling and full of excitement. Though our team did not win at the end, we got to know more about each other and the friendship we gained was more than important. 
The second activity that I enjoyed most was horse riding. I had never tried horse riding before. I held a belief that horses were difficult to ride and they would make people fall down and get them hurt. I was afraid of horses. This activity, however, has completely changed my mind. I found out horses are friendly and gentle. 
This 4-week experience in London really plays an important role in improving my English. I would like to take this chance to advise fellow students at CityU never stop learning. The world is changing so fast and new information, technology and knowledge comes up every day. A good way to keep your competitiveness and broaden your horizon is to go outside. People, culture and history can all give you new insights and inspiration. And you can always learn from these things and improve yourself. In the end, you may be the one to change the world.
(Written by Stephanie, October 2017)