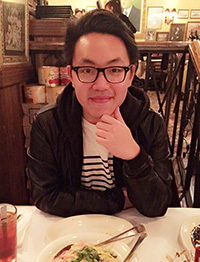 BBA China Business'13
Square Chan
In Chinese culture anything related to death is often regarded as inauspicious and is rarely discussed. Doing business in related industries is similarly unpopular - with coffin manufacture no exception. Bucking this trend, Square Chan, a recent graduate of BBA China Business, has not hesitated in going into his family business in coffin manufacture. Here he tells his story of the family legacy, early experiences on the path to entering the family business, the impact of setbacks, and - in a world where craft traditions are more highly valued than ever - the inevitable challenges that the business faces.
An inherited mission
"I first learnt about this industry when I was young, as I would accompany my father on business trips to our factory in Guangzhou. That was when I developed my passion for working with my father. As the manufacturing and assembling of the coffins is carried out at the factory in Guangdong, I thought that taking a major related to doing business in mainland China would be an advantage, so I chose to study the BBA in China Business."
After graduation Square realized the knowledge that he had acquired from school was not sufficient for him to take up a managerial role in the company. Therefore he worked in a merchandising role in Walmart for a year before entering the family business.
"I wanted to be well-equipped, get some basic working experience in society and a thorough understanding of frontline operations. A good manager should be able to perform any aspect of the various duties and procedures. Understanding the tasks that your staff are performing is helpful in developing management plans and company policy. It is also easier for me to identify problems in workflow and make corrections in good time. What I am working for in the long run is a sustainable business. Being patient and spending time on all the details is indispensable."
Using setbacks to advantage
What setbacks have made a lasting impact?
"I failed to get admitted to local university because I could not get a Pass in English in the open examination. At that time I started to review the reasons for the failure and determined to re-take the exam again next year with sufficient preparation. In the end I succeeded and joined the CityU family. The experience taught me that sometimes you have to put extra effort in and work hard in order to secure your goals."
Another lesson was gained working at Walmart. Square was responsible for mailing out product samples to clients but had sent one to the wrong recipient. He learnt to be cautious and careful in every task. "After this mistake, I developed a habit of double-checking every minor detail before proceeding to the next step. I want to avoid making the same mistake twice."
Challenges ahead - inevitably
"Changes are inevitable in any industry; there are a lot of challenges ahead of us in our business, for example labour shortages and a general threat to our craft heritage. The decoration and artwork done on the coffins is a kind of handicraft which requires craftsmanship, expertise and knowledge of wood texture. Skilled craftsmen have a high bargaining power and a variety of choices as to which industry and company they want to work in, and job opportunities are always opening up in China, so it is no longer easy to recruit or retain experienced labour. The cost for hiring labour is also increasing as employers are required by the Labour Law to pay a larger proportion of the social security fund for each employee. It is a fact that the business environment in China is now highly competitive and complex. Another challenge that I am facing is the introduction of modern management in the factory. One of the major projects is to set up a first-in, first-out workflow of stock. It is still in the initial stages and I foresee a lot of effort will be required to make it feasible in the factory."
Nevertheless, Square remains positive about the death-care industry. He plans to restructure his company's current workflow and technology approaches in the near future. "In Japan and Europe, the decoration of the coffins is done by machine instead of craftsmen. It lowers the production costs as well as increases the efficiency. However this involves quite a lot of investment and attendant risks."
The family legacy at stake
Square is keenly aware that the family legacy is at stake.
"My father spent most of his life building his business and now it is my responsibility to grow and sustain his spirit and endeavor."
Square believes that having a hard working, humble attitude and never asking for rewards are key factors to achieving success.
His conclusion:

"Be confident and cautious in every step of your path. It is important to understand the market and your competitors well."
(Apr 2015)