BBA Human Resources Management
Christina Lo
Christina completed an internship in the Hong Kong Office of Sears Holding Global Sourcing, a US-based multinational corporation in last summer. Here she shares her internship experience in the Regional HR & Admin Department.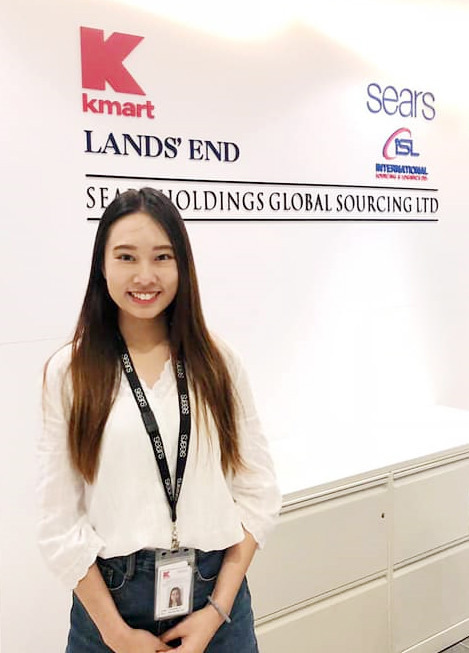 I've always understood that textbooks are not enough. They are only a foundation and more based on theories. So, last summer, I enrolled in MGT 4800 Management Summer Internship. I thought I should gain some experience before I really got into the workplace after graduation. I found out that things are slightly different when it comes to the real world.
I started my internship with the Regional HR & Admin department in the Hong Kong Office of Sears Holding Global Sourcing Ltd in May 2018. Sears is a department store in the US, and Sears Holding Global Sourcing does the buying and sourcing jobs for Sears in the US. Our team was not a big one, therefore we were not divided into teams specialising in HR functions, and I took the duty of an HR generalist.
The Hong Kong office was the regional office for the Far East area. Therefore, we were responsible for the offices located in Shenzhen, Shanghai, Bangladesh and India, acting as the last resort for the local HR teams.
I was kept very busy. I helped with the recruitment process. I took part in screening resumes, arranging interviews, preparing new hire documents, doing reference checks, and planning new hire orientation and new hire induction training. Also, I was responsible for monitoring the relevant HR system and the 'Leave and Attendance system'.
We have loads of events, meetings, talks and training, acting as a coordinator. I helped coordinate the EXCO Meeting in August (a monthly meeting for director grade or above), the 2018 1st Quarter Town Hall Meeting, an Intern Gathering, a Medical Plan talk, an MPF talk, an ICAC Probity Talk, Induction training and a company visit to Carnegie Mellon University. As coordinator, I was responsible for preparing the PowerPoint slides, room settings, sending invitations and keeping attendance.
The most hair-raising experience was the 2018 1st Quarter Town Hall Meeting. This featured a presentation by our District Vice-President, and the audience were all the staff in our five offices across the Far East area. The offices outside Hong Kong joined the meeting through video conference. My role as a coordinator was to make sure the meeting ran smoothly, a very difficult task because the internet connections in Bangladesh and India were very unstable. Even though I had had quite a number of trial calls with them, the two offices were still having trouble in the real meeting. I had put a lot of effort into network re-connection and kept them with us in a way that would not affect the DVP's presentation. Luckily, after re-connecting twice, the conference call finally became stable.
I have learnt that ticking all the boxes is not enough. The most important things for an intern are to ask and to learn. Also, I have learnt how to 'work' in the workplace. When we are in school, our teachers and friends generally tolerate our mistakes. But the real world is a different story, especially in the HR field where we need to deal with confidential and sensitive documents frequently. The internship experience really gave me a head start in cultivating my HR professionalism, which will hopefully help me become a better HR officer when I graduate from school.