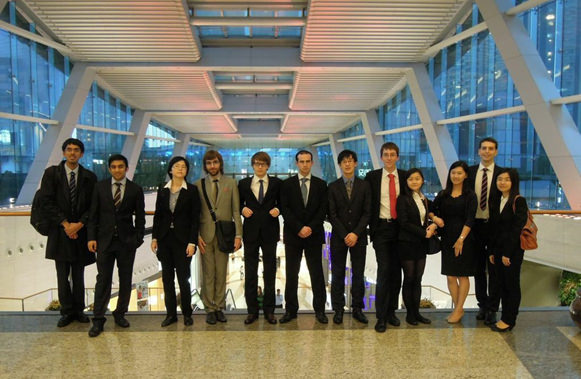 BBA Quantitative Finance and Risk Management'12
Leah Ya Li
Contact: liyatea@gmail.com
Zunyi City, China is a historical city where former Chairman Mao Zedong was first elected as the First Chairman of the Central Committee of the Communist Party of China at the "Zunyi Meeting." Apart from its political significance, Zunyi is also known for its famous rice liquor, Maotai.
Leah Ya Li, born and raised in this historical site, loves the city. But with the increasing significance of globalization, Leah's parents felt the need for her to gain international exposure beyond China. Leah left the city after secondary school for a mission to explore the world.
Leah has loved finance as a subject since she was young. Therefore, Hong Kong, as one of the world's main finance hubs, became her chosen location for university studies. She did two internships during her BBA program at CityU. One of them was with a hedge fund company which required Leah to work long hours. She loved the job and strongly believes that "If you like a job, you will work hard on it."
Personal Network
Before graduation, Leah was admitted to the Imperial College London's Master's program (Imperial) with Women's Scholarship. Dr. Anson Au-Yeung, former professor of the Department of Economics and Finance, introduced two CityU alumni to Leah before her departure for London. The two alumni had attended the same Master's program at Imperial two years ago. The two seniors gave Leah advice on course elective selections and student society choices. They also introduced their friends in London to her. It then dawned upon Leah — the importance of alumni networking. It helped her to adapt to a new culture quickly and gradually become comfortable in the new country. "When you meet more people, you will soon realize that this network of connection is the most powerful asset you have." Leah emphasizes that network building is crucial in life as well, and is not limited to work only.
Words of Advice
"Be appreciative of the opportunities provided by the College of Business, CityU. Have a positive mindset of appreciation: When people help you, thank them – they have no obligations to help you; when people need your help, offer them the help needed – this will create a continuous loop of positive actions which will benefit you and the society as a whole."
– Leah Ya Li
( Aug 2013 )