BBA Information Management student
Rosanna Chan Wing-tung
Exchange target university: HEC Montréal, Canada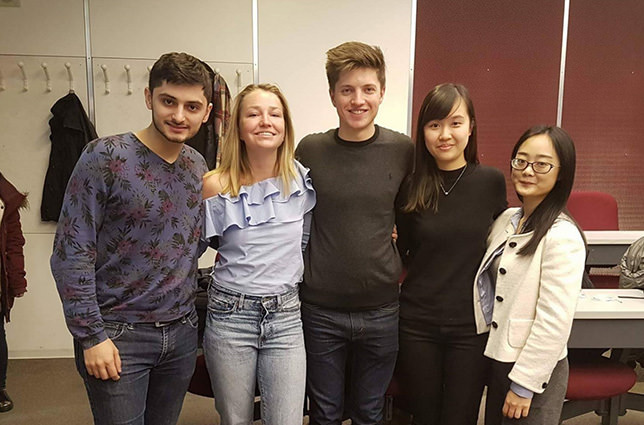 With the desire to explore the world, I ignored all the complicated tasks that I needed to do for an exchange programme and ran for the application. I would have lost all these memorable experiences if I hadn't acted on impulse. At the moment that I received the confirmation email for successful exchange application, my journey began.
With two cases packed with thick clothes, I took the flight alone to Montreal, Canada. Upon arrival, the snow was everywhere. It was a freezing January. At first, I was amazed by the French-style architecture and squirrels on the street. Everything seemed to be going well. However, when obstacles knock on your door, there is no way to evade. On the first school day, I already found the teaching style in Montreal difficult to follow. Professors advocated learning through discussion, so most of the knowledge relied on the hard work of students' preparation. Most of the classmates knew French although it was an English-teaching class, so it was difficult to find group mates and fit in their circles. I took the initiative to find groups and luckily my group mates were willing to try their best to communicate with me and we cooperated well.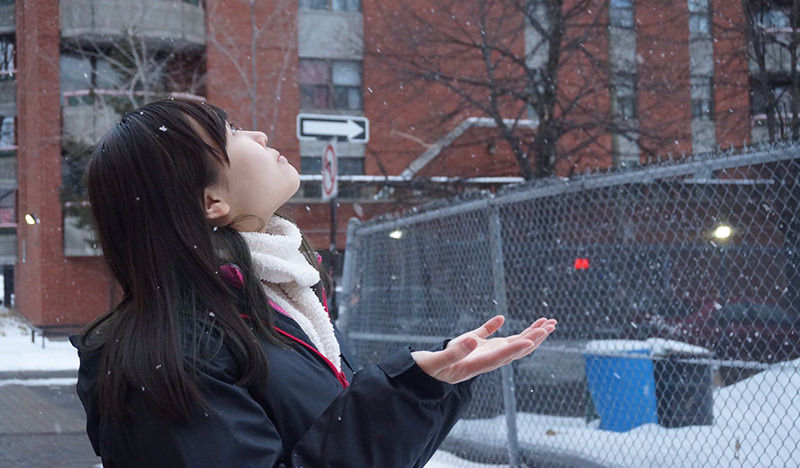 Snow is gorgeous, but when there's too much it can be a problem! When we tried to get back from Los Angeles after the spring break, there was a snow storm. Our flight to Montreal was canceled and hence we had to change our flight to Toronto and took the train back instead, missing a presentation at school. At that time Montreal was all in white. Vehicles were covered by layers of snow. We had no choice but to take the metro and walk home from the station (it was quite a long way). Our luggage created 2 tracks from the half-leg-deep snow. Snow was entangled in my hair. The stairs of our apartment were totally concealed. Fortunately, with perseverance we got home safely.
There were many first times in my exchange trip. Aside from the first snow storm, I had my first Chinese New Year celebration abroad. Our Korean flat mate taught us to make kimbap (Korean-style sushi) and we also made dumplings and sweet dumplings together. We prepared our "feast" and celebrated New Year with our landlady's family. We liked gatherings, the feeling of being together. Dishes in Canada may be too big for us, but sharing food brought us closer.
Canada astonished me when I found out it was still snowing in Quebec in March, so we went there and I had my first-time skiing. Although there were more people speaking French, I seemed gradually getting used to and enjoy the foreign lifestyle.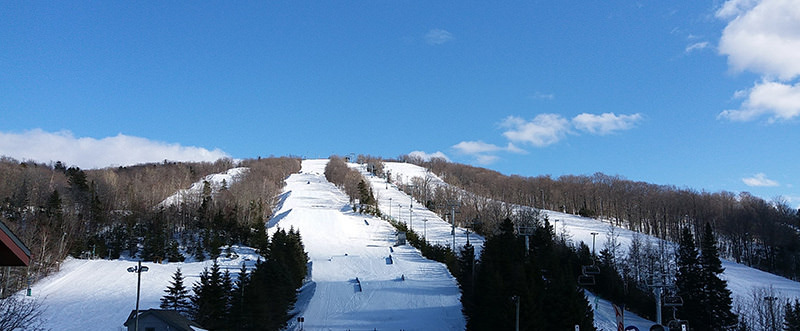 A study abroad experience must alter your mindset. It's not merely about studying or traveling. Exchange study is to appreciate others' culture and explore the place beyond being a tourist. Good time management maximizes your experiences. My exchange trip created, collected and preserved memories. The sea of photos taken is the evidence, imprinting the transformation in my friends and me. Each journey turned a new page in my book. I enjoyed every happy moment, while I learned from each experience. The memories linger in my mind, the world I saw and the people I met. Thanks to my impulse, I treasured and strived for this exchange study opportunity. Once you decide to step on a path, no matter what, you carry on, you grab the most you can and you gain the most you can have. Here I decided to share my experience with others and bring the stories back.
(Written by Rosanna, February 2018)