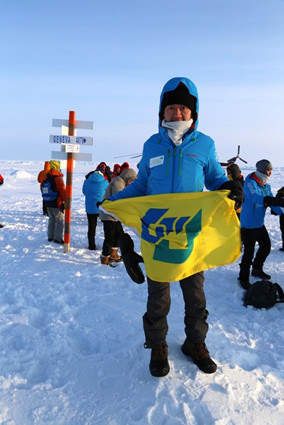 BBA Quantitative Analysis for Business'94; Honorary Fellow of City University of Hong Kong 2013
Francis Ngai
Contact: Francis.ngai@sv-hk.org
Last June, Francis Ngai went to the Gobi March Ultra-Marathon(250km), one of the Four Deserts Marathon. He physically carried the dreams (written on paper) of his colleagues and friends to the race, hoping to call forth their dreams and the perseverance needed to fulfill those dreams.
This April, Francis went on his second extreme marathon, the North Pole Marathon (42.2km), the world's coolest marathon at minus thirty degrees Celsius. This time, Francis ran for a social cause, for Green Monday: to encourage all Hong Kong citizens to go meatless on Mondays, one day a week. If the seven million Hong Kong citizens were to pledge for the cause, it would be equivalent to removing 86,000 cars from the streets.
One baby step at a time, and soon it could have a great impact on the world through collective action.
Why the North Pole Marathon?
Francis Ngai and Kason Fok, graduates of Quantitative Analysis for Business in 1994 and Public Administration and Management in 2003 respectively, and six other teammates joined the North Pole Marathon together for a mission. Many people cannot see the physical impact of global warming and the urgency of environmental protection. "I hope to grab this opportunity to provide Hong Kong citizens with first-hand information on global warming." Francis said.
HK Facts
In the 2013 Travel and Tourism Competitiveness Report, Hong Kong's Environmental Sustainability score is ranked one hundred eighteen among the one hundred forty regions/countries (118/140). The index suggests that the level of environmental protection is insufficient to maintain Hong Kong's future environment.
Given that Hong Kong is the world's top meat consumption city and that meat consumption is one of the major causes for global warming, Francis feels the urgency for changing the habits of Hong Kong citizens. He is the founder and CEO of Social Venture Hong Kong (SVHK), a non-profit organization that provides all-round support to social enterprises such as Green Monday. This was also Francis's mission during the North Pole Marathon.
Life as a Marathon
Francis started running marathons twelve years ago. Apart from being the simplest and most convenient form of exercise, he believes that marathon is the "fairest sport in the world." You can complete it irrespective of where you come from and the profession you are in. The most important factors are constant training and perseverance to keep moving forward.
There is no single winner in a marathon; everyone is a winner. Runners can choose their own pace, attitude, and goal in each marathon. This is like a reflection of our daily lives.
When asked about the difference between extreme marathons and working at a social enterprise, Francis said, "There are no differences between the two!" Life journey is like running a marathon. It is a long lasting battle; one must persevere until the end.
Words of Advice
"To Environmental Protectionists and Social Entrepreneurs of Hong Kong: When you feel lost and bitter, pause and think, there are many people along the same path as you, pragmatically moving forward, step by step. Let us use our lives to change the lives of others."
– Francis Ngai
( Aug 2013 )