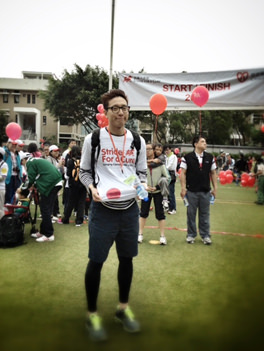 MSc Marketing'13
Micah Tsang
Contact: let_play_bass@yahoo.com.hk
One day in his post-secondary year, he felt the need to work hard and get better grades to enter university. As the only child in the family, Micah Tsang began to realize the responsibility of caring for his parents in the long term.
Describing himself as "not a good student" in his secondary school years, Micah confessed to having poor English foundation. He had then resorted to rote learning method to improve his grades when he was working toward his 'top-up' degree.
When he was pursuing his BBA and Master's courses, he realized that the rote learning method was inadequate to meet his needs. "Memorizing" can help to improve a student's grades, but not his profound understanding of the context and knowledge covered in a course. Undefeated, he decided to read lots of journals, books, and articles to improve his English ability. He also prepared and finished projects early before deadlines, as well as previewed materials before each lecture.
According to Micah, extensive reading and being well prepared early do not just apply to university life, but also our day-to-day practice. Preparation and the desire for knowledge are key qualities of a successful person.
Motivation
Responsibilities, which are often associated with pressure, stress, and fear, tend to have negative connotations. Looking at the flip side of the situation, what was once perceived to be 'unwelcome responsibilities' can in fact indirectly and subtly motivate us to become stronger and more able than we used to be.
For Micah, the responsibility of making a living partly for his family had motivated him to work hard. As for his life philosophy, he tries to turn things that he does not like into something enjoyable. He never thought that he would like studying, but once he decided to learn to work hard and study, he gradually became good at his studies. He feels that when one is good at something, one tends to find it enjoyable.
Micah highlights that not liking something may not mean that one is not good at it. Therefore, thinking that "we don't like to do something" may not always suggest that we are not good at it.
Our likes and dislikes, harshness and smooth passages, feelings of depression and joy, triumph and failures are all part of a learning cycle that one must encounter.
Words of Advice
"Being lazy is a feeling. 'I am tired today' is an excuse for procrastination; the question is: are you really that tired? Set a goal and be determined to achieve it despite any barriers along the way."
– Micah Tsang
( Aug 2013 )