BBA Accountancy student
Albert Ngan Sing-yeung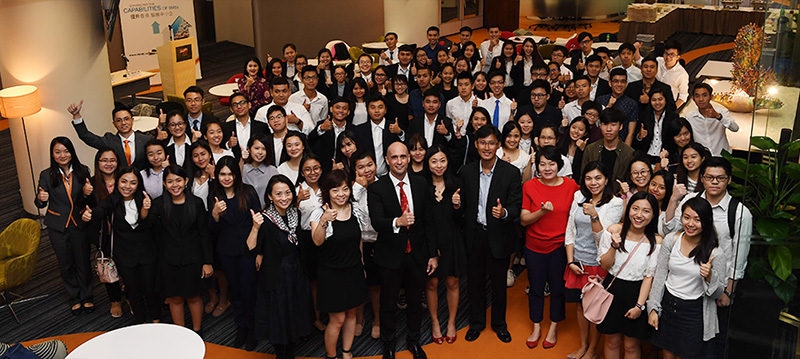 Before I entered City University of Hong Kong, I studied at HKU Space for an associate degree. In Hong Kong, some may think I was a loser in the public exam as I could not enter the university with my unsatisfying exam results. At that time, I was very depressed, anxious and difficult to be with due to these social expectations. It was a major setback in my life. To make things better, I decided to focus on studying and do textbook exercises as much as I could, without attending many extra-curricular activities.
After I entered CityU, I chose accountancy as my major because I thought it could earn a lot of money. However, it turned out the accountancy experience was different to my expectations. My classmates mainly focused on revision and exams. The lessons weren't very intriguing but there was one unforgettable lecture by Mr. David Ip, a Senior Teaching Fellow in my department. He encouraged us to step outside the campus and join more and more competitions and activities. I took his advice. This was somehow different from my study life in HKU Space.
In 2015, I was delighted to get selected as a student ambassador to the Hong Kong Trade Development Council. Participants were invited to attend seminars by successful business leaders. One of the seminars was presented by Mr Chan Wing Kin, the chief economist at HKTDC. He shared his experience during a job visit to Nepal and told us about the business environment there. For the first time I was really interested in a talk. It seemed this could enrich my life.
Apart from the student ambassadorship at HKTDC, I went to Singapore for a 5-day study tour last year after I won the champion of futures trading in Wing Fung Financial Group in 2017. I went to Singapore Exchange Ltd. with another awardee. The trip was a fantastic experience which enabled me to learn in an entirely different way than in Hong Kong. Singaporeans are more proactive in fact. I also gained some valuable investment knowledge and life experience shared by Mr Wong Kon How, an experienced investor.
Now I am reviewing my life in CityU. I have found a lot of true friends by joining different extra-curricular activities and competitions. I have become more outgoing and optimistic. It is vital to me to experience this upstream in my life. If I encounter difficulties, I can share with friends who can help me to solve problems. They can bring me happiness in a way that I cannot find in another place. Most importantly, an outgoing and talkative personality is essential to my future career as an accountant. It is also useful for my peer relationships. All in all, life is full of ups and downs.
(Written by Albert, February 2018)