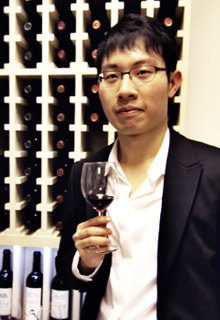 BBA China Business'09
Alexander Choy
After 2 years of Associate Degree study at HKU and 3 years of Bachelor's study at CityU, Alex Choy entered the work force 3 years ago. He thought he would find a job of interest, related to China Business, but the "door" was not yet open.
"When God closes a door, somewhere [else] He opens a window." This "window" was something Alex never thought of going into--- a professional sales position in China Mobile (Hong Kong).
"Like many others, I was reluctant to become a salesperson." Alex said. He had never thought of becoming a salesman, but life forced him to become one. Yet, the true challenge was to commit to what he had chosen.
It is normal to assume that if you are doing what you "hate", your job performance will be poor. Ironically, it was the opposite for Alex. He learned to "love" and excel in an unexpected career path.
In recognition of his hard work, he was one of the top 5 salespersons in HK to be awarded the "Outstanding Young Salesperson Award" in 2010. In 2011, he was also the top salesperson in his company and promoted to Senior Account Manager-- just after two years at his sales job.
Despite of these achievements and recognition, Alex recalled asking himself: "I am doing well in my sales career, but is this what I want 5, 10 years down the road? The answer was No." He has a shared dream with his dad, that is, to open a wine business in China and in HK.
2012 marked a new beginning for Alex, he resigned from his job. With solid work experiences gained and knowledge learned from his bachelor program in China Business, Alex felt that he was ready to take on a new start, to turn his dream into reality. He saw the "door" opening.
With 6 months of preparation, 5-digits funding, 4 united family members' support, 3 connecting networks, 2 entrepreneurs, and 1 dream, Alex's MegaWill Wine Company was established.
Looking back at his post-graduation work experience, Alex reflected: "Even though you may not always be able to choose what you like at the beginning, but you must persist; learning doesn't stop upon graduation. You must have the courage to do things that you don't necessary like, explore different fields and aspects of life."
"Learn to accept reality and let go some of your 'unwillingness' in exploring the world ---try jobs that may not be of your absolute interest; learn to accept the unavoidable in life or work. Excel in what you 'hate' most and you will exceed beyond expectation."

 
– Alex Choy (alex@megawillwine.com)
( Jan 2013)