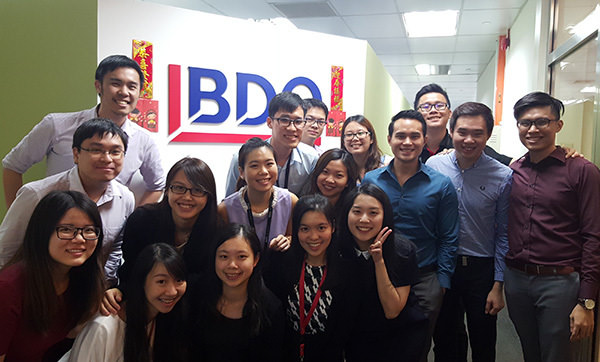 BBA Accountancy'17
Joey Bow Cheuk-yiu
When I first set foot in the Singapore office of the accounting firm BDO, I felt like a kitten among wolves - lost and completely out of place. At the start of my internship - part of City University's Singapore Internship Programme - I was pretty sure that I didn't want to be an accountant. This changed over the course of the five months I worked as an auditor at BDO.
Auditors are "outsiders" who check the work of accountants at different companies. I'll always remember how my mentor would patiently explain each task. I got to know more about the accounting industry, and how it functions. It was like seeing all the pieces of a jigsaw puzzle finally fall into place - everything made sense in a way it never did before. That was when I realized how fascinating accounting is.
At the start of my internship, I did a lot of minor, repetitive tasks. I knew this was because the people I was working for weren't sure what I could bring to the table. So I did my best and strived to improve myself.
I would listen to senior staff members speaking to their colleagues and clients, and then I'd ask them questions, showing them I was eager to learn more about the trade.
As time went on, I was given more important tasks, which spurred me to work even harder.
I never thought I'd be the sort of person who would volunteer to stay in the office until 1am - but that's exactly what I did during my internship. I liked my job and my colleagues so much that the amount of time I took to complete the tasks didn't matter.
I had plenty of setbacks during my time in Singapore. In my first engagement with a client, they didn't send me the documents I needed, nor did they explain to me any of the figures they provided. I was too green for them to trust. I didn't let this stop me though, and continued to develop my interpersonal and other skills. As a result, I was so confidant and well prepared in my last engagement that my client thought I was a senior auditor.
University is a time for students to branch out and experience different things. I did just that, and found out that something I thought I had no interest in, is actually fascinating.
I'm glad I did an internship abroad. If I hadn't, I might never have discovered how much I love auditing.
Auditing ignited my curiosity and I thirst for more. Shortly after graduation, I will be joining PwC, one of the Big 4 Accounting Firms, under the X-Venture Programme. It enables me to rotate into different business faculties such as Audit, Tax and Advisory, where I can explore further and meet brilliant people from a wide range of industries.
(Written by Joey, June 2017)