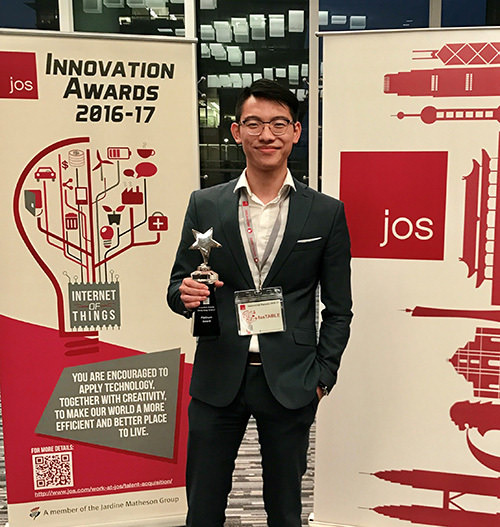 BBA Global Business Systems Management student
Kelvin Chan Hok-wah
Dreams don't work unless you do. In my 2 years of university life, I have always dreamt to start my own business but I have never taken any action. There are too many things hindering me, such as parents, friends and even more than that, myself. My laziness and attitude make me  hesitate to make my idea work out. Fortunately, Jardine OneSolution (JOS) organised an Innovation Awards in hope of attracting University Students to speak their ideas out. The task for the first round of the competition is writing a proposal about your idea within 1000 words. This is less demanding compared to other case competition so I gave it a try and asked my friends Anson, Cyrus and Vanessa to join me.
Lose the Fear of Being Wrong
JOS Innovation Awards required us to think about IOT ( Internet of Things) solution for certain themes, as for instance, green living, smart transportation and connected retail. My team mates and I feel that it is hard to brainstorm an idea, at the very beginning of competition. We were afraid of telling some ridiculous ideas,  so we didn't reveal our idea unless we thought it's perfect. That's why we spent so much time in idea generation. At last we use hybrid approach to brainstorm, which is a method we learnt in a course. We take turns to speak our idea, no matter it is good or bad.  In this way, we started to lose the fear of being wrong and came up with some interesting ideas like smart crutch, magic mirror, and we started to develop those ideas. At last we decided to use FasTable, a solution for foodcourt and retail to join the competition. To be creative, we needed to lose the fear of being wrong.
Our Idea 
FasTable basically is a product of IOT ( Internet Of Things ), it makes use of the technology of iBeacon and mobile application to allow each table in food court to be able to communicate with both customer and food store. 
By adopting the concept of FasTable, customer will be able to reserve a seat in food court and order their food in advance through our app. It is a unique user experience as there is no more waiting line in foodcourt, once customer arrived and get matched with the assigned table, he can enjoy his meal. 
Food court also gain lots of benefit by using FasTable. As iBeacon, a key technology in this system, enables restaurants in food court to send out promotion material or coupon to every person's phone when they pass by the entrance of food court. It's a new and cost-effective way in doing push marketing. On the other hand, iBeacon helps tracking the data of customers ( order, meal time, purchase pattern ). This changes the relationship between food court and their customer, they can now know their customer more and do a better job in CRM ( customer relationship management ).
To fit in marketing needs, we will not charge food court a one off payment. Instead, restaurant will pay us a monthly rental fee. Since most stores may not be willing to pay a huge sum of money at the beginning, we choose this pricing strategy.
Nothing Worth Having Comes Easy
We were so excited when we knew we got into next round of the competition but at the same time it means that we have to put much more effort in developing our idea. FasTable was just a very rough concept when we handed in our proposal. It  didn't have a business model or even some main features. We spent so much time in setting its value proposition, deeply thinking of some mechanisms to make the system work. In two months, we have encountered so many problems and we felt frustrated. We didn't  even know if our idea would work in real life. We found some professors in College of Business  to fine tune the idea and conduct some interviews with foodcourt manager. We finally figured out a way that can satisfy both customers and restaurant. Before we have a presentation in the JOS office, we rehearsed many times, we prepared all the interface, demo to make the presentation perfect. It's tough, but nothing  worth having comes easy.
Hard Work Beats Talent
After the coaching session arranged by JOS, we were told that we have so many things to change and improve. Some may even involve engineering knowledge. As we all come from the College of Business, we are not familiar in that field. We got limited time but we need to understand that technology, about which we have never heard before, like iBeacon. We had meetings everyday to redevelop our idea and the whole idea is totally different after a month of hard work. We also had to make a prototype for the final presentation, it's another big problem for us as we need to merchandise material and make the FasTable by ourselves. In the grand final, our competitors came from different institutes like HKU, CUHK with engineering background. They built a mature prototype and did a very good job in presentation. Our team was in panic after seeing their presentations but we had no time to go back, we tried our best and do what we have practised for a lot of  time. We are so delighted that our hard work at last beats talent and bring the glory back to CityU.
The Next Step
Winning championships is not my ultimate goal, it's just a beginning of my journey. I will work as an intern in Jardine OneSolution this summer and I hope I can gain as much knowledge and experience as possible. One day, I will start my own business and make my idea happen.

(Written by Kelvin Chan. March 2017)